This Ingenious Hanger Makes Hanging Pants a Breeze, No Clips or Folds Required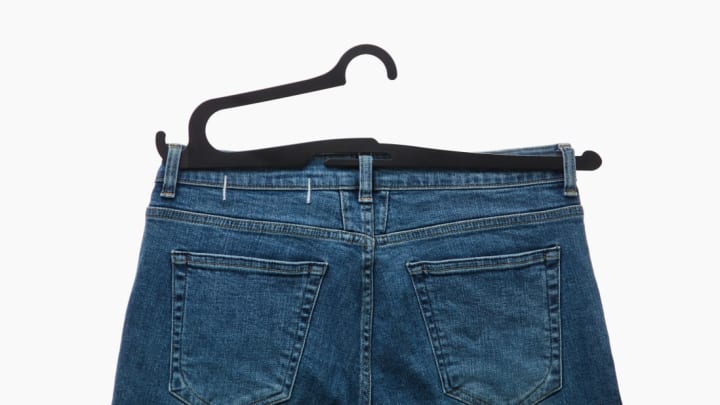 Hurdle Hanger / Hurdle Hanger
This article contains affiliate links to products selected by our editors. Mental Floss may receive a commission for purchases made through these links.
Get ready to clean out your closet. No, we don't mean going all Marie Kondo on your clothes. There's a new type of clothes hanger that promises to change the way you store your clothes, taking the headache out of hanging up your pants.
The Hurdle Hanger, which has currently raised more than $33,000 on Kickstarter, calls itself the "one-second pants hanger." Rather than relying on cumbersome clips or requiring bulky folding techniques, the hanger design employs one very simple change: It hooks into the belt loops of your pants.
The angular hanger is open on one side so that you can slide the bar through the belt loops of your pants, letting you secure your pants in one smooth motion rather than struggling with the pant clips that will just wrinkle your waistband anyway.
Just slide the hanger bar through the belt loop (or loops) farthest from you, then hang the belt loop closest to you from the hook. There is another hook midway across the bar that secures the middle belt loop, keeping your pants from drooping while they hang. In another subtle touch, you can use the same hook to hang smaller items, like belts or hats, off the side.
The Hurdle Hanger is an example of smart design at its finest—the kind of idea that, when you see it in action, makes you think, "Wait, how did no one think of this before?" It takes a once-cumbersome task and makes it seamless, eliminating at least some of the burden that may be keeping you from accomplishing the chore of hanging up your clothes. No more messing with clips or trying to shove pants through the cramped hole in the hanger to fold them over.
There are already open-end pants hangers that make it easier to slide a folded pair of slacks into your closet, but the belt loop hooks take the Hurdle Hanger to another level. You might even get inspired enough to start hanging your jeans.
A 10-pack of hangers is $20 on Kickstarter—though anything that makes you actively excited to organize your closet is priceless.