Elephant Seals Use Government Shutdown as an Opportunity to Invade California Beach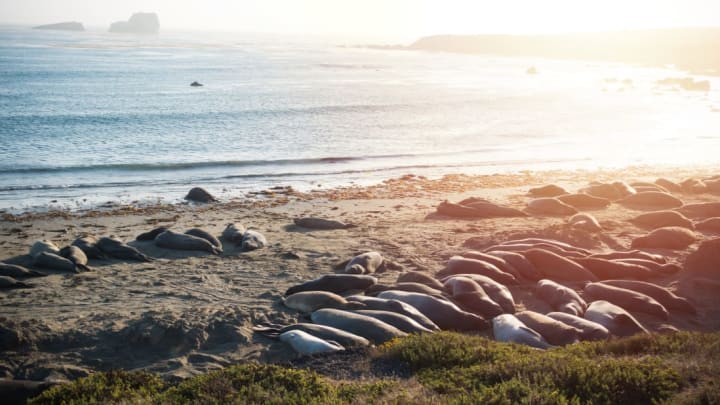 iStock.com/blackred / iStock.com/blackred
Thirty-five days after going into effect, the longest government shutdown in U.S. history ended on Friday, January 25. The government may be open now, but many agencies are still struggling to catch up after losing several weeks of work. One site still dealing with the aftermath of the shutdown is Point Reyes National Seashore. That's because, when rangers returned to work, they found a beach normally reserved for people overrun with elephant seals, SFGate reports.
The park has an elephant seal population of roughly 1500, and many make their homes on the beach near Chimney Rock, where tall cliffs largely hide them from public view. Recent storms seem to have flooded their preferred habitat, so with no rangers to shoo them away, the seals invaded Drakes Beach and even knocked down a fence to claim the parking lot. One got as far as a picnic table outside a nearby cafe.
This is the season when pregnant elephant seals give birth, and there are currently 50 to 60 mature seals on the beach with 35 pups. The road leading to the beach is temporarily closed, but the park is considering opening it up to guided tours of the seal colony if the animals remain there.
While the Point Reyes elephant seals made the most of their new range during the government shutdown, in other national parks, local wildlife suffered. Missing staff members led to overflows of litter and unchecked vandalism at sites like Yosemite and Joshua Tree.
[h/t SFGate]