From Abe Lincoln Chia Pets to FDR Baseballs: 11 Products to Celebrate President's Day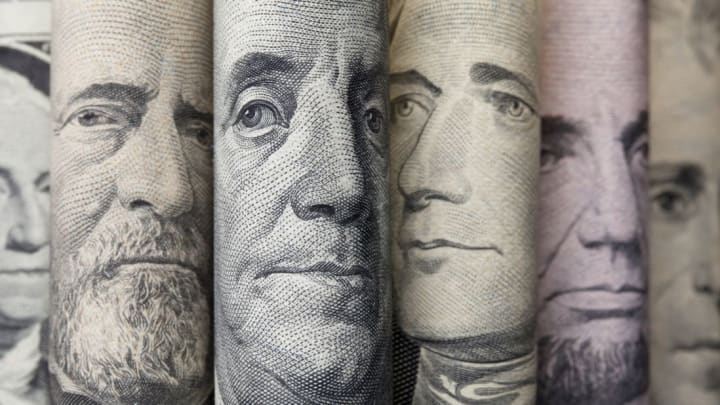 iStock.com/malerapaso / iStock.com/malerapaso
This article contains affiliate links to products selected by our editors. Mental Floss may receive a commission for purchases made through these links.
While President's Day originated in 1885 as a holiday celebrating George Washington, it has now grown to recognize all 44-and-counting chief executives in U.S. history. If you're feeling truly patriotic, check out these 11 incredible products inspired by some of the most distinguished leaders to hold America's highest office, and feel free to gift them to your favorite future politician.
1. George Washington's Teeth Magnet
George Washington's illustrious hair may have been totally real, but his teeth certainly weren't. In fact, Washington had only one real tooth left in his head when he was sworn in as president, and he wore several sets of dentures throughout his life (though none of them were made of wood, as the legend claims). Mount Vernon has one of the last surviving sets—made of human and cow teeth—in its collection, and fans can get a copy of the historic chompers in the form of a fridge magnet.
Buy it from George Washington's Mount Vernon for $10.
2. John Adams Mouse Pad
Compared to the other Founding Fathers, John Adams doesn't get much love. There's reason to admire the pugnacious leader, though: He may have been the nation's second-ever president, but he was second to none when it came to dishing out insults. If you're looking for a subtle way to pay tribute to Adams, this mouse pad will do the trick. After all, who doesn't want a president at their side in the office?
Buy it on Amazon for $10.
3. Founding Fathers Gift Box
If you're looking for other ways to honor the Founding Fathers, this commemorative gift box includes four hefty Old Fashioned tumblers bearing the likenesses of old-fashioned presidents James Madison, Thomas Jefferson, George Washington, and John Adams. The glasses—which are made in America—are the perfect way to toast the country's early leaders. They'd also be a great accessory for your next Drunk History marathon. (As would Fishs Eddy's many other politician-themed kitchenware products, for that matter.)
Buy it from Fishs Eddy for $22.
4. Abraham Lincoln Chia Pet
Honest Abe is known for a great many things: leading the United States through the Civil War, abolishing slavery, and—according to Hollywood—maybe being a vampire hunter. However, we rarely celebrate his very lush head of hair. (Though a few strands of it did sell for $25,000 in 2015.) This Chia Pet planter offers a way to spice up your kitchen while honoring the classic elegance of the 16th president's silhouette. The handmade statuette grows a full head of presidential chia-sprout hair in one to two weeks and includes quotes from President Lincoln transcribed on its sides.
Buy it on Amazon for $26.
5. Edmund Morris's Theodore Roosevelt Trilogy
This Pulitzer-Prize-winning biographical trilogy on Theodore "Teddy" Roosevelt from Edmund Morris is a must-have for all the TR fans out there. Written over the course of more than 30 years, Morris's opus is considered essential reading for any Roosevelt scholar, and it's well worth the money. As The New York Times wrote in its review of the first volume in 1979, it's a "splendid, galloping narrative of the great galloper. The insights are keen. The pages turn quickly. There are few who will not get from it a more satisfying conception of the man almost everyone thinks he knows … It is one of those rare works that is both definitive for the period it covers and fascinating to read for sheer entertainment."
Buy it on Amazon for $78.
6. FDR Collectible Baseball
Like many Americans, Franklin Delano Roosevelt had an intense love of baseball. He even argued that the national past time was an essential morale booster during World War II, ensuring that the league could continue playing throughout the war. He made eight Opening Day appearances during his presidency, and this collectible baseball is a perfect monument to one of them. The custom ball features a photograph of FDR throwing the ceremonial first pitch for the 1935 Opening Day game between the Washington Senators and Philadelphia Athletics at Griffith Stadium in Washington, D.C.
Buy it from the National Archives store for $7.
7. "Dewey Defeats Truman" Ceramic Tile
The result of the 1948 presidential election between incumbent Democrat Harry S. Truman and Republican challenger Thomas E. Dewey was, by all accounts, one of the greatest upsets in history. Nearly every analyst at the time got their predictions wrong, including the Chicago Daily Tribune (now just the Chicago Tribune), which led to the famous photograph that helped cement the election's legacy in American politics—and media history—forever. While history nerds would surely appreciate a copy of the actual newspaper, this option from the National Archives is a joyously clever alternative.
Buy it from the National Archives store for $7.50
8. JFK for President Mug
For political history buffs and design obsessives alike, this mug is a throwback to the campaign posters made by John F. Kennedy when he ran for president in 1960. The mug is emblazoned with JFK's own smiling mug as well as his 'Leadership for the 60's" slogan. (You can see one of the originals at the Library of Congress.)
Buy it from the John F. Kennedy Presidential Library and Museum for $15.
9. Lyndon B. Johnson Bobblehead
Lyndon B. Johnson—who assumed the presidency following the assassination of John F. Kennedy on November 22, 1963—is best known for his "Great Society" programs and his role in passing laws like the Civil Rights Act and Medicare. This bobblehead in his likeness from Royal Bobbles, however, represents another side of LBJ: his love for dogs. Johnson and his family were often photographed with their beloved beagles, Him and Her, as well as subsequent White House pets Freckles, Edgar, Blanco, and Yuki. (Royal Bobbles doesn't specify which dog this design is based on.) Standing over 8 inches tall, the bobblehead comes with a collector's box to keep it pristine, because you'll want to display it prominently.
Buy it on Amazon for $26.
10. Presidential IQ Trivia Game
If you're like us, you love some good-old-fashioned trivia—and almost 250 years of presidential history has left us with a bevy of facts to mine for questions. Featuring 1200 questions across a number of categories, including famous quotes, foreign affairs, and geography, Presidential IQ is perfect for game night.
Buy it on Amazon for $25.
11. 1000-Piece U.S. Presidents Jigsaw Puzzle
This puzzle by White Mountain illustrates the entire presidential timeline of the United States with portraits of each of the presidents and a map of notable historical sites relating to the former chief executives. In addition to stimulating your brain, it provides a great opportunity to plan your next presidential road trip.
Buy it on Amazon for $18.