Shanghai Is Now Home to the World's Longest 3D-Printed Bridge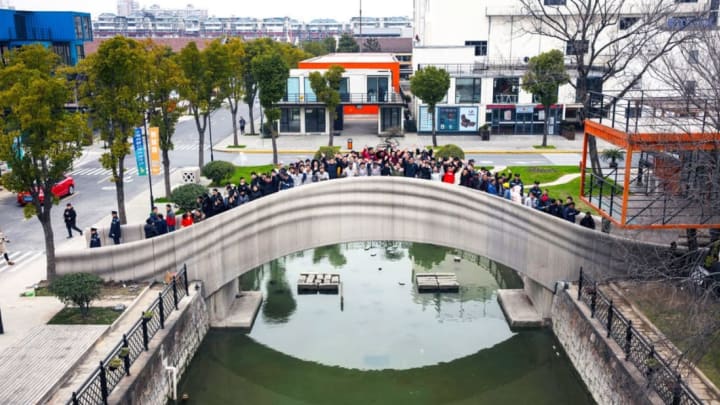 World's largest 3D-printed bridge in Shanghai, China. / Tsinghua University
Small items like toys and shoes aren't the only things 3D printers can make. As a team of architects from China's Tsinghua University School of Architecture recently demonstrated, the machines can be used to print sturdy bridges large enough to span waterways.
As dezeen reports, at 86 feet in length, the new pedestrian bridge on a canal in Shanghai's Baoshan District is the longest 3D-printed bridge on Earth. Designed by the university's Zoina Land Joint Research Center for Digital Architecture (JCDA) and constructed by Shanghai Wisdom Bay Investment Management Company, it consists of 176 concrete units. The parts were printed from two robotic-arm 3D-printing systems over 19 days.
The 3D-printing technology cut down on costs as well as construction time. According to Tsinghua University, the project cost just two-thirds of what it would have using conventional materials and engineering methods.
Even though their approach was futuristic, the architecture team paid homage to a much older bridge in a different part of the country. The new bridge's arched structure is inspired by that of the 1400-year-old Anji Bridge in Zhaoxian, the oldest standing bridge in China (and the world's oldest open-spandrel arch bridge).
The bridge in Shanghai may be the longest 3D-printed bridge in the world, but it isn't the first. Last year, a 3D-printed steel bridge was unveiled in Amsterdam.
[h/t dezeen]