The Unintentionally Prophetic Youppi! Cartoon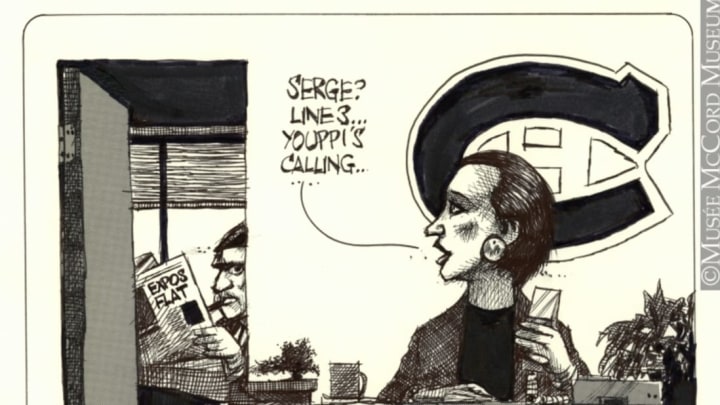 McCord Museum / McCord Museum
When I first asked Terry Mosher, who works under the nom de plume Aislin—a variation of his eldest daughter's name—about his Youppi! cartoon, he asked me which one I meant. Not only has the provocative political cartoonist drawn over 10,000 cartoons during his illustrious career—syndicated in newspapers across Canada and internationally—but he has also made the former Expos mascot a frequent subject.
In fact, the lifelong baseball fan is a member of the Baseball Writers' Association of America, which is responsible for electing new members into the Hall of Fame. Mosher recounts how in his first year of voting eligibility in 1991, Canadian pitcher Fergie Jenkins was elected to the Hall of Fame by a margin of one vote—a fact Mosher happily takes credit for.
The cartoon I originally had in mind is a particularly prescient one from 1988. Then-general manager of the Canadiens is shown fielding a call from the then-Expos mascot while a newspaper headline declares the "Expos Flat." The implication seems to be that, with his baseball team on the skids, the giant, fuzzy, orange creature (he was designed by Bonnie Erickson, creator of Miss Piggy and several other Muppets) might be driven to look elsewhere for work. And eventually, he did. It would take another 17 years, but Youppi! would become the first mascot to ever make the jump from the baseball diamond to the hockey rink when he joined the Habs in 2005.
McCord Museum
Mosher doesn't claim to have had nearly two decade of preemptive insight, though. Instead, he chalks the cartoon up to the Expos' frustrating inconsistency in the 1980s. But he, like Youppi!, found comfort in the Habs after baseball abandoned Montreal, directing his fandom towards hockey for the time being.
To supplement what can be found online, Mosher sent us a selection of other Youppi! cartoons that, taken together, effectively chronicle the Expos' experience:
In this early cartoon, Youppi! looks jubuliant to be driving the "Bus Squad", the nickname given to the 1979 Expos' effective bench players.
Aislin: Montreal Gazette
A Spanish-speaking Youppi! expresses excitement for the Expos' brief but popular stint in Puerto Rico, where they played 22 of their home games in 2003.
Aislin: Montreal Gazette
Later, Mosher imagines a devastated Youppi! taking drastic action after being abandoned by the Expos.
McCord Museum
But ultimately, Youppi! dons a new uniform for his new role with the Canadiens.
Aislin: Montreal Gazette
If you're interested in seeing more of Mosher's Expos work —including actual players, not just mascots—check out Jonah Keri's Up, Up, and Away: The Kid, the Hawk, Rock, Vladi, Pedro, le Grand Orange, Youppi!, the Crazy Business of Baseball, and the Ill-fated but Unforgettable Montreal Expos, which is filled with contemporary Aislin cartoons, and provides a little more detail about the team's history than this post.