The Most Interesting Comics of the Week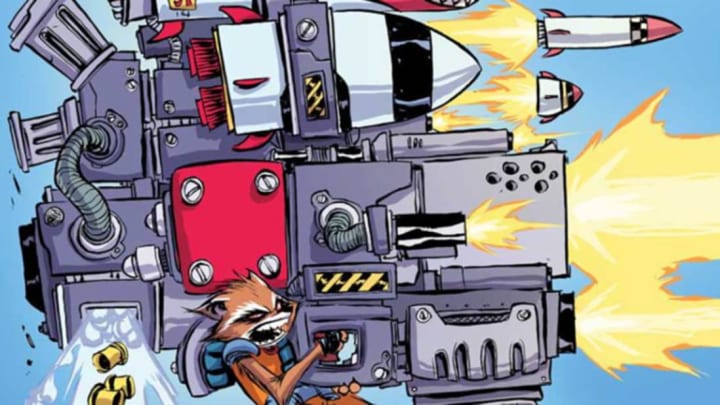 Skottie Young/Marvel Comics / Skottie Young/Marvel Comics
Every Wednesday, I write about the most interesting new comics hitting comic shops, bookstores, digital, Kickstarter, and the web. Feel free to comment below if there's a comic you've read recently that you want to talk about or an upcoming comic that you'd like me to consider highlighting.
1. Rocket Raccoon #1
By Skottie Young and Jean-Francois Beaulieu
Marvel Comics
This summer, Marvel Studios will release Guardians of the Galaxy, a film based on a comic that most people — even many comics fans — have never read. Inside speculation has it being a surprise hit and the standout star is probably going to be an all-CGI character (voiced by Bradley Cooper) named Rocket Raccoon. He's a trash talking, gun-toting alien that very much resembles what we here on Earth call "raccoons." Longtime comic fans are still trying to fathom how this oddball, under-used character may soon become as well known as Wolverine.
Marvel is ramping up its Guardians-related offerings ahead of the movie's release, and this week sees the first issue of Rocket Raccoon, a new ongoing series featuring the Looney Tunes-style exploits of Rocket and his talking tree sidekick, Groot. Regardless of how the movie ends up performing, this book is going to find a sizable audience because of the creative talent behind it: Skottie Young. He's an artist who came on the scene in the early 2000s and has become a major star thanks to his adaptations of The Wonderful Wizard of Oz series. This is his first comic for Marvel where he is both writing and drawing, so it will be a great opportunity to see Young creatively in charge of a comic.
It should be noted that Rocket co-creator Bill Mantlo has fallen on hard times and has been in hospice in recent years. Here's some info about him and how you can help.
***********************************************************
2. Carriers
By Lauren Weinstein
Nautil.us
Cartoonist Lauren Weinstein wrote and illustrated a 5 part comic called Carriers in which, during her pregnancy, she and her husband learn they are both carriers for the gene that causes cystic fibrosis. As she anxiously awaits test results from her doctor, she ponders the nature and history of this disease and the future that may be in store for her unborn child.
In a series of loosely colored, journal-like drawings, Weinstein visualizes the science behind the disease and the data surrounding the genetic demographics. She also conveys the agony that expecting parents go through while waiting for an answer that may affect their family's future. The comic is tense, but it's also funny at times and very informative.
Weinstein creates short, memoir-based works that have been collected in anthologies such as Kramer's Ergot and The Best American Comics as well as her own collections like Girl Stories and Inside Vineyland. Carriers was published this past week on the topic-based online science magazine Nautil.us and was also picked up on Robert Krulwich's NPR blog.
***********************************************************
3. Twelve Gems
By Lane Milburn
Fantagraphics
Fantagraphics, the venerable publisher of works by cartoonists such as Chris Ware, Dan Clowes, and the Hernandez brothers, is not a company that you'd associate with low brow science fiction adventure comics. Twelve Gems, a new graphic novel by Lane Milburn, is a "space opera" about three mercenaries enlisted by a mad scientist type named Dr. Z to search for the fabled Twelve Gems of Power. There's the sultry and deadly warrior Venus, the monstrous tough guy Furz, and the gentle canine technician Dogstar. Each has a mysterious past that is revealed in flashbacks throughout the story.
Twelve Gems is like a low-budget '80s sci-fi epic made by the kid in high school who was always drawing Dave Mustaine on his notebook. It's both heavy metal and Heavy Metal in terms of where it draws its inspiration. Milburn is from the same artist collective — Closed Caption Comics — as Conor Stechschulte whose The Amateurs was also just published by Fantagraphics (I talked about it here recently). Both are cartoonists that make genre comics using the non-formalist sensibilities you'd normally see in art comics. Milburn's drawing style is unpolished in a DIY/punk kind of way but full of enthusiasm and manic energy. This is not going to be for everyone, but it will likely appeal to readers who love cheesy one-liners, over the top violence, and tropes pulled from action films, video games, and manga from the 1980s.
Fantagraphics has a preview here.
***********************************************************
4. 100th Anniversary Special - Fantastic Four
By Jen Van Meter and Joanna Estrep
Marvel Comics
Marvel has decided to jump the gun and spend the month of July celebrating the imagined 100th anniversary of some of their main comics. (Is this a sign that they don't expect comic books to still be a thing in 50 years?) Most of their characters have just recently passed their 50th year in comics but each week in July, a new 100th Anniversary comic will be released as if we're currently in the year 2061. This week starts it off with 100th Anniversary Special - Fantastic Four.
Jen Van Meter and Joanna Estrep reimagine the FF as a team of teenage "science heroes" led by the twin children of Valeria Richards and Bart Banner (presumably Bruce's son) and joined by Victoria Harkness (the granddaughter of Doctor Doom) and a new Human Torch.
In the weeks ahead there will be 100th Anniversary comics for Spider-man, X-men, Guardians of the Galaxy, and The Avengers. The Avengers comics will be written and drawn by James Stokoe (Orc Stain, Godzilla: Half Century War and Wonton Soup as seen in the next item).
Marvel and the creators involved have chosen to allow nearly the same amount of proposed time to pass within the comics as would have passed in the real world (something we know they don't actually do within their previously published comics). We will see plenty of children and grandchildren of familiar characters as well as appearances by immortal and slow-aging heroes. For instance, Stokoe's Avengers team will consist of a magically young Dr. Strange, Beta Ray Bill (the alien space horse version of Thor), and Rogue from the X-men who has absorbed Wolverine's regenerative healing and anti-aging powers.
In the FF, Van Meter and Estrep are also trying to approach the book as if they themselves are some future creative team that would be looking to tell a story that honored the past 100 years of that comic's history. That angle makes these books a little different from your standard alternate future "What if?" stories.
Marvel has a lot more detail about each book here.
***********************************************************
5. Wonton Soup: Big Bowl Edition
By James Stokoe
Oni Press
Speaking of James Stokoe, Oni Press is releasing an omnibus edition of Wonton Soup, the comic that first brought him to everyone's attention about ten years ago. It's an odd, crazy comic about Johnny Boyo, the galaxy's premier chef who gives it all up to become a space trucker in order to explore what other culinary dishes might be out there. Along the way he's confronted by ninjas, pirates and an ex-girlfriend, Citrus Watts.
This so-called "Big Bowl Edition" collects the two previously published volumes of Wonton Soup together for the first time and includes an introduction by Stokoe's friend and contemporary Brandon Graham. Stokoe is an exciting and unique artist who puts a bewildering amount of energy into his work. His style mixes the action and expression of Japanese manga with the design and composition of American graffiti art.
Wonton Soup may be his early work but it shows how confident and assured he was right out of the gate.
For the curious, Oni Press has a whopping 39 pages you can preview.