10 Essential Products Every Dog Owner Needs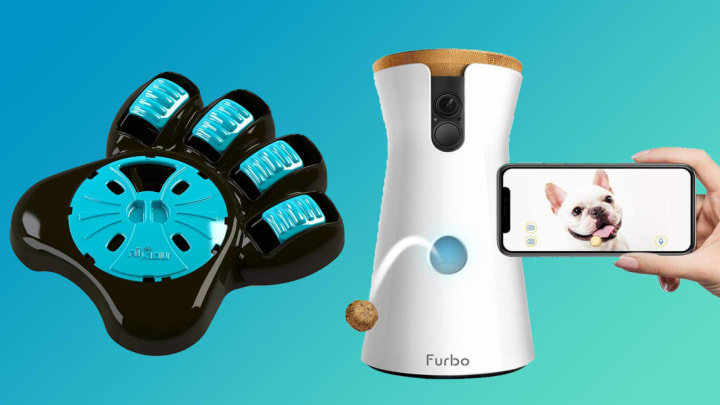 AïKiou/Furbo/Amazon / AïKiou/Furbo/Amazon
This article contains affiliate links to products selected by our editors. Mental Floss may receive a commission for purchases made through these links.
Every dog parent wants to spoil their beloved pooch, and there are infinite pet products out there designed to help you do so. Here are 10 essentials every dog owner needs, whether you just brought home a new puppy or are just looking to add to your loyal friend's collection of pet accessories.
1. Nite Ize Nite Dawg Dog Collar; $14–$17
Nite Ize/Amazon
Keep your pooch safe at all hours with a reflective, light-up collar that will make them visible from any angle at distances of up to 1000 feet. The LED lights on the battery-powered Nite Ize Nite Dawg collar feature flashing and glow modes for maximum visibility. The collar is also water-resistant for rainy days (or pond-loving dogs) and is designed to run for 100 hours before you need to change its batteries. It comes in four different sizes that will fit pups of all shapes, sizes, and breeds.
Buy it: Amazon
2. Chase 'n Chomp Amazing Squeaker Ball; $8
Chase 'n Chomp/Amazon
We've written about the amazing staying power of Chase 'n Chomp's squeaker ball before, because according to pet owners, it's virtually indestructible. Amazon reviewers swear their dogs love it: One even says her German Shepherd's relationship with her squeaker ball is "like Golem with his magic ring—it's that serious!"—which is about the highest praise we can imagine. The squeaker will outlast even the most intense chewing, and in case your dog is a swimmer, it floats, too.
Buy it: Amazon
3. Pooch Selfie Camera Attachment; $10
Pooch Selfie/Amazon
The Pooch Selfie smartphone attachment is the easiest way to make sure the camera loves your pup as much as you do. The mount allows you to affix a tennis ball on top of your phone, giving your dog something enticing to look at so that you can capture the perfect photo of the two of you. It comes with a squeaky ball designed to get your dog's attention, but any standard tennis ball will work. The clasp will fit on most smartphones and smartphone cases.
Buy it: Amazon
4. Pogi's Eco-Friendly Pee Pads; $10
Pogi's Pet Supplies/Amazon
House-training accidents are unavoidable, but you don't need to worry about your furry friend ruining your floors. Pogi's absorbent pee pads are made with plant-based, renewable materials so that you don't have to feel guilty about hurting the environment for the sake of convenience. Better yet, the adhesive backing won't slide around on hard floors, and the quilted core stops odors and leaks in their tracks. They also contain a dog attractant designed to make sure your pooch goes on the pad, not your floor. And they're not just for puppies—pee pads are an excellent choice for older dogs or any pup that has trouble holding it in between walks. And if you just can't convince your dog to stop marking its territory, dog diapers and wraps are a good option. (Mental Floss's resident office dog, Simba, looks adorable in his.)
Buy it: Amazon
5. KONG Stuff-a-Ball-Toy; $11–$15
KONG/Amazon
Unless you want to spend hundreds of dollars on dental cleanings and tooth extractions later in your dog's life, you probably want to take care of their teeth. That doesn't necessarily mean getting up in their molars with a toothbrush. There are plenty of dental chews and tooth-friendly toys, including this one from beloved pet toy brand KONG. The puzzle toy one can be stuffed with treats or peanut butter, and as your dog chews at it to extract its contents, the exterior ridges will clean their teeth. It comes in three different sizes and is designed to withstand even the toughest chewers.
Buy it: Amazon
6. iFetch Automatic Ball Launcher; $119
Your dog's stamina for playing fetch probably far outweighs your own, but that doesn't mean you have to settle for saying no to those begging puppy-dog eyes. You can now outsource your playtime to a robot. The iFetch automatic ball launcher is made to play with your dog when you cannot. The interactive gadget can be programmed to throw balls 10, 20, or 30 feet, depending on the size of your home and your dog's stamina, and comes with miniature balls designed for smaller dogs. (The company also makes a version that can launch a standard tennis ball up to 40 feet, called the iFetch Too, which is available on Amazon for $200.)
Buy it: Amazon
7. Burt's Bees for Dogs Oatmeal Shampoo $5–$49
Burt's Bees, Amazon
No matter the breed, size, or hair type, your dog is bound to get stinky at some point. And while you'll want to bathe them, you don't want to irritate their skin. This colloidal oatmeal shampoo from Burt's Bees promises to clean, soothe, and soften your dog's dry skin and fur and reduce itching. It's pH balanced, tear-free, and perfect for sensitive skin.
Buy it: Amazon
8. AïKiou Interactive Dog Bowl; $22
AïKiou/Amazon
Challenge your dog's mind while keeping their body trim with an interactive puzzle feeder that forces them to work for their dinner. Aikiou's interactive bowl provides more of a challenge than most slow-feeding puzzle bowls, forcing your dog to nose through each of the "toe caps" on the paw-shaped bowl to reveal the kibble beneath—similar to the foraging behavior your pup would use in the wild.
9. Furbo Dog Camera; Starting at $160
Furbo/Amazon
Furbo's dog cam allows you to do more than just check in on your dog while you're at work. You can view your pup on the high-definition, wide-angle livestream 24/7 with night vision capabilities. You can fill the robot with treats and use your phone to direct it to through treats for your pup. And you can calm an anxious dog with the bark-alert feature, which allows the Furbo to detect when your dog is barking so that you can see what's going on and talk to them through the associated app. It can also detect a flurry of movement, such as if your dog is jumping on the couch, chewing cords, or pacing anxiously. Several users say these alerts have proved key in an emergency, detecting them to house fires, carbon monoxide leaks, and dogs tearing through massive bags of chocolate.
Buy it: Amazon
10. BarkBox; $16 for the first box
BarkBox/Amazon
If you can't choose what to buy your pup, let BarkBox choose for you. Each monthly subscription box comes with two bags of treats, a dental chew, and at least two toys around a specific theme, like "Knights of the Hound Table" and "Chewrassic Park." You can choose to receive small, medium, or large toys; specify if your dog has food allergies; and decide between a one-month, six-month, or 12-month subscription. First time subscribers get their initial box for $16, after that it's $29 a month.
Buy it: Amazon
Mental Floss has affiliate relationships with certain retailers and may receive a small percentage of any sale. But we choose all products independently and only get commission on items you buy and don't return, so we're only happy if you're happy. Thanks for helping us pay the bills!