This Self-Warming Mug Doubles as a Wireless Phone Charger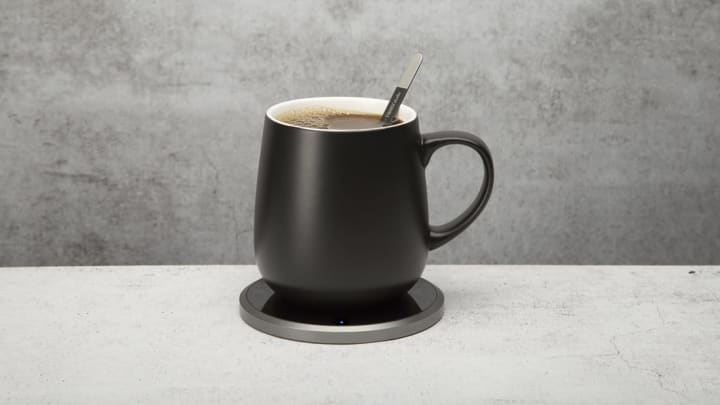 TWINZ Studio / TWINZ Studio
This article contains affiliate links to products selected by our editors. Mental Floss may receive a commission for purchases made through these links.
Today in things you never knew you needed: There's now a coffee mug that can fuel you and your phone. At its most basic function, the new KOPI Mug can brew coffee or tea directly into your cup and warm up your beverage after it's cooled off. What really sets it apart, though, is the fact that the coaster it rests on can also double as a portable, wireless phone charger.
This "self-warming brew system" is the brainchild of TWINZ Studio, a design company that has previously released other eco-friendly products, including titanium straws and chopsticks.
The KOPI Mug is designed to keep your beverage at an optimal temperature of 130°F for at least an hour and a half. A lid is also provided to help seal in the heat, making your coffee last as long as possible. The mug itself is made of porcelain ceramic, which heats up via electromagnetic energy when the metallic particles in the base of the mug come into contact with the charging coaster.
This same technology is what allows the coaster to double as a phone charger. "Since the unit does not actually heat up, [instead] providing an electric charge to heat the inlaid materials within the mug, it will remain cool to the touch, allowing your phone to be placed on top without risk of damage," the company writes in its Kickstarter campaign.
It's also ideal for those who only drink one or two cups of coffee in the morning. Instead of wasting a filter on a small amount of coffee, the company offers reusable coffee and tea filters that attach to the mug, letting your beverage of choice be brewed directly into your cup.
Get the KOPI Mug and wireless charger on Kickstarter for $60. Different combination packs with filters, a titanium stir stick, a glass measuring pitcher, and a coffee canister are also available.
Mental Floss has affiliate relationships with certain retailers and may receive a small percentage of any sale. But we choose all products independently and only get commission on items you buy and don't return, so we're only happy if you're happy. Thanks for helping us pay the bills!