You Can Book Bob Ross Painting Workshops Through Airbnb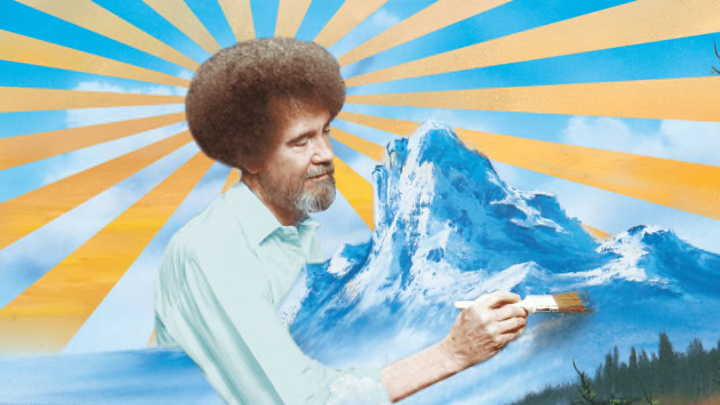 Bob Ross Inc., courtesy Airbnb / Bob Ross Inc., courtesy Airbnb
This article contains affiliate links to products selected by our editors. Mental Floss may receive a commission for purchases made through these links.
Airbnb isn't just for finding a place to stay when you're on vacation. The online marketplace also offers what it calls Airbnb Experiences, like cooking classes, photo-shoots, and walking tours hosted by locals. And starting April 4, Airbnb Experiences now include Bob Ross painting classes led by artists in all different parts of the globe.
If you've graduated from painting along with The Joy of Painting videos, you can channel your inner Bob Ross and attend a live class inspired by the art instructor and television personality. Each Bob Ross painting workshop available through Airbnb is led by a CRI, or Certified Ross Instructor. In order to become Bob Ross-certified, art teachers must got three weeks of intense training on Ross's "wet-on-wet" painting technique. The actual classes are taught exclusively with Bob Ross paints and brushes.
Instructors around the world are certified in the art of making the best of happy little accidents. Classes are currently available in Havana, Cuba; Florence, Italy; Charleston, South Carolina; Seoul, South Korea; and more locations, with most sessions costing between $20 and $80 per person.
The painting classes are a perfect way to chill out on your next vacation, but you don't have to be staying in an Airbnb rental to sign up—you can just as easily take one in your home city.
Book yours on Airbnb.
If you don't feel like leaving the house to learn how to paint like Bob Ross, don't worry: You can watch the first 10 seasons of The Joy of Painting for free on YouTube.
Mental Floss has affiliate relationships with certain retailers and may receive a small percentage of any sale. But we choose all products independently and only get commission on items you buy and don't return, so we're only happy if you're happy. Thanks for helping us pay the bills!