McFarlane Toys Gives Sneak Peek at New Harry Potter Action Figures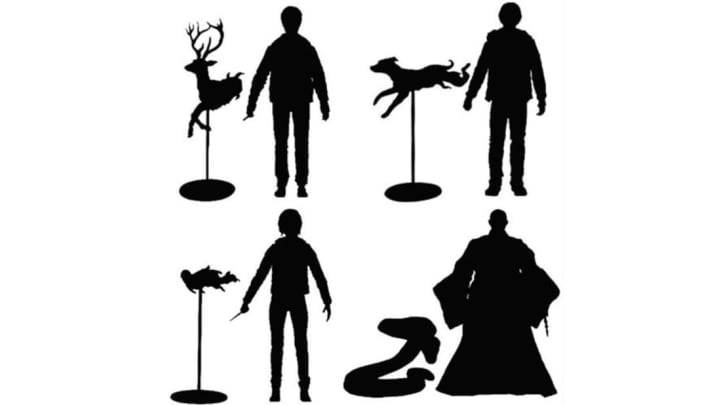 McFarlane Toys, Entertainment Earth / McFarlane Toys, Entertainment Earth
The world of Harry Potter has inspired countless pieces of merchandise, including LEGO sets and Funko Pop! figurines. Instead of showing cute and stylized models of Harry and the gang, a new action figure collection from McFarlane Toys offers a realistic take on the characters, SuperHeroHype reports.
McFarlane Toys, a company founded by comics creator Todd McFarlane in 1994, makes highly detailed figurines of pop culture characters. The first taste of the brand's upcoming Harry Potter line shows just the silhouettes of Harry, Ron, Hermione, and Voldemort as they appeared in the 2011 movie Harry Potter and the Deathly Hallows: Part 2. Based on the teaser image, each toy comes with an animal accessory: Patronuses for each of the three heroes and Nagini the snake for Voldemort.
While the exact look of the collectibles hasn't yet been revealed, McFarlane has shared some key details. The figures each stand 7 inches tall and have 22 points of articulation. They also come individually packaged with character-specific background art, so they'll still look impressive preserved in the box.
The Harry Potter figure collection from McFarlane Toys ships out July 2019. You can preorder the entire set of four today from Entertainment Earth for $80.
[h/t SuperHeroHype]