The Hunchback of Notre-Dame Is the Best-Selling Book in France Right Now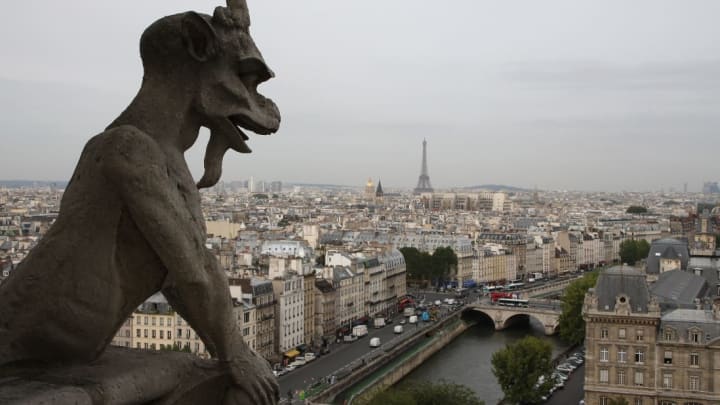 Pascal Le Segretain/Getty Images / Pascal Le Segretain/Getty Images
Thanks to current events, Victor Hugo's 188-year-old book The Hunchback of Notre-Dame has ascended the bestseller list in France. The novel follows a hunchback named Quasimodo who is living in the cathedral's bell tower in Paris during the 15th century. Now, following the fire that destroyed parts of Notre-Dame on Monday, April 15, readers in France are rushing to buy a copy, The Guardian reports.
Investigators aren't sure how the Notre-Dame fire started, but they suspect it resulted from an accident rather than arson or terrorism. The blaze consumed the structure's 800-year-old roof and iconic spire but left the stone facade, bell towers, and south rose window intact. France is already planning to rebuild the church, and so far $1 billion has been raised for the cause.
The Notre-Dame cathedral may not have become the beloved landmark it is today if wasn't for Victor Hugo. The Hunchback of Notre-Dame came out at a time when the cathedral was in disrepair, and by writing his book, Hugo hoped to revive interest in the historic piece of architecture. He did just that: In reaction to the novel's success, Notre-Dame underwent a massive restoration that lasted a quarter of a century. Many new elements were added, including that spire that was lost on Monday.
This week, the French people are returning to the book that's tied so deeply to Notre-Dame's reputation. On April 17, different editions of The Hunchback of Notre-Dame occupied the first, third, fifth, seventh, and eighth positions of the bestseller list of Amazon France. A book detailing the history of the Gothic cathedral claimed the sixth slot.
[h/t The Guardian]