George Lucas Helped Direct a Scene in Game of Thrones's Season 8 Premiere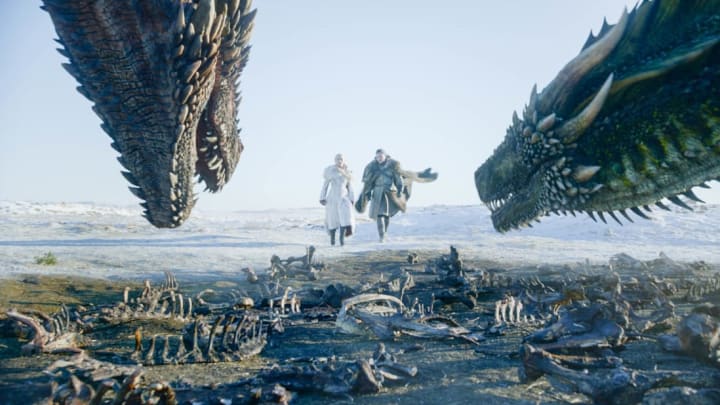 HBO / HBO
Ever since George Lucas stepped away from Star Wars, he's had a lot of extra time on his hands. So, like any world-renowned director, he decided to pay a visit to the set of Game of Thrones as they filmed the season 8 premiere, "Winterfell," and share his talents.
It was Liam Cunningham, the actor who plays Ser Davos Seaworth, who first told Entertainment Weekly about the secret visit, where Lucas explored the set and talked to Game of Thrones creators David Benioff and Dan Weiss (who are currently working on their own Star Wars project).
At the time Cunningham shared this pop culture tidbit, there were no pictures or video to prove the meeting ever happened. But now HBO has released a 17-minute, behind-the-scenes video about the making of "Winterfell," which features footage of the Star Wars creator on the set.
Lucas stood by as director David Nutter filmed a scene with Jon and Daenerys talking in the castle. Nutter asked Lucas if he could talk to the actors about their performance.
"No direction for you," Lucas told Harington. "I don't really care about you. I don't care what happens to you."
David Benioff admitted that when they first heard Lucas wanted to visit the set, ht thought it was a prank. When they realized that Lucas wasn't kidding about stopping by, excitement set in—then nerves.
"The first time I can remember telling stories was me as a kid meshing together these little stormtrooper dolls," Benioff said. "He's the one who started our obsession with this kind of epic storytelling."