Explore Leonardo Da Vinci's Anatomical Sketches and Lesser-Known Artworks With This Coffee Table Book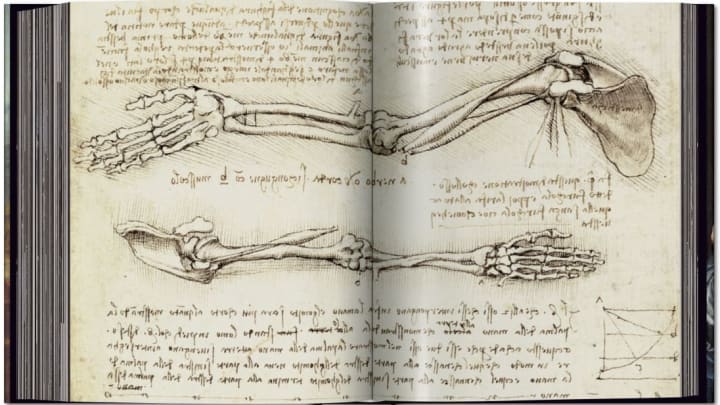 TASCHEN / TASCHEN
Everyone has seen Leonardo da Vinci's most famous paintings and drawings, including Mona Lisa, The Last Supper, and the Vitruvian Man. But have you ever seen some of the Italian artist's lesser-known sketches of skeletons and human innards?
Anatomical sketches of humans and animals alike appear in the book Leonardo: The Complete Paintings and Drawings, which has been updated by TASCHEN in recognition of the 500th anniversary of Leonardo's death. The illustrated hardcover book contains reproductions of nearly 700 of Leonardo's drawings, so odds are there will be a few that you haven't seen before.
According to TASCHEN, this catalog is "the most comprehensive survey of the life and work of the master painter, sculptor, architect, and inventor." In addition to familiar paintings, you'll see portraits of "plump infants," detailed diagrams of machinery, and anatomical sketches of muscles, bones, and even a fetus in the womb.
Although Leonardo's depictions of the human body were generally pretty accurate, his sketches of the female reproductive system were the exception. According to one theory, the dissected cadavers Leonardo used as sources for his imagery rarely included female bodies, which would mean he didn't have much of an example to work from.
Windsor Castle, The Royal Collection 2003, TASCHEN
Windsor Castle, The Royal Collection 2003, TASCHEN
The $50 book will be available from May 16 on Amazon, and beginning in June on TASCHEN's website. Both sites are now taking pre-orders.