Nike Is Releasing a Sneaker Inspired By Eddie Murphy's Coming to America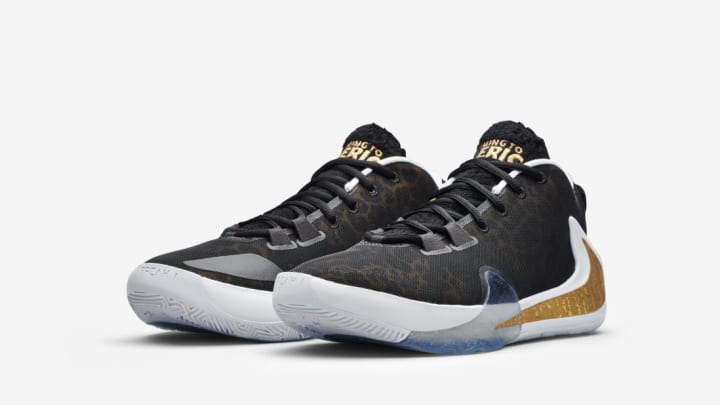 Nike / Nike
This article contains affiliate links to products selected by our editors. Mental Floss may receive a commission for purchases made through these links.
Giannis Antetokounmpo, the NBA's 2019 Most Valuable Player, is paying homage to his favorite movie with a new Nike basketball sneaker inspired by Eddie Murphy's 1988 romantic comedy Coming to America, Geek.com reports.
Murphy's character in the film, Crown Prince Akeem Joffer, comes to America from his fictional country Zamunda with a dream: to escape from his impending arranged marriage and find true love. Antetokounmpo also came to America, though from a real place (Athens, Greece), with the dream of becoming a professional basketball player in the U.S. The Milwaukee Bucks chose him as the 15th overall pick in the 2013 NBA draft, and he has since made a name for himself as "the Greek Freak," a lightning-quick, Euro-stepping power forward who carried his team to the 2019 Eastern Conference Finals.
The new shoes are the latest addition to Antetokounmpo's Zoom Freak 1 line, which launched last month with three colorways: black and white, red and white, and multicolored. All versions feature a king-sized Nike swoosh running along the outside of the sole and up the heel, but the Coming to America kicks have a few extra film-inspired design elements: the swoosh is gold, the mesh is leopard-print (like Prince Akeem's leopard stole), and the tongue displays the Coming to America logo. Also, they come in a box containing pink rose petals and an illustration of Antetokounmpo looking very much like Prince Akeem himself.
Nike
This particular partnership between Nike and Paramount Pictures goes beyond feet: The rest of the collection includes a track jacket, basketball shorts, a T-shirt, and a hat, which all complement the design characteristics of the sneakers.
Nike
Fans of basketball, '80 comedies, and/or animal prints can shop the collection starting August 2.
[h/t Geek.com]