The Most Interesting Comics of the Week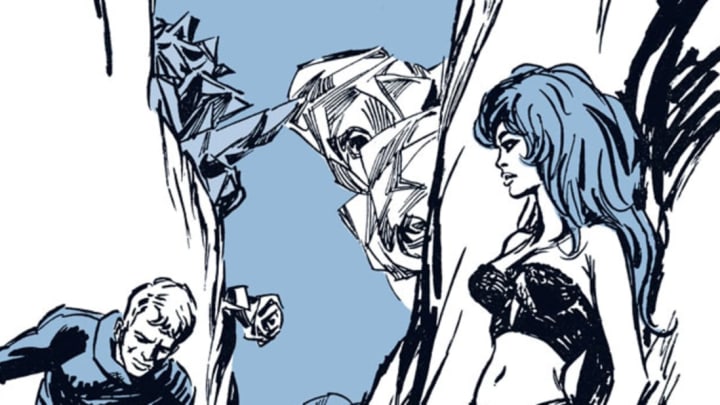 Jean-Claude Forest/Humanoids / Jean-Claude Forest/Humanoids
Every Wednesday I write about the most interesting new comics hitting comic shops, bookstores, digital, Kickstarter, and the web. Feel free to comment below if there's a comic you've read recently that you want to talk about or an upcoming comic that you'd like me to consider highlighting.
1. Barbarella
By Jean-Claude Forest with English translation by Kelly Sue DeConnick
Humanoids
Reprinted in English for the first time in 30 years, the original Barbarella comics are feminist sci-fi fun
In 1962, French cartoonist Jean-Claude Forest created what some consider one of the first erotic comics, a science-fiction adventure called Barbarella about a young Earth woman who travels from planet to planet meeting—and sometimes bedding—alien men, women, and even robots. The comic was adapted into a campy and now-famous film in 1968 starring Jane Fonda that was pretty faithful to Forest's comic. Both sought to present its heroine as a sexually emancipated and enlightened woman, and they were considered risqué for their time.
For the first time in 30 years, the original Barbarella comics are being reprinted in English. European publisher Humanoids, which specializes in high-end science fiction for mature readers, has done something interesting here by bringing in writer Kelly Sue DeConnick to translate the dialogue. DeConnick is currently a superstar writer for both Marvel and Image Comics, and is a self-professed fan of the Barbarella comics.
These are really fun and beautiful comics. Forest draws in a Franco-Belgian style with loose and fluid inking accompanied by the use of a blue spot color throughout. By today's standards, the sexual content is tasteful and far from gratuitous, but what really stands out is how progressive its attitudes about female sexuality are, especially when compared to modern adult sci-fi fantasy. Forest's Barbarella looks like she is modeled off of Brigette Bardot but is far from being an ingenue. She reads like a smart, modern woman who uses sex to her advantage, but also for her enjoyment and never because a man (or woman, or robot) is forcing her to do so.
This is the first of four volumes that Humanoids will be reprinting. They're priced at a hefty $79.95 for a coffee-table style hardcover but you can also buy digital editions for a fraction of the cost ($5.95). Here's some more information and some preview images.
***********************************************************
2. Non Partum
By Rachel Masilamani
MuthaMagazine.com
A cartoonist explores her real life experience with trying to get pregnant.
Non Partum is a new comic that Rachel Masilamani is serializing on the website Mutha Magazine, which focuses on motherhood issues. The first part, "Plan B-200", looked back on Masilamani's memory of a pregnant girl in her high school while she is presently trying to get pregnant herself. The second part, which went up this past week, details her experiences as a paid research test subject, learning she has a thyroid disorder, and deciding she wants to have a baby.
Masilamani has referred to this comic as "autobiofictionographical" on her own website, meaning that it is mostly pulled from her own experiences but she is reserving the right to leave stuff out and make other things up in order to more compellingly convey the points she wants to make. Both chapters so far have an interesting way of skipping around different times in Masilamani's life to talk about incidents that are almost indirectly related but lead up to her own experience of trying to get pregnant. Her drawings are absolutely beautiful, like life studies in a sketchbook but weighted with a real solemnity.
You can read the latest chapter of Non Partum here. Mutha Magazine has published a number of motherhood-related comics by some excellent female cartoonists like Lauren Weinstein, Keiler Roberts, and others.
***********************************************************
3. Bumperhead
By Gilbert Hernandez
Drawn & Quarterly
Punk rock, disaffected teens, and anachronistic iPads play a part in the latest from Gilbert Hernandez.
The prolific Gilbert Hernandez somehow puts out multiple high-quality graphic novels a year. While his latest, Bumperhead, comes out this week, he has another one called Loverboys launching next week. (They are from two different publishers which is probably why they're not spaced further apart.)
Bumperhead—like Marble Season, Hernandez' previous offering from Drawn & Quarterly—is a somewhat autobiographical graphic novel, taking people and experiences from Hernandez's childhood in Oxnard, California and sprinkling them throughout the entirely fictional life of a slacker named Bobby. The story jumps from Bobby's childhood in the 1960s to his troubled teen years in the '70s and into his burnt out adulthood as friends, girls, and even his own father enter and exit his life with little lasting effect on him. As fans of Gilbert and his brother Jaime's work on the legendary Love & Rockets series know, punk rock was an important part of his teen years and the music and attitude of that culture play a big part in Bobby's story. There are also some nice subtle touches of Hernandez's magical realism, notably in the presence of a mysterious iPad that appears throughout the story starting in the 1960s.
Drawn & Quarterly has some preview images here.
***********************************************************
4. G.I. Joe #1
By Karen Traviss, Steve Kurth and Kito Young
IDW Publishing

A realistic take on the Joe team from a seasoned military fiction writer
In relaunching their flagship G.I. Joe series, IDW has gone for an ultra-realistic take on the classic toy franchise that will likely appeal to adult readers who grew up reading the old comics and are now ready for something that's a little more in line with their House of Cards and Game of Thrones-influenced tastes. And to do it right they've brought in Karen Traviss, a former defense correspondent and military fiction writer who has previously taken on such war-themed properties as Halo and Star Wars.
Set years after COBRA has seemed to dissolve (and years after the last G.I. Joe series concluded), the U.S. Government is looking to make budget cuts and the special forces operation known as G.I. Joe is on the block. Captain Scarlett O'Hara finds herself testifying before a special congressional committee to justify the existence of her team, while COBRA is reinventing itself as a more diplomatic organization led by Tomax Paoli (of Tomax and Xamot fame). This is a book that seems like it will focus very much on real-world politics, with Scarlett as the focal character. Artist Steve Kurth and colorist Kito Young bring a somber realism to the art as well, like it's a G.I. Joe cable TV series directed by David Fincher.
This book exists in stark contrast to another new G.I. Joe series IDW put out recently, Tom Scioli's Transformers vs. G.I. Joe, which may be the looniest, most unusual comic being put out by a mainstream publisher today. It's interesting to see a company take a licensed property like this and stretch it as far as it can in two directions simultaneously.
***********************************************************
5. 2000 AD Prog 1900
By Various
2000 AD/Rebellion
Believe it or not, the 1900th issue of a comic can actually be a good jumping-on point.
With Marvel and DC abandoning their own decades-old issue-numbering system in favor of frequent relaunching to attract new readers, British comics publisher 2000 AD stands alone in keeping the original numbering of their 30+ year old magazine, also named 2000 AD. Their 1900th issue (or "prog" as the magazine calls them) comes out this week and, as they do on occasion, they have designed it to be a jumping-on point for new readers.
Granted, being that 2000 AD is an anthology, you're not looking at 1900 issues of continuity to crack into, but coming into a random prog can be daunting since they serialize multi-part stories in 8-page chunks, and the new stories don't always start up at the same time. This week we have the start of a new Judge Dredd story, reuniting Dredd co-creators John Wagner and Carlos Ezquerra. There's also a new installment of Ian Edington and D'Israeli's supernatural steampunk series Stickleback and a hilarious new adventure from Dan Abnett (one half of the writing team that brought us the modern incarnation of Marvel's Guardians of the Galaxy) and Richard Elson in which genetically engineered dog-solider Gene the Hackman fights insect creatures in a far future Earth.
While 2000 AD is of course readily available in the UK, readers in the states may need to do a little more hunting. That said, a number of US comic shops have begun selling it weekly (as opposed to in collections) and you can subscribe digitally via the 2000 AD newsstand app on IOS.
Here's more info about the prog and how you can buy it.