12 Strange and Different Twitter Feeds
Although the combination social network and microblogging platform Twitter is handy for people who just want to communicate, it is perfect for one-liners and constant updates. Some feeds draw you in with their clever observations and/or links. Some are constant jokes. And some accounts are so clever, weird, or funny that you have to follow them. Look around and you'll find something for your personal entertainment. To get you started, here are a dozen feeds that illustrate the strange and different ways Twitter can be used.
1. Modern Twilight Zone
Whenever Ben is tagged in a FB status, he feels a physical tag attached to him too. He seems to be heavier these days...and moves slower too

— Modern Twilight Zone (@ModernSerling) September 12, 2014
Whenever Sharyn sends a snapchat to her friends, her memory of that time disappears as someone opens it

— Modern Twilight Zone (@ModernSerling) August 31, 2014
Modern Twilight Zone takes news headlines, memes, and 21st-century situations and gives them a Rod Serling-type twist. Modern Serling generates plenty of these plots, but followers are glad to contribute their ideas. Read enough of these, and you'll end up with nightmares.
2. KimKierkegaardashian
Filling in the eyebrows with a pencil or powder helps eliminate the imperfection that pertains to everything human.

— KimKierkegaardashian (@KimKierkegaard) September 28, 2014
I should like to draw your attention to the fact that, according to the definitions of both Plato and Aristotle, I have a fine ass husband.

— KimKierkegaardashian (@KimKierkegaard) September 22, 2014
The tagline of the account KimKierkegaardashian is "The philosophy of Søren Kierkegaard mashed with the tweets and observations of Kim Kardashian." Each Tweet contains elements of both. See if you can identify them.
3. Roger the Cat
there is moving food and there is food that stays where i can eat it lying down. that is the food for me.

— Roger the Cat (@TheTweetOfRoger) March 24, 2014
it is dark and the house is quiet. now i will sing the song of my people.

— Roger the Cat (@TheTweetOfRoger) October 2, 2014
Roger the Cat is just a house cat in Texas. And not a particularly clever cat. But that makes his Tweets all the more entertaining, as he chronicles his cat point of view.
4. Sarcastic Rover
Little Known Mars Fact: Mars is the only planet in the solar system with dumb red rocks on it that I have to grind up and eat.

— SarcasticRover (@SarcasticRover) September 29, 2014
Here comes the airplane into the hangar! Vroooooooom… pic.twitter.com/QMAxpSsk8p

— SarcasticRover (@SarcasticRover) September 29, 2014
Sarcastic Rover is sort of an evil twin for the Mars Curiosity Rover account, which is excited and happy to be working for NASA on Mars. The parody account Sarcastic Rover, on the other hand, couldn't care less about the goals of far away men.
5. FEMINIST HULK
BIG GREEN FINGERS CROSSED, WAITING TO HEAR ABOUT #MichaelDunn TRIAL

— FEMINIST HULK (@feministhulk) October 1, 2014
HULK ADVENTURES IN GRAD RESEARCH: HULK SPEND MORNING READING EVERY SPEECH RONALD REAGAN EVER MADE ABOUT SINGLE MOTHERS. NOW HULK SOUL HURT.

— FEMINIST HULK (@feministhulk) September 25, 2014
Of course, the Incredible Hulk types in all caps. In the feed FEMINIST HULK, the green guy holds up his feminist side. Some Tweets are witty quips, in the broken English you'd expect from the Hulk, but there are a lot of interesting links, too.
6. Norman N.
jay leno chia pet

— Norman N. (@oldmansearch) July 16, 2012
was yasser arafat a gay man?

— Norman N. (@oldmansearch) February 25, 2013
The premise of the Twitter feed Norman N. is that Norman is 83 years old, and thinks Twitter is a search engine -because his son told him it was. The Tweets are all search terms. So we get a look into what this character wants to find on the internet. The account ran sporadically for three years, but hasn't updated for the past three months.
7. Big Ben
BONG BONG BONG BONG BONG BONG

— Big Ben (@big_ben_clock) October 2, 2014
BONG

— Big Ben (@big_ben_clock) October 2, 2014
Big Ben is the Westminster Palace clock tower bell, in London. It Tweets every hour, on the hour. For five years now. The account has 451,000 followers. It's pretty handy if you want to know what time it is in London.
8. Middle Class Problem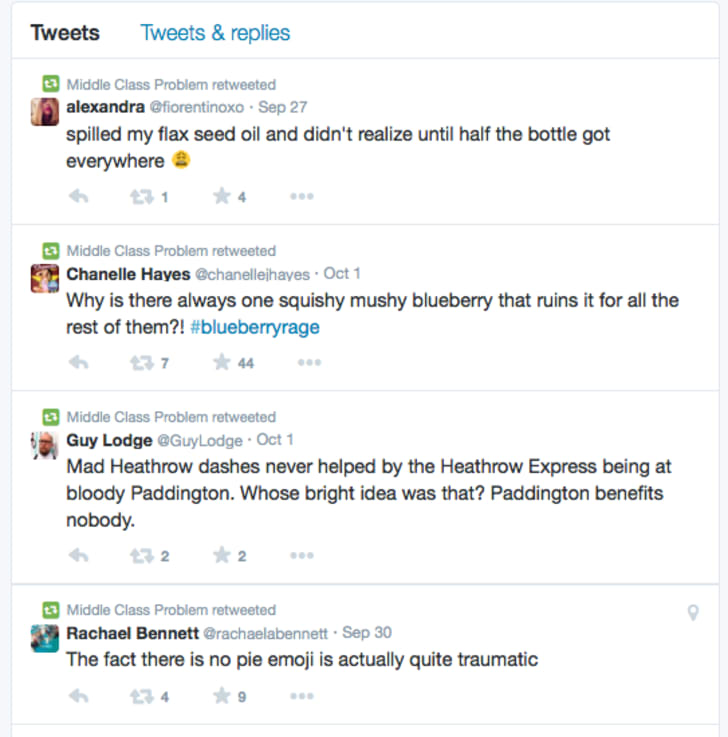 The Twitter account Middle Class Problem doesn't Tweet: it only reTweets. Creator Benjamin Lee finds Tweets from others that are crying out for the label of Middle Class Problem. It's been going for four years and there's never been a dearth of material.
9. A Huge Ship
When Noah was in trouble did His mother and father correct him by talking sense into him?

I'm asking for Noah parent reason.

— A Huge Ship (@AHugeShip) September 19, 2014
A #haiku :
Beauty and power
The ocean teeming with life
I hate John Trimmer

— A Huge Ship (@AHugeShip) August 22, 2014
The Twitter account A Huge Ship was created in response to John W Trimmer's book How to Avoid Huge Ships. This big boat left a complaint in the reviews that the book ruined his social life because people are avoiding him. So he started a Twitter feed to reach out and make friends. Is it working? Yes. 
10. Florida Man
Police Tell Florida Man He Won't Get a Taxi by Calling 911; He Calls Twice Again, Just to be Sure | http://t.co/gcb0r2rsFA

— Florida Man (@_FloridaMan) October 1, 2014
Florida Man Attacks ATM With Hatchet After It Doesn't Accept His Check | http://t.co/gXF2rPhulL pic.twitter.com/bsUkXhPJOF

— Florida Man (@_FloridaMan) September 23, 2014
Have you ever noticed how many headlines in the Friday weird news column start with "Florida Man"? The weirdest things happen in Florida, and the Twitter feed Florida Man reflects that. The feed's tagline is "Real-life stories of the world's worst superhero." All the Tweets are links to news stories with a headline beginning "Florida Man…" There's rarely a day that goes by without a new headline, and some days there are many.
11. Stealth Mountain
@BigBangCBS I think you mean "sneak peek"

— Stealth Mountain (@StealthMountain) January 9, 2014
Stealth Mountain is a bot, but a very useful bot. The account identifies instances in which Twitter users type "sneak peak" when they really mean "sneak peek." The former means "stealth mountain" while the latter means "preview." Stealth Mountain stays busy Tweeting the same message to each of those users. Reading through the feed is not all that entertaining, but if you aren't careful with spelling, you may get a message from Stealth Mountain. Or not… it's been quite some time since we've seen any activity from the mountain. Maybe he feels his work is done.
12. Dread Singles
HOT SINGLES IN YOUR AREA,GAZES FILLING YOU,COMPELLING YOU TO REACH DOWN YOUR THROAT,PULL OUT WHAT YOU FIND,THANK YOU FOR YOUR CONTRIBUTION

— Dread Singles (@hottestsingles) September 1, 2014
THE ABYSS DOES NOT TRUST LOVERS OF PUMPKIN SPICE LATTES...OR THOSE WHO SAY "PUNKIN"

— Dread Singles (@hottestsingles) August 23, 2014
If H.P. Lovecraft were to run a dating site, the result would be Dread Singles. Authored by Jordan Shiveley, the feed posts dating site ads and typical dating site profiles and correspondence with a touch of horror added. Just like real online dating.