The Most Interesting Comics of the Week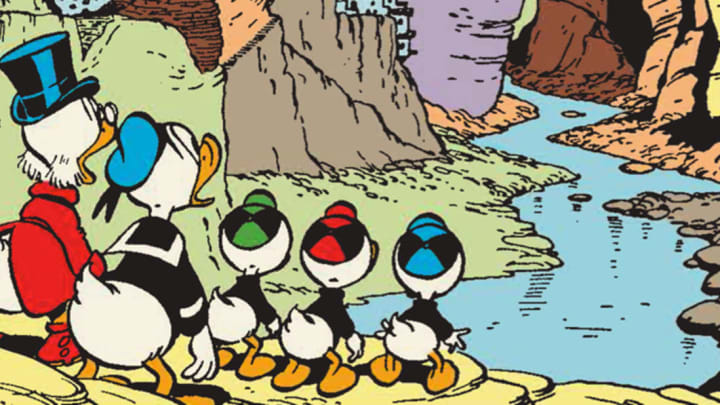 Carl Barks/Fantagraphics / Carl Barks/Fantagraphics
Every week, I write about the most interesting new comics hitting comic shops, bookstores, digital, Kickstarter, and the web. Feel free to comment below if there's a comic you've read recently that you want to talk about or an upcoming comic that you'd like me to consider highlighting.
1. In Real Life
By Cory Doctorow and Jen Wang
First Second
A teenage girl gets a lesson in socio-economic reality while playing an MMORPG .
With the treatment of women in the gaming community a hot button issue right now, the new graphic novel In Real Life (or IRL if you prefer) hits at an interesting time. However, it is really about how the Internet and gaming have changed the ways we organize ourselves online for the purpose of a common good. It's also about the hard social and economic truths behind online gaming that many of us may not ever consider.
Inspired by a visiting speaker at her school, teenage gamer Anda decides to not hide her gender while playing her favorite massively multiplayer online roleplaying game, Coarsegold. Her chosen avatar is sword-wielding Kali and she is a total badass. Soon she is earning real money to take out "gold farmers" who collect valuable objects and sell them for real money to players looking to game the system. When she meets one of these gold farmers, he turns out to be a sixteen-year-old Chinese boy who is suffering from a workplace-induced injury and has no healthcare. This fantasy environment where she is slicing apart other players and imaginary beasts with a gigantic sword suddenly becomes a way for her to connect with real people and their real-life problems and she aims to find a way to help.
We've seen a lot of comics that bring video game logic (extra lives, fighting "bosses", etc.) into real life scenarios, but when Doctorow and Wang are depicting the gameplay of Coarsegold they do the opposite—they bring constructs of real life (one-on-one conversations) and of comic books (stylized fight scenes) into the video game environment. (Admittedly, video game comics are one genre that I don't read a lot of so I'm sure many other comics have done this but I was struck by how well this worked.)
Cory Doctorow is a longtime co-editor of the great tech and culture blog Boing Boing and he has written a number of novels, but this is his first graphic novel (it's based on a short story he previously wrote called "Anda's Game"). It is the second graphic novel for Wang, and her work here is simply gorgeous. Hopefully we'll see a lot more from her in the future.
***********************************************************
2. Uncle Scrooge: The Seven Cities of Gold
By Carl Barks
Fantagraphics
In print for the first time in years, the Uncle Scrooge comic that helped inspire Raiders of the Lost Ark.
Back in the '30s and '40s, Western Publishing—publisher of Golden Books and various Disney comics—never credited the artists and writers in their comic books, but readers of Uncle Scrooge could always tell the "good duck artist" from the rest. At some point, a group of enterprising readers sleuthed out his identity (way before the internet empowered this sort of fanboy activity): Carl Barks. Barks, who passed away in 2000 at the age of 99, is considered to be one of the all time comics greats and his greatest creation, Scrooge McDuck, is his lasting legacy.
Fantagraphics has been lovingly reprinting Banks' classic Uncle Scrooge comics into beautifully designed and recolored hardcover collections. This 14th volume of reprints, Uncle Scrooge: The Seven Cities of Gold, begins with the classic story "The Seven Cities of Cibola," which is notable for inspiring the giant, rolling boulder scene in Raiders of the Lost Ark. In fact, George Lucas and Steven Spielberg have admitted that Barks' work in general was a huge influence on the Indiana Jones films. This is where Barks started turning the series into tales of adventure with Scrooge McDuck embarking on global expeditions to find lost treasure with his nephews Huey, Dewey and Louie, whose Junior Woodchuck skills and quick thinking often come in handy for their uncle. Before this point, most Uncle Scrooge stories played off of his greed and paranoia about safeguarding his wealth from the dastardly Beagle Boys, but this shift towards treasure hunting would be the way forward for the comics for decades, eventually inspiring the popular Duck Tales cartoon series in the 1980s.
As an added bonus for cinephiles, The Seven Cities of Gold also includes a story called "The Mysterious Stone Ray" which may have influenced parts of the James Bond adventure Goldfinger. Fantagraphics has a preview here.
***********************************************************
3. Oyster War
By Ben Towle
Oysterwar.com
A rollicking tale of pirates, selkies and oysters.
If you enjoy Carl Barks' brand of adventure and slapstick humor, you'll probably also like Ben Towle's Oyster War, which recently came to its rousing conclusion. Towle is inspired by the cartooning styles of the great comic strip artists like Barks, EC Segar and Hergé, and he has crafted a story that fits with that classic feel of mid-20th century adventure serials.
Oyster War is part historical fiction, based on the real-life conflicts between oyster pirates and navy men in the late 1880s, and part nautical fantasy, mixing in legends about selkies (humans that shape-shift into seals) and Chessie, the Chesapeake Bay's own Loch Ness Monster. The story begins in a fictional Maryland town called Blood's Haven where the local mayor enlists the help of former Confederate submarine commander Davidson Bulloch to stop a band of pirates from depleting the local oyster supply. It turns out the pirates plan on dredging up more than just oysters. They have their sights set on the buried —and supposedly magical—remains of a long-dead pirate. Bulloch, a blustery character with no patience for all this magical folklore, assembles a rag-tag crew of diverse locals with little to no naval experience to man his second-hand vessel. That's just where the fun begins.
Towle obviously put in a lot of research, but it's when he departs from reality that Oyster War is at its best. My favorite part of the comic is how it is colored—Towle is not afraid to use bold, unexpected, and unrealistic colors from panel to panel in order to guide your eye through the action and it is quite effective.
There are a lot of great long-form webcomics out there, but not a lot of great ones that tell a finished story.Oyster War posted its final page this month after nearly four years of in-progress storytelling. You can start at page one right here.
***********************************************************
4. Debbie's Inferno
By Anne Emond
Retrofit Press
A young artist travels through her own personal hell, guided by her talking cat.
The Debbie of Debbie's Inferno is a young artist who finds it hard getting out of bed until one day when her apartment starts filling up with weird fluid and her cat reveals that he knows how to talk. Debbie begins a Dante-like journey into the rings of a hell that is tailored to her own doubts and fears and will likely strike a chord with a lot of other artists as well. With her talking cat as a guide, she wanders through places like the Desert of Burnt Out Passion and the Cave of Self-Loathing, causing her to re-examine her outlook on life. A particularly effective scene for us artists, I think, is when she reaches the top of a mountain range where there is "no atmosphere," and numerous artists have chosen to work alone with their drafting tables set up on the peaks where no one can interrupt them from getting their work done. It's all a little bit funny and a lot bit familiar.
Emond has published this short, black and white work through the small press publisher Retrofit Press which specializes in old-fashioned stapled comics by unique independent voices. You can order a copy here.
***********************************************************
5. B.P.R.D. Hell on Earth #124
By Mike Mignola, John Arcudi, Tyler Crook and Dave Stewart
Dark Horse Comics
Overrun by Kaiju, the town of Santa Fe tries to carry on.
B.P.R.D. is that rare spin-off that's even better than what it has spun-off from (Hellboy fans please don't hate me but you know it's true). What began as a mini-series meant to give Hellboy supporting characters like Abe Sapien and Liz Sherman their own time to investigate and fend off paranormal beings, soon began telling a much larger, overarching story, similar to what series creator Mike Mignola has done over the years with Hellboy. In fact, B.P.R.D. has been telling two big stories over the past 12 years. The first was called Plague of Frogs, which encompassed the equivalent of the first 68 issues of the series. The second story is called Hell on Earth and it is still going as the 124th issue hits the stands.
Despite the many years of backstory leading up to it, B.P.R.D. Hell on Earth #124 is a pretty good jumping-on point for new readers. It is set in Santa Fe, which has been severely damaged and split in two by massive creatures called the Ogdru Hem. This issue shows how these insane battles with Kaiju-like monsters affect the normal people on the ground trying to live their lives. A coffee shop employee named Aaron is our street-level point-of-view character who brings coffee to members of the B.P.R.D. crew and tries to convince them to come to his side of town where some sort of monstrous infestation is growing.
For new readers, you get a nice introduction to characters like Liz Sherman and Johann Kraus, but you also get a sense of how the series conveys the apocalyptic doom that has been wrought in the Hell on Earth story. It's funny, human, believable (even with all the Kaiju), and downright terrifying. This series always boasts amazing artwork—in this case from a B.P.R.D. favorite who is making his comeback to the book, Tyler Crook. He knows how to handle both the big, epic acts of destruction and the small, funny moments that happen between folks who just want a cup of coffee.