11 Funny Gag Gifts You Can Buy on Amazon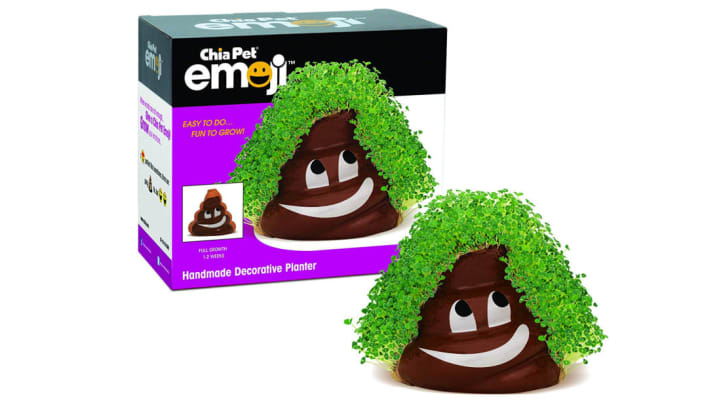 Chia Pet/Amazon / Chia Pet/Amazon
This article contains affiliate links to products selected by our editors. Mental Floss may receive a commission for purchases made through these links.
Buying gifts for a friend or loved one can be stressful, but a funny gag gift can bring a little levity to any occasion. Whether you're looking for the perfect hilarious birthday present, or just want to give one as a prank, we've got gag gift ideas for a range of different types of humor—and they prove there's no present sweeter than the gift of laughter.
1. Thor's Hammer Bottle Opener
Lmaytech/Amazon
This model of Thor's hammer won't grant you dominion over thunder and lightning, but it will make short work of bottle caps: It's equipped with an opener at one end and a chain on the other for easy attachment. It comes in silver and bronze, with the famous line, "Whosoever holds this hammer, if he be worthy, shall possess the power of Thor," emblazoned on the side. And because it's fairly lightweight, you don't need the strength of a demigod to wield it.
Buy It: Amazon ($12)
2. Burrito Blanket
mermaker/Amazon
Available in a variety of styles and sizes, the burrito blanket is the perfect gag gift for the foodie in your life. Rolling yourself up inside one of these circular, tortilla-patterned numbers is a riot—and since they're made with extra-soft flannel, it's a comfy experience to boot!
Buy It: Amazon ($25)
3. UFO Plant Holder
Fred & Friends/Amazon
Instead of little green men, this UFO-shaped container holds little green houseplants. Hang the tiny mothership from your ceiling with the silver cord—or prop it up at ground level, if you prefer. At 5.25 inches wide by 4.5 inches tall, it's the ideal size for cacti, jade plants, and other popular greens.
Buy It: Amazon ($18)
4. How to Tell if Your Cat Is Plotting to Kill You
The Oatmeal/Amazon
You love your cat—but do you really trust your cat? How to Tell if Your Cat Is Plotting to Kill You shows you all of the warning signs that your favorite feline might, in fact, be a tiny killer. Full of hilarious comics from Matthew Inman (The Oatmeal), this book is a twisted little gag gift perfect for cat lovers with a sense of humor.
Buy It: Amazon ($15)
5. Golden Girls Coloring Book
DBG/Amazon
You're not going to prank your friends with a Golden Girls coloring book gag gift, but they'll definitely get a laugh out of it. Get your friend some colored pencils and watch them do their best to add life to the pantsuits and gourmet cheesecakes of Rose, Blanche, Dorothy, and Sophia.
Buy It: Amazon ($12)
6. Toilet Coffee Mug
BigMouth Inc/Amazon
Feeling flushed? Perk yourself up with a swig of your favorite beverage from this toilet-shaped coffee mug gag gift. It holds over 15 ounces worth of liquid and is pretty much guaranteed to make your co-workers do a double take.
Buy It: Amazon ($13)
7. World's Smallest Vacuum
Westminster/Amazon
This gag gift literally sucks. Despite being a little over 5 inches long, it's a functional vacuum cleaner perfect for tight spaces. Just plug it in and suck up all those crumbs that mysteriously appeared on your desk. The mini vacuum is also a great tool for cleaning keyboards—and should get some hearty laughs in the process.
Buy It: Amazon ($14)
8. Poop Emoji Chia Pet
Chia
Look at the sneaky smile on this Chia Pet's face. OK, so it might not be the puppy or kitten Chia Pet that you're used to, but this poop emoji pet ;should absolutely be a contender if you're searching for the best gag gift for a friend who views toilet humor as high art.
Buy It: Amazon ($17)
9. "Cat Bods" Toy Box
30 Watt/Amazon
Like moths drawn to a flame, cats can't resist cardboard boxes. But they'll never find a cooler one than this little beauty. Four of the outside walls are decorated with dynamic pictures of daring astronauts, muscle-bound bodybuilders, and other go-getters. Carefully placed holes allow your cat to become a part of these scenes when it pokes its head through. Keep a camera handy and enjoy the show.
Buy It: Amazon ($9)
10. Unisex Bass Sandals
Han shan/Amazon
Talk about going against the current. Vibrantly colored, slack-jawed fish sandals are unlike anything else you're likely to see at the beach (or anywhere, really). Just like real fish, their sizes and colors vary.
Buy It: Amazon ($18-$22)
11. Pooping Pooches 2020 WalL Calendar
Pooping Pooches
It's just man's best friend doing their business, but now you can put it right on your wall. This Pooping Pooches calendar is just offbeat enough to bring a smile to the face of any animal lover. And they'll be even more thankful once you tell them that $1 from every calendar sold is donated to the Maui Humane Society to support animals in need. So get a gag gift for a good cause.
Buy It: Amazon ($17)
Mental Floss has affiliate relationships with certain retailers and may receive a small percentage of any sale. But we choose all products independently and only get commission on items you buy and don't return, so we're only happy if you're happy. Thanks for helping us pay the bills!