Hot Tip: You Can Buy Booze at Costco and Sam's Club Without a Membership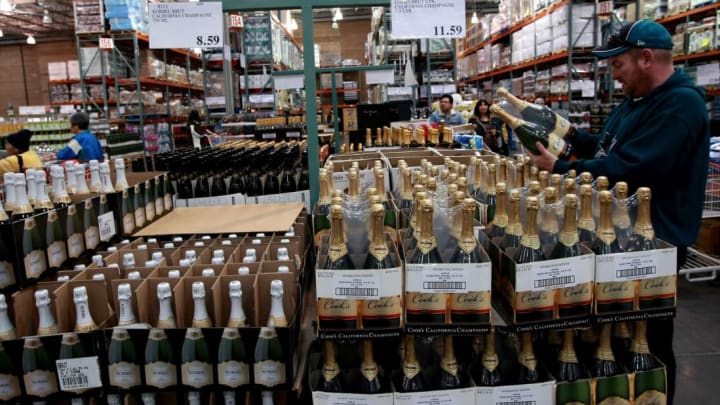 Justin Sullivan/Getty Images / Justin Sullivan/Getty Images
This article contains affiliate links to products selected by our editors. Mental Floss may receive a commission for purchases made through these links.
Wholesale chains are great places to go for food like hot dogs, rotisserie chickens, and massive cheese wheels. But in many parts of the country, stores like Costco and Sam's Club also offer impressive selections of beer, wine, and liquor. In addition to being cheap and plentiful, the booze sold at bulk stores comes with another perk: They're often some of the only items for sale that you don't need a membership to purchase, according to Lifehacker.
The benefits that come with store memberships—such as access to bulk groceries, water deliveries, and even cheap funeral accessories in Costco's case—are well worth the annual fees for many customers. But even if you aren't willing to pay $45 to $100 upfront to do your grocery shopping, a visit to a bulk outlet may be worth the trip if you're looking to stock up on alcohol.
Thanks to a legal loophole in some states, retailers aren't allowed to require customers to sign up for memberships before buying alcoholic beverages. At Sam's Club, that means you can pick up a 12 pack (or a 30 pack) at any location without proving you're a member first. The way Costco handles booze sales is less clear. Though the chain won't disclose the specifics of its policy, according to Lifehacker, "word on the street is that you don't need a membership to buy beer, wine or spirits if you shop in Arizona, California, Connecticut, Delaware, Hawaii, Indiana, Massachusetts, Michigan, Minnesota, New York, Texas, or Vermont."
So if you find yourself near a wholesale store and want to do all your beverage shopping for the month at once, don't be afraid to walk in without a membership card. The stores carry the same big-name brands as regular outlets, and even the store-brand options are popular with customers. But if you want to take home a robot-prepared pizza to go with your Costco beer, you may need spring for that membership.
[h/t Lifehacker]