The Most Interesting Comics of the Week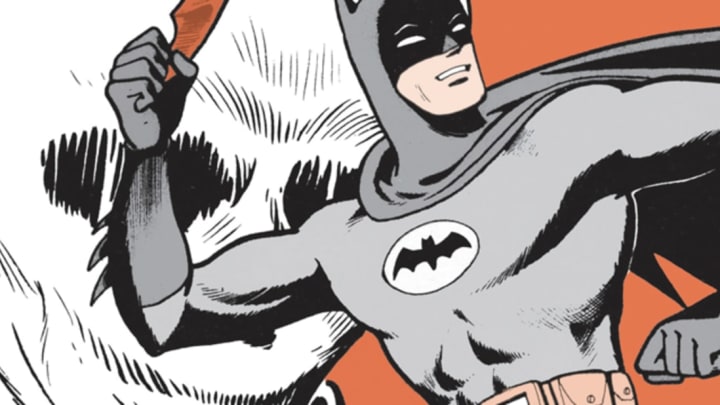 Jiro Kuwata/DC Comics / Jiro Kuwata/DC Comics
Every Wednesday, I write about the most interesting new comics hitting comic shops, bookstores, digital, Kickstarter, and the web. Feel free to comment below if there's a comic you've read recently that you want to talk about or an upcoming comic that you'd like me to consider highlighting.
Batman: The Jiro Kuwata Batmanga
By Jiro Kuwata
DC Comics
The lost Batman manga series from the 1960s that even DC Comics forgot about, collected for the first time.
In 1966, when the Batman TV show was a legitimate international craze, Tokyo-based manga anthology Shonen King hired an up-and-coming artist named Jiro Kuwata to create its own ongoing Batman manga. The Batman TV craze burned itself out in less than two years, and the manga was cancelled and never seen again—that is, until nearly 40 years later when writer and graphic designer Chip Kidd stumbled across some old copies of Shonen King. This Batman manga was so long forgotten that no one at DC Comics had any idea they ever existed until Kidd unearthed them. He put together a coffee-table-style art book in 2008 called Bat-Manga! that reintroduced Kuwata's work to the world. Now, after serializing them digitally for the past couple of months, DC is republishing the manga in its entirety for the first time in print.
Kuwata's Batman has the fun, campy vibe of the TV show that inspired it, but is also very Japanese in tone and content. The artwork is crisp and dynamic with wonderfully choreographed, manga-style action scenes. The threats that the dynamic duo face have more in common with manga than American Batman comics. The villains (such as Lord Death Man, The Human Ball, Professor Gorilla, Go-Go the Magician and Dr. Faceless) are all fantastic—kooky and odd, yet very creepy. With the exception of Clayface, who shows up in one story, they are unique villains to these comics and are a treasure trove of great characters. In fact, Grant Morrison already pulled Lord Death Man (who can seemingly die and revive himself at will) into an issue of his Batman, Inc. series a few years back.
Not long after the end of the Batman manga series, Kuwata experienced some hard times due to alcoholism and severe depression. He spent a short period in prison for gun possession and soon abandoned his promising career in manga for Buddhism and creating Buddhist-inspired art—although he has occasionally returned, particularly to his most popular manga creation, 8 Man.
DC has some preview images of Kuwata's Batmanga here.
***********************************************************
Hellboy & The B.P.R.D. #1
By Mike Mignola, John Arcudui, Alex Maleev and Dave Stewart
Dark Horse Comics
A trip back to 1952 to tell the story of Hellboy's first mission with the B.P.R.D.
The B.P.R.D. (Bureau of Paranormal Research and Defense) has been an integral part of Mike Mignola's long-running Hellboy mythology since the beginning. Featuring a freaky cast of supporting characters like Liz Sherman and Abe Sapien, it has been such a successful spinoff that, in its ten-year run, it hasn't even needed to feature any Hellboy guest appearances. The very first issue came out shortly after Hellboy quit the Bureau in the pages of his own comic to explore the world—an adventure from which he never returned.
Now, after all these years, Mignola and co-writer John Arcudi are finally going back to show how Hellboy first joined the B.P.R.D. in the 5-issue mini-series Hellboy & The B.P.R.D. Granted, this is not the B.P.R.D. that boasts Abe and Liz as team members. Set in 1952, this B.P.R.D. consists of normal human soldiers led by Professor Trevor Bruttenholm, the man who raised Hellboy from a child. Now fully grown, Hellboy is old enough to take part in his first mission. Joining a small team of four B.P.R.D. agents—one of whom appears to be a traitor—they are sent to Brazil to investigate a fortress haunted by a superhuman creature.
The house style for so-called "Mignola-verse" comics tends to lean towards the "cartoony" end of the style spectrum, but this series is drawn by Alex Maleev, an artist who works in a very photo-realistic style. However, like Mignola, he also uses a shadow-drenched chiaroscuro technique that makes Hellboy look right at home.
***********************************************************
Escape from New York #1
By John Carpenter, Christopher Sebela, Diego Barreto and Marrisa Louise
Boom! Studios
Snake Plissken heads to Florida in this follow-up to the 1981 cult classic.
This week's entry in '80s nostalgia comics is Escape From New York, a new ongoing series that picks up right where the classic 1981 action film left off. We're living in a great time for comic adaptations of films and TV shows—something comics publishers never used to put their A-game into. IDW, Dark Horse and Boom! Studios have led the charge in producing quality adaptations of licensed properties, giving top creators enough free rein to make them interesting.
After Boom! Studios brought in The Goon's Eric Powell to write another revival of a John Carpenter cult classic film, Big Trouble in Little China, writer Christopher Sebela began lobbying to write an Escape from New York series. Sebela is a rising star in the comics world who has been writing books for Marvel and Dark Horse, but he made the biggest splash with High Crimes, his creator-owned sherpa-noir set on Mount Everest. In this new series, Sebela, with plot input from John Carpenter and artist Diego Barreto, will be taking Snake Plissken—the iconic, eye-patched anti-hero played by Kurt Russell in the film—away from New York City (which in this dystopian future has been turned into a giant prison) and out into the rest of America, starting with Florida. You know you want to read a comic set in a dystopian Florida.
Barreto (son of veteran comic artist Eduardo Barreto) has a very cartoony style that is similar to Brian Churilla's work on the Big Trouble comic. It's an unexpected departure from the realistic yet stilted artwork that many film adaptations go for and that possibly many readers expect with this sort of thing.
***********************************************************
Cochlea & Eustachia
By Hans Rickheit
Fantagraphics
Hans Rickheit's weird, dream-like webcomic comes to print.
Sometimes you just want comics with impossible physics, intricate gadgetry, and half-naked women. Okay, that describes 90% of the comics out there, but Hans Rickheit's Cochlea & Eustachia unapologetically embraces its own id and delivers plenty of visual delight. Originally a webcomic, this new graphic novel from Fantagraphics follows two identical women, Cochlea and Eustachia (they don't seem to be sisters, but who knows what they really are), who wear domino masks and only the top half of their lingerie while wandering curiously, but without any real intentions, through a dream-like environment that mixes French nouveau, steampunk, Joel-Peter Witkin, Sigmund Freud, MC Escher, and lots of weird creatures.
Rickheit has been making comics for over twenty years but is still relatively obscure. He received some acclaim for last year's graphic novel The Squirrel Machine, and he has garnered a good amount of attention for his still unfinished Ectopiary webcomic. He has just started a new Cochlea & Eustachia webcomic that is about 8 pages in as of this writing.
You can read a preview of the Cochlea & Eustachia graphic novel here.