The Most Interesting Comics of the Week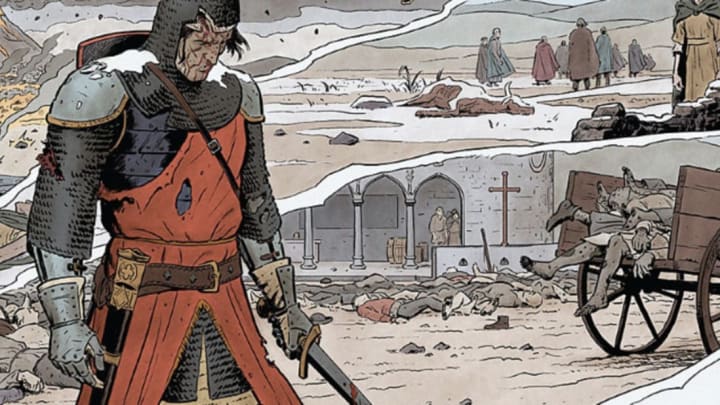 Paolo Rivera/Valiant Comics / Paolo Rivera/Valiant Comics
Every Wednesday, I write about the most interesting new comics hitting comic shops, bookstores, digital, Kickstarter, and the web. Feel free to comment below if there's a comic you've read recently that you want to talk about or an upcoming comic that you'd like me to consider highlighting.
Here
By Richard McGuire
Pantheon Books
One corner of an apartment, glimpsed at across different points in time, going back hundreds of thousands of years.
Back in 1989, Richard McGuire published a 6-page comic in Raw Magazine called "Here." It was a masterpiece of comics formalism, using inset panels to show one corner of an apartment and everything that has happened in that spot of land from 1 million years B.C. to decades into the future. It has influenced the work of people like Chris Ware, who explored the life of an apartment building on a shorter scale in Building Stories and Frank Quitely who, in the recent Multiversity: Pax Americana, used interspersed comic panels to show events happening in the same physical space but at three different points in time.
McGuire has spent the last 25 years thinking about how he could expand the original concept of "Here" into something more, and the result is Here, a 300+ page book made up of fully painted, double-page spreads. It takes the original concept to the next level and is sure to be in consideration for graphic novel of the year.
Matt Seneca over at The Comics Journal has a detailed review that will give you a pretty good idea of what McGuire has done with this book.
***********************************************************
Bitch Planet #1
By Kelly Sue DeConnick and Valentine DeLandro
Image Comics
A grindhouse 'Orange is the New Black' set in space is the feminist comic of 2014.
Thanks to the success of her creator-owned Image Comic series Pretty Deadly and the loyal cult following that has risen up around her work on Marvel's Captain Marvel series, Kelly Sue DeConnick has become the kind of writer for whom a new series is an event. Those two books are flavored with feminist empowerment, as is DeConnick's career itself and how she has risen amidst the boys' club of superhero and genre comics. Now, she is embracing that spirit overtly with a new sci-fi comic called Bitch Planet.
Seemingly an Orange is the New Black set in space but with a strong grindhouse/blaxploitation vibe to it, this series is about "non-compliant" women who are shipped out to an off-world correctional facility referred to colloquially as "Bitch Planet." The first issue contains a multi-layered plot with misdirection in regards to who the focal or POV character of the book might be, so it may take a couple of issues to get a sense of where the series is going. Still, the misdirection itself says a lot about how DeConnick will be handling societal expectations in regards to race, age, and gender.
Artist Valentine DeLandro has worked on some books for Marvel, most recently X-Factor, and his shadow-drenched style gives the comic a dark and foreboding atmosphere while also weaving in that low-brow grindhouse aesthetic. Continuing the trend of adding textual "back matter" to single issues, this first issue includes an essay written by Danielle Henderson (of Feminist Ryan Gosling) about modern feminism and recognizing oppression in today's society.
Here's a preview as well as an interview with DeConnick.
***********************************************************
Ditko's Shorts
By Steve Ditko
IDW Publishing
A collection of weird one-, two-, and three-page stories by a comics legend.
Steve Ditko, co-creator of Spider-man and Dr. Strange, was a frequent contributor to weird comics anthologies and horror magazines. Comics historian and archivist Craig Yoe has managed to compile enough of these short story contributions—all one-, two-, or three-pages in length— to fill a substantial, oversized hardcover collection called Ditko's Shorts. There is a wide variety of material here, from Twilight Zone-style science fiction to goofy slapstick humor that would fit in with MAD Magazine. Much is culled from long-forgotten magazines from the 1960s and meticulously remastered for this collection.
The theme for Ditko's Shorts is the limited page length of each story and how much Ditko manages to pack into each. Today's comics are generally very decompressed, taking 5 or 6 issues to tell a story that used to be crammed into 22 pages. That said, a lot of cartoonists that are finding success on the web have done so by embracing a shorter format to match the attention span of web surfers. It's interesting to think of these little Ditko comics as being a product of their time and yet they are perfectly formatted for posting to Tumblr—if we could possibly imagine Ditko ever doing such a thing.
***********************************************************
Bad Machinery Vol. 3: The Case of the Simple Soul
By John Allison
Oni Press
Two groups of teen sleuths eventually get around to solving mysteries.
Bad Machinery is a long-running webcomic about two groups of teen amateur sleuths in a fictional town in England that is beset by odd mysteries. Webcomics pioneer John Allison spun it off in 2009 from his last comic, Scary Go Round, which itself was spun off from his first webcomic Bobbins. (Coming full circle, Bad Machinery has now come to an end and has been replaced by a new Bobbins webcomic.) Oni Press has been collecting the individual mysteries into 140 page softcover volumes, and this week sees the 3rd volume, The Case of The Simple Soul.
The pleasure of reading Allison's Bad Machinery is that the mysteries are actually kind of secondary for both the readers and even the characters themselves who, like real teens, are easily distracted by personal drama. The kids solve their mysteries as two separate groups—boys and girls. This volume's mysteries involve an arsonist and a troll-like man living under a bridge. Allison writes funny dialogue and has a likable cast of characters here. His cartooning style, reminiscent of another great webcomicker, Kate Beaton, is gestural and energetic and very charming.
You can sample the story in its original webcomic form here.
***********************************************************
The Valiant #1
By Jeff Lemire, Matt Kindt, Paolo Rivera and Joe Rivera
Valiant Comics
A centuries old battle between two immortal beings comes to a head in the present day Valiant Universe.
Valiant Comics has entered a new phase of relaunches and events in an attempt to bring new readers into the fold. At the forefront of this is a four-issue prestige format series titled The Valiant and it boasts a creative team of superstars: co-writers Jeff Lemire (Green Arrow, Trillium) and Matt Kindt (Mind MGMT) and artist Paolo Rivera (Daredevil).
The concept centers around Gilad, the Eternal Warrior, who over the millennia has been trying to protect The Geomancer (the Earth's appointed protector) from a demon called The Immortal Enemy. In a breathtaking opening sequence, we see Gilad repeatedly defeated by The Immortal Enemy and the newly chosen Geomancer brutally killed again and again. This happens until we reach today, where the new Geomancer is a former publicist named Kay McHenry who's trying to deal with protecting the Earth on top of her personal life being in disarray.
While it tries to touch on various points of the Valiant Universe and introduces characters from different books like Archer and Armstrong, Bloodshot, and X-O Manowar, it might be a bit overwhelming for new readers. However, the real draw here is the artwork by Eisner Award-winning artist Paolo Rivera. The crisp, unlabored detail of his art gives a sense of realism to each stage of this story as it unfolds over thousands of years. You can see for yourself here.