These Amazing Jigsaw Puzzles Feature Artworks by Female Artists From Around the World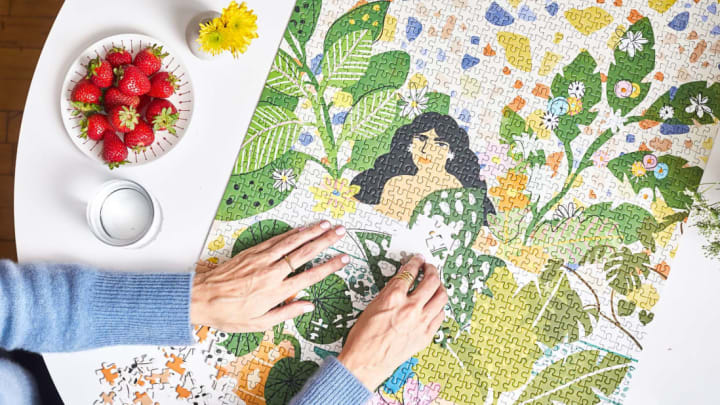 JIGGY / JIGGY
This article contains affiliate links to products selected by our editors. Mental Floss may receive a commission for purchases made through these links.
There are many different reasons why people might choose a traditional jigsaw puzzle over Candy Crush, Untitled Goose Game, or another smartphone-optimized activity. There's a tactile satisfaction in the process of fitting the pieces together that you don't necessarily get from the smooth surface of your phone, for one. It's also something you can enjoy with a group.
For Kaylin Marcotte, it was a way to unwind at night after seemingly endless days working as theSkimm's very first employee. Though the low-tech nature of jigsaw puzzling was part of the appeal, she didn't see why the designs themselves needed to be quite so old-fashioned. So she decided to found her own puzzling company, JIGGY.
This week, JIGGY debuted its first collection, featuring artworks from emerging global female artists. If you're thinking en vogue modern art sounds like just the thing to fill your blank wall space, Marcotte agrees: The puzzles come with puzzle glue and even a custom precision tool to help you apply it smoothly, so you can frame and hang your creation after completion. If you're more of a puzzle repeater than a puzzle displayer, that's fine, too—just pop the pieces back into their sustainable glass container until next time.
The contributing artists hail from all over the world, and each artwork embodies a distinctive style. "Bathing with Flowers" by Slovenia's Alja Horvat depicts a lush tropical atmosphere, while "BerlinMagalog" by Diana Ejaita (based in Germany and Nigeria) combines bold contrasts with soft patterns to capture the complexity of feminine strength.
"Bathing with Flowers" by Alja Horvat. / JIGGY
"BerlinMagalog" by Diana Ejaita. / JIGGY
In Australia-based Karen Lynch's "Flamingo Playground," a building-sized flamingo innocuously stalks across a picturesque, populated beach. And then there's "The Astronaut" by Seattle's Emma Repp, a whimsical, vibrant illustration of outer space that brilliantly contrasts the bleak and sometimes terrifying abyss we're so used to seeing in movies like Gravity (2013) or First Man (2018).
"Flamingo Playground" by Karen Lynch. / JIGGY
"The Astronaut" by Emma Repp. / JIGGY
The full collection comprises three 450-piece puzzles for $40 each, and three 800-piece puzzles for $48 each—you can find out more about the artists and shop for your favorite puzzle here.
Mental Floss has affiliate relationships with certain retailers and may receive a small percentage of any sale. But we choose all products independently and only get commission on items you buy and don't return, so we're only happy if you're happy. Thanks for helping us pay the bills!