The 25 Most Interesting Comics of 2014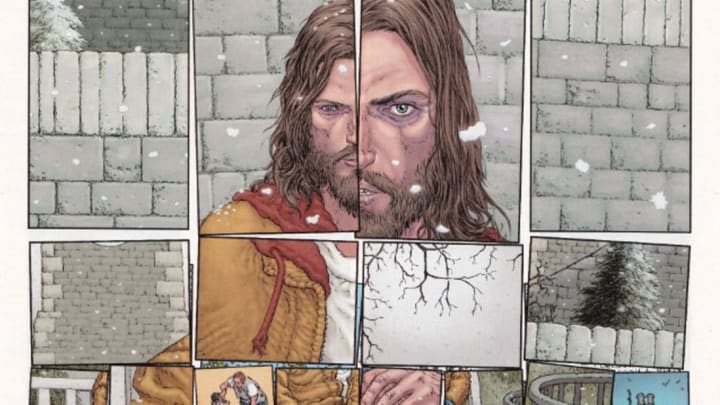 Frank Quitely/DC Comics / Frank Quitely/DC Comics
Around this time of year I like to list what I would consider the most notable, unique and all around best comics, webcomics, and graphic novels of the year. It's really hard to be all-inclusive, so I had to limit myself to a Top 25. If you have some favorite comics of the year, talk about them in the comments below!
25. Pearls Before Swine
By Stephan Pastis and Bill Watterson (Yes, that Bill Watterson)
syndicated
No one believed that the mystery guest cartoonist drawing Stephan Pastis' daily newspaper strip Pearls Before Swine could've possibly been Calvin & Hobbes creator Bill Watterson. This summer, the mystery strips ran for three days and comics experts examined the evidence and debated the possibility on social media. It wasn't until Pastis blogged the whole amazing story of how he coerced the famously reclusive Watterson out of retirement that we all accepted the truth. Watterson's original artwork was soon auctioned off, raising over $70k for the Michael J. Fox Foundation for Parkinson's Research. (Buy at Amazon.)
***********************************************************
24. Alex + Ada
By Jonathan Luna and Sarah Vaughan
Image Comics
The description for this series could easily be "What if Stanley Kubrick directed Weird Science?" It's the story of a lonely guy named Alex who receives a gorgeous android named Ada, and it's all drawn in Jonathan Luna's deadpan style. When Alex decides that Ada deserves free will, he helps her unlock a pre-programmed sentience within her A.I. and the series starts to go down some interesting paths.
Image Comics has put out too many amazing books to list this year, but Alex + Ada is one that is flying under too many people's radars. Part will-they-or-won't-they relationship drama/part commentary on "otherness" and civil rights, Alex + Ada is an engaging examination of what it means to be human and free at a time when true artificial intelligence seems just around the corner. (Buy at Amazon.)
*******************************************************************
23. She-Hulk
By Charles Soule, Javier Pulido, Muntsa Vicente and others
Marvel Comics
Charles Soule is a lawyer turned comic book writer, which makes him the perfect guy for She-Hulk, who is a lawyer turned superhero. Working with the art team of Javier Pulido and Muntsa Vicente, he has created one of Marvel's funniest and most stylish books. Soule's legal knowledge comes in handy here as the series focuses on Jennifer Walters starting her own firm and taking on cases like Dr. Doom's son's extradition and Captain America's civil suit. Pulido and Vicente give us a She-Hulk with a contemporary and realistic sense of fashion you don't often see in superhero comics.
As much fun as this series is, its low sales recently led to cancellation. Hopefully Marvel only did it to get the opportunity to release a new #1 in the near future. (Buy at Amazon.)
*******************************************************************
22. Afterlife with Archie
By Roberto Aguirre-Sacasa and Francesco Francavilla
Archie Comics
One of the biggest surprises of the year has been how willing Archie Comics (the publisher) has been to take risks. Afterlife With Archie, where Riverdale has been overrun with zombies, really lets them cut loose. This is due in no small part to the stylish artwork of Francesco Francavilla, who approaches this book with a bold use of color and design that looks unlike any Archie Comic that has come before it. He and writer Roberto Aguirre-Sacasa are taking this material seriously, mixing classic horror elements from the likes of George Romero, H.P. Lovecraft, and the Warren Publishing horror magazines of the 1970s with the core essence of characters like Archie, Jughead, Betty, Veronica, and Sabrina the Teenage Witch. (Buy at Amazon.)
*******************************************************************
21. The Love Bunglers
By Jaime Hernandez
Fantagraphics
One of the greatest accomplishments in the history of comics is the rich and emotionally rewarding story that Jaime Hernandez has been telling for over 30 years in the pages of Love & Rockets. It's one of the best examples of extended long form comics, but what has made it so successful is how Hernandez structures each installment in Maggie Chascarillo's story to be as standalone as possible so new readers can jump in at any point, while also rewarding longtime readers with little callbacks. In The Love Bunglers, Hernandez delivers a big, tear-jerker of a payoff for those longtime readers with what could conceivably serve as a climax to Maggie's story and her on-again, off-again romance with Ray Dominguez. (Buy at Amazon.)
*******************************************************************
20. The Short Con
By Aleks Sennwald and Pete Toms
Study Group Comics
A stand-out this year among some great webcomics on StudyGroupComics.com is The Short Con, a brilliant take on the Hollywood detective drama set in an all-girl orphanage. It follows two partners: Pops, the hot-headed, rule-breaking, lollipop-sucking maverick, and Branwell, the new girl who comes from a good upbringing and writes depressing poetry. They report to the Chief, a hard-nosed nun who keeps a "Rule Jar" and makes the detectives put five cents in whenever they break the rules. As of this writing, their first case together is not yet complete, but hopefully there is a lot more to come because it's the kind of concept you can see becoming something much bigger than just a webcomic.
*******************************************************************
19. Ant Colony
By Michael DeForge
Drawn & Quarterly
Michael DeForge has built a strong body of work in just a few years, between various webcomics and his own print anthology Lose (the sixth issue of which is so good it could easily make this list as well). For those interested in getting into DeForge, there wasn't an accessible, bookstore-friendly graphic novel that you can point new readers to. That is, until Ant Colony came along.
Originally serialized as a webcomic and now collected as a beautiful hardcover, it follows a group of weird-looking but likable ants—a gay couple, a young boy turned prophet, a corrupt cop, and an outcast female "infertile"—who find themselves separated from the colony when war breaks out. Like anything by DeForge it's downright odd and looks like it takes place on another world, yet it's so witty and touching that it deserves to be DeForge's first mainstream hit. (Buy at Amazon.)
*******************************************************************
18. The Wrenchies
By Farel Dalrymple
First Second
At first, The Wrenchies seems like post-apocalyptic "Lost Boys" fare that we've seen a million times before. But there's a meta comic-within-a-comic called "The Wrenchies," and other story lines that contribute to this dense, imaginative, and often disturbing book. The layers of subtext and the sheer man hours that Farel Dalrymple has put into drawing this graphic novel (it took him five years) are apparent the more time you spend with it. (Buy at Amazon.)
*******************************************************************
17. The Nib
Edited by Matt Bors
Medium.com/thenib
Editorial cartoonist Matt Bors, known for his work in various Alt-weekly publications around the country, was hired in 2013 by Medium to start a new section called The Nib to give a home to non-fiction comics from a variety of politically and socially minded cartoonists. This came at a time when the typical home for such comics—the free alt-weekly—was fading into history.
The Nib burst out of the gate running this year with a daily schedule of different cartoonists publishing comic essays, political cartoons, info graphics, and comics journalism. Bors has assembled a rotating cast of contributors that include people like Tom Tomorrow, Rich Stevens, Erika Moen, Jen Sorenson, Ted Rall, Susie Cagle, Zach Weinersmith, and, of course, Bors himself. In a short amount of time, it has become a respected source for progressive opinion and is now one of the most highly-trafficked comics-related websites on the web.
*******************************************************************
16. Transformers vs. G.I. Joe
By Tom Scioli and John Barber
IDW Publishing
It's a great time for licensed property comics and more and more are coming out every month—many boasting quality creative teams. Still, even good creators can be hobbled by the restraints of a licensed brand, and that's why Transformers vs. G.I. Joe is such an unexpectedly creative and mind-blowing comic.
Tom Scioli is a bit of an oddball who is not the first person you'd expect to see given free rein on a comic like this. His quirky, "naive" outsider-art style may be in vogue with the art-comix crowd, but he is far from what the average G.I. Joe or Transformers fan would want to see in a comic like this. Inspired by the over-the-top layouts of Jim Steranko's Agents of S.H.I.E.L.D. comics from the 1960s, Scioli loads each issue with some of the most innovative page compositions you'll see this year. It all looks like it was drawn by a sugared-up twelve-year-old using his toys for model reference, but Scioli makes so many brilliant creative decisions in this delightfully strange read. (Buy at Amazon.)
*******************************************************************
15. Nimona
By Noelle Stevenson
Gingerhaze.com
When Nolle Stevenson started her smart and charming webcomic Nimona just two years ago, she was still a college student. By the time she ended it this October, she had won Slate's 2013 Cartoonist Studio Prize for Best Webcomic, was nominated for a Harvey Award, landed a book deal with Harper Collins, and got a job writing a new monthly girl adventure comic for Boom! Studios called Lumberjanes.
Nimona is about a shapeshifting teenage sidekick to a villain and it takes place in some sort of medieval future where knights live in castles but use computers and other modern technology. Nimona's heart and sense of humor helped build one of the largest and most enthusiastic audiences on the web (the comments section for each page was always very lively). By this time next year, Stevenson will have both Nimona and Lumberjanes in bookstores and is sure to become a major player in the teen comics market. (Buy at Amazon.)
*******************************************************************
14. Stray Bullets: Killers
By David Lapham
Image Comics
Stray Bullets fans have been waiting nearly ten years for David Lapham to find his way back to the influential crime comic he self-published from the 1990s until the early 2000s before abandoning it, mid-storyline, due to financial concerns. Thanks to creator-friendly publisher Image Comics, Lapham finally made his return this year, not only completing the unfinished storyline, but also beginning a new one called Killers. Readers were delighted that Lapham hasn't seemed to have missed a beat.
Often, when a creator returns to the thing that first made them famous, we find that the moment has passed and it's just no longer the same—not so with Stray Bullets. When it first started, the crime genre was all but nonexistent in comics, but today there are a lot to choose from (many influenced by Stray Bullets), yet Lapham is proving he's still the best. (Buy at Amazon.)
*******************************************************************
13. Andre the Giant: The Life and the Legend
By Box Brown
First Second
Cartoon biographies can be wonderful when you get the perfect pairing of artist and subject. That's what happened in this year's Andre the Giant, in which Box Brown rendered the professional wrestling legend in Brown's unique style, exaggerating the visuals of his outsized proportions to great effect. This was the first major graphic novel release by Brown, and he does an admirable job sifting through the non-truths and fakery that is standard practice in the world of professional wrestling to present a tragic portrait of this quiet giant, showing him at his most noble and flawed. (Buy at Amazon.)
*******************************************************************
12. Through the Woods
By Emily Carroll
Margaret K. McElderry Books
It's hard to believe Emily Carroll has only been working on comics for a handful of years. In this time, Carroll has become one of the most respected cartoonists to come out of the webcomics world. Her speciality is ethereally creepy, gothic horror, and Through the Woods, her first-ever published book, shows just how she has become a master of this genre. Although she is often praised for pushing the medium of the web by using animation and scrolling effects, reading these stories in print (all but one were newly created for this book) shows that her craftsmanship is masterful no matter the context in which it is presented. (Buy at Amazon.)
*******************************************************************
11. Strong Female Protagonist: Book One
By Brennan Lee Mulligan and Molly Ostertag
Top Shelf
This ongoing webcomic, now collected in its first self-published paperback edition (distributed by Top Shelf), hits on some big subjects like social justice and what it really means for a superhero to save the world (and feminism, too). The comic follows Allison, who is the most powerful superhero on earth and publicly retires at age sixteen when she realizes she can help more people by finishing school and learning about how the world works instead of just punching out the same bad guys over and over.
Brennan Lee Mulligan and Molly Ostertag ran a Kickstarter earlier this year to fund the printing of Book One and it was so successful it pulled in nearly eight times their intended goal. The comic's strong and devoted following knows that this is a rare example of a story that has something fresh and interesting to say about being a superhero. (Buy at Amazon.)
*******************************************************************
10. This One Summer
By Mariko Tamaki and Jillian Tamaki
First Second
Cousins Jillian and Mariko Tamaki first broke into the young adult graphic novel scene with their 2010 hit Skim, and many readers of their sophisticated, literary YA have been hotly anticipating what they would do next. The wait ended this year with this profound coming-of-age story about two young girls, Rose and Windy, whose families vacation every summer in the same beach town. Now the girls are at an age where they're too old to hang out with their parents but too young to go out and fit in with the local teenagers. They begin to realize that both the adults and the teenagers are dealing with drama that is just beyond the girls' faculties to understand. The Tamakis perfectly capture that disconcerting feeling of not being able to process the events that are unfolding around you. (Buy at Amazon.)
*******************************************************************
9. Can't We Talk About Something More Pleasant?
By Roz Chast
Bloomsbury
Roz Chast, best known for her cartoons in The New Yorker, details the final years with her elderly parents in her first graphic novel which was a finalist for the 2014 National Book Awards and a winner of the prestigious Kirkus Award for literary achievement. The responsibilities of an only child taking care of their parents who can no longer take care of themselves is exhaustively told through a series of vignettes that are at times hilarious and at other times depressing. It is an honest account of all the awful decisions that must be made during this difficult period, and readers will find it either relatable or possibly an eye-opening truth that will help them prepare for their own responsibilities to come. It's an important work and Chast makes it much more entertaining than this subject matter would lead you to expect. (Buy at Amazon.)
*******************************************************************
8. Saga
By Brian K. Vaughan and Fiona Staples
Image Comics
It's hard to overstate how big of a hit Brian K. Vaughan and Fiona Staples' science fiction epic has been. Not only is it a bestseller, but it has also been racking up all the major comics awards for the past two years and feels like it is already inspiring the look and feel of the future of science fiction comics.
An intergalactic Romeo and Juliet meets How I Met Your Mother, Saga is the story of two lovers who have recently become parents (the story is being told to us at some point in the future by their child) and are on the run and caught in the middle of a warring conflict between their two species. With daring content full of graphic sex (often involving robots) and brutal violence, it's been one of the most addicting monthly reads out there. The first 18 issues have been collected in a giant hardcover released this year which sports the series' second breastfeeding cover, which is sure to catch some eyes when it gets stocked at bookstores this holiday season. (Buy at Amazon.)
*******************************************************************
7. The Shadow Hero
By Gene Luen Yang and Sonny Liew
First Second
The year's most enjoyable superhero comic comes from a publisher that usually doesn't publish superhero comics and from a writer who almost never writes them. Gene Luan Yang has a number of award-winning graphic novels under his belt that focus on his own Chinese heritage, but this time he brought that interest to the superhero genre by reimagining a long-forgotten Asian-American superhero called The Green Turtle.
Yang and artist Sonny Lieu give the Green Turtle an origin and backstory he never had in his handful of appearances in obscure comics from the 1940s. They take the Chinese immigrant experience and apply it to the classic superhero story in the way Jerry Siegel and Joe Shuster applied their Jewish-American heritage to their own creation, Superman. Yang inherently understands what makes a superhero story so inspiring in a way that so many of the writers working in comics today simply do not. (Buy at Amazon.)
*******************************************************************
6. How To Be Happy
By Eleanor Davis
Fantagraphics
Eleanor Davis is an illustrator and cartoonist who has been revered by other cartoonists for the past few years but hasn't quite had the chance to break out into wider recognition—until now. Young cartoonists seem to publish graphic novels these days by collecting shorter comics that were previously published in anthologies and on the web and hope they fit together as a whole. That's what Davis does effectively in How To Be Happy. With tales of a modern day Garden of Eden, strange woodland creatures, teenage lovers, and two sisters facing the death of their father in a post-environmental catastrophe, the individual stories come together thematically around the idea of finding your way. With Davis' wildly different artistic styles, interspersed with short, sketchy, black and white vignettes, it is a wonderfully designed collection of material showing how very disparate pieces can fit together into a cohesive and meaningful whole. (Buy at Amazon.)
*******************************************************************
5. Sex Criminals
By Matt Fraction and Chip Zdarsky
Image Comics
There is no other comic out there quite like Sex Criminals. After its strong debut last year, it now qualifies as a phenomenon with sales big enough to make it a career-defining book for its two creators. Chip Zdarsky has just been announced as the writer for a surprise Howard the Duck revival at Marvel while Matt Fraction, who is already a major star, particularly after his acclaimed run writing Hawkeye, has reached the point with the success of Sex Criminals where he can focus his career on his own crazy ideas (rather than Marvel's).
A sex-comedy romp about two people who have the ability to stop time whenever they orgasm, Sex Criminals is full of some explicit situations and raunchy jokes the likes of which would never make it past most media censors (in fact, Apple famously stopped permitting Comixology to sell this comic through the iOS storefront back when the Comixology app sold comics that way). Yet, what really makes it work is that it's a surprisingly honest and refreshing look at male and female sexuality, another thing we don't see enough in any media. (Buy at Amazon.)
*******************************************************************
4. Ms. Marvel
By G. Willow Wilson and Adrian Alphona
Marvel Comics
Marvel made a high profile move to diversify their characters this year by replacing Captain America with an African-American and Thor with a woman, but the real move towards diversity that paved the way for it all this year was the introduction of a new Ms. Marvel—a Muslim, Pakistani-American teenage girl named Kamala Khan. This new Ms. Marvel has been Marvel's #1 digital comic on Comixology, reaching a new audience and doing it in ways that are outside the traditional means of selling comics.
While those previously mentioned comics were still the product of a mostly white and male creative team, the big difference with Ms. Marvel is the diversity behind the scenes. Spearheaded by editor Sana Amanat and written by G. Willow Wilson, the character of Kamala (who gains shape-changing superpowers due to something involving complicated Marvel continuity) has an authenticity to the way her family life and culture is depicted that is obviously the result of Amanat and Wilson drawing on their own life experiences. The message a book like this sends, not just to young Muslim women, but to all young women of color and ethnicity, is undeniably powerful. (Buy at Amazon.)
*******************************************************************
3. Beautiful Darkness
By Fabien Vehlmann and Kerascöet
Drawn & Quarterly
Beautiful Darkness came out early in 2014, but I don't think I ever stopped thinking about it. The lushly painted artwork by the husband and wife team known as Kerascöet lures you into what seems, at first, like a fanciful children's story until that facade quickly shatters, turning into a tale of survival that will disturb you over and over until it is done. Set in a forest where a little girl has somehow died, the figments of her imagination—inspired by children's storybooks—come rushing out of her dying brain and into the woods where they must try to survive the unforgiving weather, deadly insects, wild animals and disease that begins to emanate from the girl's rotting corpse.
Reminding us how fairy tales today have become sanitized from their morbid, "Grimm" origins, Beautiful Darkness goes far back into that darkness to create something that no parent would ever show their kid. Instead, they'll find themselves unable to look away and may even laugh despite themselves at each whimsical character's ridiculously terrible death. (Buy at Amazon.)
*******************************************************************
2. Here
By Richard McGuire
Pantheon Books
25 years ago, Richard McGuire created a six-page comic called Here that opened up new possibilities for how you could use the paneled structure of comics to convey time. It told the life story of the corner of one apartment and the events that have happened within that physical space going back hundreds of thousands of years. Now, McGuire has revisited his original concept, expanding it to epic proportions as a 300-page graphic novel, full of double-page, full-color spreads.
Here depicts all the routine events that have occurred in this space back and forth throughout time: annual family photos of the kids, a baseball smashing through the window, a cat prancing across the floor, two Native Americans making love in the woods, a dinosaur trudging across a desolate landscape. Using overlaid panels, he conveys simultaneous events on a single page with a rhythm that is akin to classical music—quiet moments build to a crescendo and back again. If Terrence Malick ever made a comic, it would probably read something like this. (Buy at Amazon.)
*******************************************************************
1. The Multiversity: Pax Americana
By Grant Morrison, Frank Quitely and Nathan Fairbairn
DC Comics
As the most audacious comic of the year, Pax Americana is a visual tour de force by artist Frank Quitely who may be proving that he is one of the greatest living comic book artists, and when he's working with writer Grant Morrison, they make up one of the great creative partnerships of all time. From the opening scene showing a presidential assassination playing in reverse to the final scene which takes place decades earlier and puts everything that came before it into a new context, this is a challenging superhero comic that requires multiple reads to even begin to get a handle on everything that is going on.
It is part of a larger series by Grant Morrison called The Multiversity, which tours various alternate earths in the DC Universe, yet its connections to that series are subtle. In addition, its central conceit is that it takes Alan Moore's classic Watchmen, originally intended to star characters from the defunct Charlton Comics, and recasts it with those characters—Blue Beetle, The Question, Peacemaker and more. That inversion of Watchmen alone twists this into something brand new.
It has been years in the making, and Quitely's virtuoso performance is something people will be reading forwards and backwards (characters within the story actually encourage you to do so) for years to come. (Buy at Amazon.)