A Huge Net Was Built in Utah, 400 Feet in the Air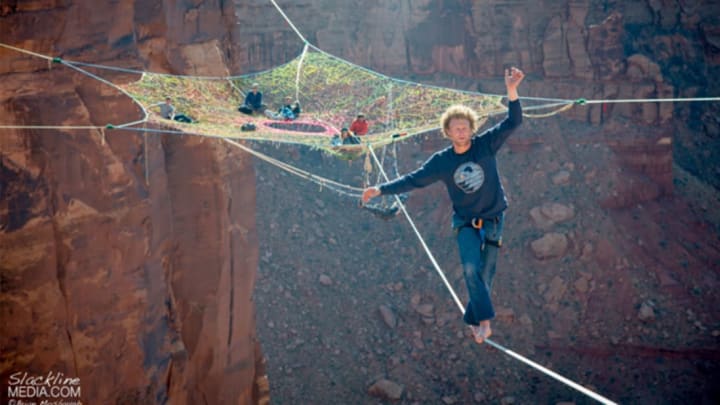 Brian Mosbaugh/Slackline Media / Brian Mosbaugh/Slackline Media
Today, in things I will never go near: a hammock built 400 feet above the Utah desert.
This multi-colored act of hubris has been named "Mothership Space Net Penthouse," and it is absolutely terrifying. To make matters worse, the only way to get to it is via slacklining, the non-circus cousin to tightrope walking. The project was thought up by Andy Lewis, an entertainer known for his courageous stunts in tricklining and rock-climbing. After assembling a team, the net was contructed over Thanksgiving. 
From there, risk-takers from all over came to jump through the hole in the center of the netting. You can see one brave soul parachute down:
"All I'm thinking about now is how insanely empowering the cumulative strength of an entire community is when brought together by an idea and a dream, watching the paper towel sketched construction and experiencing something brand new that can only be defined as 'next generation,' has left me truly inspired and humbled," Lewis wrote on Slackline Media. 
Luckily, no one participating was hurt, and the whole event was considered a success.
[h/t: enpundit.com]