16 Charitable Gifts That Give Back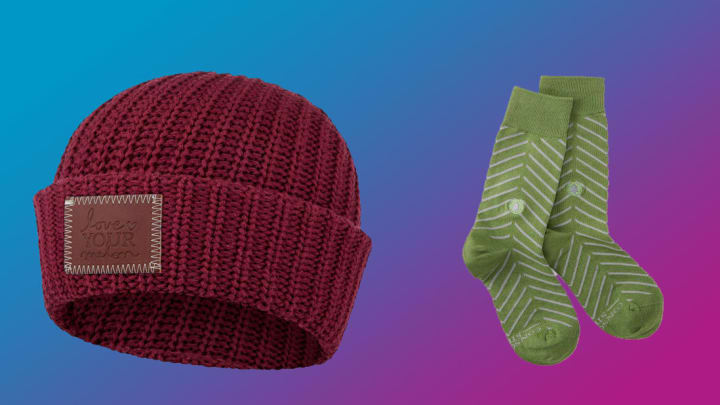 Love Your Melon / UncommonGoods / Amazon / Love Your Melon / UncommonGoods / Amazon
This article contains affiliate links to products selected by our editors. Mental Floss may receive a commission for purchases made through these links.
It's often said that it's more satisfying to give than receive. So why not double up on your efforts and give a gift that backs organizations supporting different movements around the world? We pulled together a list of different items that contribute to causes that benefit people, animals, and the environment. Presents like these will make the world a bit better—and we bet the recipients will love being involved in improving different lives.
1. Recycled Bomb Bangle; $40
ARTICLE22
This bracelet, crafted by artisans in Laos, is made from melted-down bombs dropped and planted by the United States during the Vietnam War. Laos is the most heavily bombed country in the world. ABC News estimates that the U.S. dropped about 270 million bombs on Laos between 1964 and 1973, 80 million of which, as of 2016, were still active. This bracelet contributes to removal efforts. For every purchase, ARTICLE22 donates money to clear three square meters of bomb-littered land.
Give back: ARTICLE22
2. Panda Salt and Pepper Shakers; $55
World Wildlife Fund
These adorable ceramic salt and pepper shakers support the World Wildlife Fund's conservation efforts. Want a few other options? For a similar price, you could purchase a bamboo cutting board, a no plastics kit, or three pairs of socks.
Give back: World Wildlife Fund
3. Recycled Tire Wallet; $28
Friends International/Global Goods Partners
This sleek wallet supports families and children living in Cambodia. With every sale, Friends International, an organization that focuses on youth, is able to provide adults with a stable job and income so that their children don't need to be pulled out of school to support the family.
Give back: Global Goods Partners
4. Miniature Chess Set; $40
Sierra Family/UNICEF
This unique miniature chess set, handcrafted by the Sierra family in Mexico, contributes to UNICEF's goals of supporting and protecting children around the world. According to UNICEF's website, this $40 purchase can provide "22 packets of lifesaving nourishment to children suffering from acute malnutrition," among other aid.
Give back: UNICEF
5. Pooping Pooches Calendar; $17
Gag Gifts for Good Causes/Amazon
This calendar isn't just amusing—it also gives back to animals living in shelters. One dollar from every calendar sold goes to the Maui Humane Society, an "open-door" shelter in Puunene, Hawaii.
Give back: Amazon
6. Hand-Poured Candle; $22
Prosperity Candle
Every Prosperity Candle is hand-poured by women refugees living in the United States. But that's only part of the story—the vessels for each candle were created by women artisans from all over the world, and a portion of every sale goes directly back to them. Candles come in scents like garden, lakeside, and more.
Give back: Prosperity Candle
7. Yoga Mat; $52
Wan(der)lust/Amazon
Purchases of this yoga mat support (RED), a nonprofit that fights to end AIDS in Africa. An estimated 23.8 million people living in African countries are HIV-positive, according to DoSomething.org. (RED) partners with well-known brands like Apple, Moleskine, and Louis Vuitton to fund outreach efforts.
Give back: Amazon
8. Socks That Plant Trees; $15
Uncommon Goods
Every pair of socks purchased helps Trees for the Future plant 10 trees on farms in Uganda. Trees for the Future teaches Ugandan farmers how to sustain forest gardens, which benefit the environment while also giving families an additional source of income and food.
Give back: Uncommon Goods
9. Beanie; $30
Love Your Melon / Amazon
Love Your Melon originally began with a goal to give away 45,000 hats—one for every child battling cancer in the United States. As the company has grown, its focus has shifted to funding programs for families of children with cancer. Every year, Love Your Melon donates 50 percent of its net profits to its nonprofit partners (including Be the Match, Alex's Lemonade Stand, and the Ronald McDonald House Charities).
Give back: Amazon
10. Skin Care Product Collection; $50
Kiehl's
One dollar from the sale of this four-piece skin care set goes to Feeding America, a nonprofit network of food banks that aims to reduce hunger in the United States.
Give back: Kiehl's
11. Custom Popcorn Tin; $29
Popcorn for the People
Every tin of popcorn purchased at Popcorn for the People provides "meaningful employment" to adults with Autism and other disabilities who may otherwise have a difficult time finding jobs, the company's website says. For $29, you can purchase a one-gallon tin of up to three of the company's 12 different popcorn flavors (including buffalo, French toast, and dark chocolate espresso).
Give back: Popcorn for the People
12. 14-Ounce Coffee Blend; $14
Fire Dept. Coffee
Fire Dept. Coffee is (rather unsurprisingly) run primarily by veterans and fire fighters, and 10 percent of every order supports ill and injured fire fighters and first responders. "You drink a lot of coffee, and it's essential at every fire station," founder Luke Schneider told Fox Business. "Coffee is what brings people together, whether it be around the table at the fire department or around the table at home. We hope Fire Dept. Coffee can do that for everyone."
Give back: Fire Dept. Coffee
13. Pinot Noir; $49
One Hope Wine
This 2016 vintage Pinot Noir from California helps fund pet adoptions. So far, the company has helped more than 65,000 pets find new homes. Not into Pinot Noir? One Hope also sells sparkling wine, white wine, and rosé, all of which contribute to different causes. Sales from this bottle of rosé, for example, go to educating women about ovarian cancer, and this peach-flavored sparkling wine helps combat childhood hunger.
Give back: One Hope Wine
14. Lip Balm; $19
The Lipstick Lobby
One hundred percent of profits from this colorless lip balm go to the UnPrison Project, which strives to empower and educate women in prisons. Lipstick Lobby's other lipsticks contribute to other charities—proceeds from "Outrage," a blue-red lip color, go to the American Civil Liberties Union; "Fired Up," an orange-red, contributes to the Brady Center to Prevent Gun Violence; and "Kiss My Pink" supports Planned Parenthood.
Give back: The Lipstick Lobby
15. Cupanion Water Bottle; $15
Cupanion
Every Cupanion water bottle comes with a tag that connects to an app where users can track how often they refill their cups. Every time a user refills their bottle, Cupanion donates clean water to communities around the world.
Give back: Cupanion
16. Nancy Drew Tote Bag; $16
Out of Print
Show off your love for literature while also supporting literacy within communities across the world. Since 2010, Out of Print has donated more than 3 million books to people in need, the company reports. Each purchase contributes to the organization's goals of promoting literacy and a love of reading.
Give back: Amazon
Mental Floss has affiliate relationships with certain retailers and may receive a small percentage of any sale. But we choose all products independently and only get commission on items you buy and don't return, so we're only happy if you're happy. Thanks for helping us pay the bills!