17 Gifts for People Who Just Really Love Dinosaurs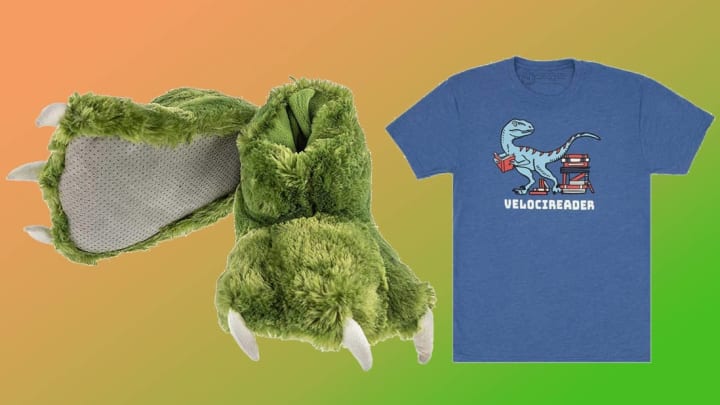 Lazy One, Out of Print/Amazon / Lazy One, Out of Print/Amazon
This article contains affiliate links to products selected by our editors. Mental Floss may receive a commission for purchases made through these links.
There are plenty of gift options out there for dog and cat lovers, but what are you going to do when your favorite animal is a giant beast that went extinct more than 65 million years ago? You might not be able to adopt your own Brontosaurus or Velociraptor anytime soon, but these gifts will help tide you over until someone gets the bright idea to start cloning dinosaur DNA preserved in amber.
1. Dinosaur foot slippers; $20
LazyOne/Amazon
These fierce and fuzzy slippers come in sizes for both kids and adults. And while the fact that they're machine washable might not impress children, it will be a welcome relief to parents of boisterous young dinosaur enthusiasts (and adult dinosaur devotees who have to handle the washing themselves).
Buy it: Amazon
2. Dinosaur Taco Holders; $12-$13
Barbuzzo/Amazon
These unique taco holders are perfect for when you have the appetite of an enormous, prehistoric reptile. The "Tricerataco" costs $12, while the "Tacosauraus Rex" costs around $13, and each one holds two hard-shell tacos.
Buy it: Amazon
3. Color-Changing Mug; $16
The Unemployed Philosophers Guild/Amazon
Make tea time (or your coffee break) a little more interesting with a mug that turns dinosaurs into skeletons when it's filled with hot water. This mug plays double duty, looking incredibly cool while also letting you know when your coffee/tea/hot chocolate is getting cold.
Buy it: Amazon
4. Dinosaur Necklace; $13
My Very Best/Amazon
Wear your love for dinosaurs with this adorable T. rex necklace (and get the matching earrings for just $13 more).
Buy it: Amazon
5. The Dinosaur Artist: Obsession, Science, and the Global Quest for Fossils; $12
Hachette Books
Fossil collectors are an eccentric (and sometimes criminal) bunch, as New Yorker writer Paige Williams points out in her debut book. The Dinosaur Artist, recognized as a 2018 Notable Book by The New York Times, explores the scientific, legal, and ethical dilemmas involved in collecting dinosaur fossils.
Buy it: Amazon
6. Mega Fossil Dig Kit; $20
National Geographic/Amazon
This kit comes with a set of archaeological tools to help you dig up 15 real fossils from around the world. Sadly, there won't be any dinosaur fossils in this $20 set, but you are likely to find a tooth from a Mosasaur—a marine reptile that lived during the late Cretaceous period.
Buy it: Amazon
7. Porcelain Dinosaur Planters; $40
Uncommon Goods
Plant life, uh, finds a way. And sometimes that way is growing out of the backs of porcelain dinosaur statuettes. Luckily there's a fairly slim chance that these ceramic dinosaur planters will do anything more threatening than look adorable in your kitchen or bedroom.
Buy it: Uncommon Goods
8. T. rex shower head; $11
Barbuzzo/Amazon
Nothing says "Happy Holidays" like a shower head shaped like a dinosaur skull. This classy bathroom accessory comes in either gray or lime green and is sure to make shower time more exciting for kids and adults.
Buy it: Amazon
9. Dinosaur Coloring Book; $7
Adult Coloring Book/Amazon
Create en-raptor-ing pictures with this dinosaur coloring book, which features more than 40 images of dinosaurs drawn in different styles, ensuring stress relief for hours on end.
Buy it: Amazon
10. Dinosaur Chart; $40
Uncommon Goods
Five hundred hours of research went into creating this chart that identifies more than 700 different dinosaur species by their scientific names and when they lived. The poster is 24 inches wide by 36 inches high, so you'll need to save ample space on your walls to show off your dino-mite taste in art.
Buy it: Uncommon Goods
11. Dinosaur Tea Infusers; $13
Tilevo/Amazon
These dishwasher-safe tea infusers from Tilevo come in a set of two, so you can give one to a friend and keep one for yourself. They're best for medium and large leaf teas—powdered teas or especially fine loose leaf teas are likely to slip through the holes at the top of the infuser.
Buy it: Amazon
12. T. rex Wine Holder; $25
Ebros Gift/Amazon
Whether this gift is destined for your parents' kitchen counter or a white elephant gift exchange, it's sure to spark conversation. Want something just a little bit spookier? This version features a T. rex skeleton.
Buy it: Amazon
13. Glowing Dinosaur Lamp; $40
Uncommon Goods
This unique table lamp comes in three different types: T. rex (pictured above), Brontosaurus, and Stegosaurus. Get them all for $40 each and turn your bedside table into its own miniature Jurassic Park.
Buy it: Uncommon Goods
14. Dinosaur Sticky Notes; $8
The Unemployed Philosophers Guild/Amazon
Whether you're writing a grocery list, keeping track of appointments, or making notes about that weird fast-moving star that seems to be getting closer, these sticky notes will make sure you never forget a thing. If for some reason dinosaurs aren't your thing (but why wouldn't they be?!), Amazon also sells "Freudian Slips," Bigfoot sticky notes, and a Sherlock Holmes sticky note collection.
Buy it: Amazon
15. Hatching Egg Candle; $45
Yazan-Molandi/Amazon
This 6-inch-tall egg-shaped candle conceals a small dinosaur figurine inside that slowly begins to emerge as it melts down.
Buy it: Amazon
16. The Rise and Fall of the Dinosaurs: A New History of a Lost World; $21
William Morrow Paperbacks/Amazon
Paleontologist Steve Brusatte's 2018 book traces the history of dinosaurs from the Triassic period (between 250 and 200 million years ago) through the Cretaceous period (between 145 and 66 million years ago). Brusatte's writing is engaging and conversational, telling the story of dinosaurs with a well-researched but relatable voice.
Buy it: Amazon
17. Velocireader T-shirt; $20-$30
Out of Print/Amazon
Do you have a friend who loves thesauruses almost as much as they love Stegosaurus? Then this T-shirt is the perfect gift for them. The company behind it, Out of Print, also has a bunch of book-themed shirts to pick from, including this Choose Your Own Adventure tee.
Buy it: Amazon
Mental Floss has affiliate relationships with certain retailers and may receive a small percentage of any sale. But we choose all products independently and only get commission on items you buy and don't return, so we're only happy if you're happy. Thanks for helping us pay the bills!