This All-In-One Tent Can Transform Into a Sleeping Bag, Air Mattress, Hammock, and More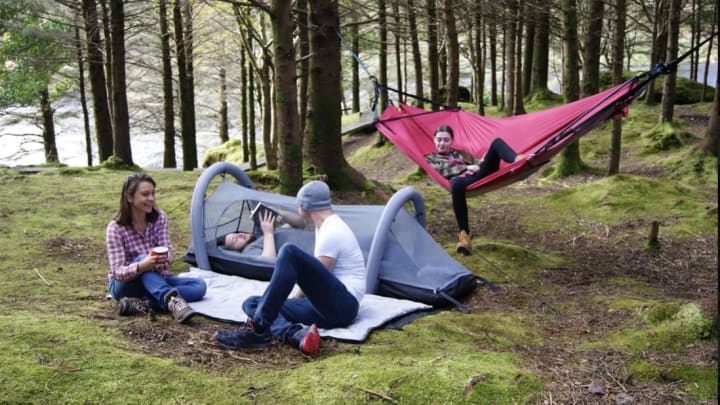 Crua Outdoors / Crua Outdoors
This article contains affiliate links to products selected by our editors. Mental Floss may receive a commission for purchases made through these links.
For an activity that's supposed to get you back to basics, there's a surprising amount of gear involved in camping. There's the tent, sleeping bag, air mattress, pillows, and plenty of other essentials. All this equipment gets expensive, and just thinking about lugging pounds of gear on your back into the woods might squash your desire to camp before you even hit the trail. But the Crua Modus, a 6-in-1 camping system, takes all of those essentials and crams them into one convenient pack.
Made by Crua Outdoors, the Modus already raised over $177,000 on Kickstarter in under two hours, crushing its original $20,000 goal. But you can still back this product until January 9, 2020. Pledges start at $199, and "early bird" backers will receive the Crua Modus for $329—40 percent off the regular retail value.
The Modus is broken down into parts:
The Footprint: This waterproof tarp offers your tent extra protection against damp ground. And it also functions as a place to sit, so you stay clean and dry.
The Base: This self-inflating air mattress and pillow is insulated with a waterproof base. It also comes with a zip-on quilt, which, according to the company, is beneficial, because "when you sleep on a traditional sleeping bag, you are crushing the very fibers that are supposed to be insulating you, making them useless."
The Inflatable Poles and Bug Mesh: The bug mesh attaches to the air mattress and is supported by two inflatable poles that blow up quickly. If it's a nice summer night, you don't even need to use the cover, allowing you to look out at the night sky.
The Flysheet: This waterproof flysheet has you covered in case your camping trip is hampered by the elements. But it does more than keep you dry during surprise rainstorms; the sheet is also reflective, so you won't overheat on particularly sunny days. And if it's too cold, reverse the sheet and it will help keep heat inside.
The Hammock: Want to take a nap outside? No problem. The flysheet also functions as a hammock. Simply remove it and use the adjustable straps to hang it between two trees.
The Picnic Blanket: By night, the quilt keeps you warm, but by day this multi-use blanket can be used for having a picnic or just sitting on the ground. The opposite side is waterproof, so it won't get wet.
Crua Outdoors
When you're ready to head home, this tent folds up into a 29.5-inch by 8.5-inch bag that weighs 8.5 pounds. So not only does this make for a light load, but it won't take up too much space at home.
Now that you've got some room your pack, check out these other essentials for tackling the great outdoors. And if you still need a little extra convincing to go camping, check out these scientific benefits of going outside.
Mental Floss has affiliate relationships with certain retailers and may receive a small percentage of any sale. But we choose all products independently and only get commission on items you buy and don't return, so we're only happy if you're happy. Thanks for helping us pay the bills!