You Can Now Buy the Teapot Jim Gave Pam in The Office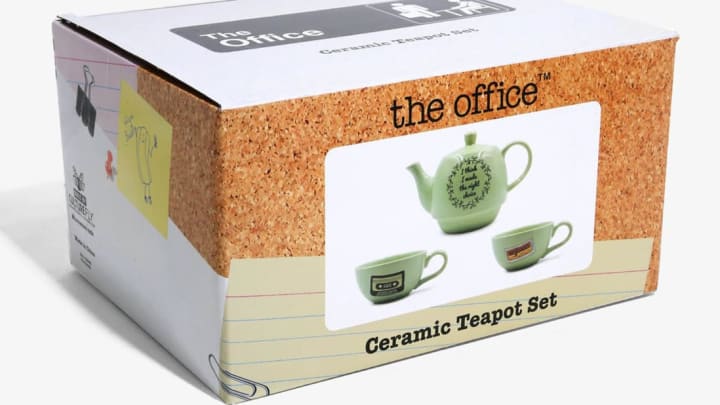 Hot Topic / Hot Topic
This article contains affiliate links to products selected by our editors. Mental Floss may receive a commission for purchases made through these links.
For what seemed like forever, fans waited for Jim Halpert and Pam Beesly to finally get together on The Office. And while Jim endeared himself to Pam in the form of pranks on Dwight, arguably his most adorable gesture was gifting Dunder Mifflin's receptionist with a teapot full of their inside jokes as a Secret Santa present. And now you can buy that tea set, complete with jokes and all, at Hot Topic for $27.
Hot Topic
The set comes with two microwave-safe ceramic mugs that are decorated with the cassette tape and hot sauce packet Jim hid inside the teapot during the "Christmas Party" episode from the second season. But, like in every episode, something went awry due to a certain person (we're looking at you, Michael) and Secret Santa quickly turned into Yankee Swap. Pam ended up with a video iPod and Dwight wound up with the teapot—which Jim learned, much to his dismay, that Dwight intended to use as a neti pot.
However, Pam had a change of heart and traded gifts with Dwight. When she finally saw all the heartfelt gifts inside the pot, she told the camera crew, "I think I made the right choice." And that adorable quote is painted on the ceramic pot. Unfortunately, the card Jim wrote but never gave to Pam is not included in the set. So, Office fans may never know what it said.
While you're sipping tea, check out this LEGO-like construction set that allows you to build a replica of the Dunder Mifflin office, as well as our Office gift guide, which has everything from "That's what she said" buttons to Dundee awards.
Mental Floss has affiliate relationships with certain retailers and may receive a small percentage of any sale. But we choose all products independently and only get commission on items you buy and don't return, so we're only happy if you're happy. Thanks for helping us pay the bills!