9 Unique Gifts for Valentine's Day
There's a lot of pressure on Valentine's Day to find a unique gift for your special someone. Go beyond the typical heart-shaped box of chocolates with these gifts that have a personal touch for all different tastes.
1. Planet Lollipops; $30
Skip the chocolates this year and give your significant other sweets that not only taste good, but also say you mean the galaxy to me. Each lollipop is decorated with an edible 2D image representing all eight planets in our solar system (plus Pluto) and the Sun. And each one has its own flavor: Mercury is tropical punch; Venus is cherry; Earth is cotton candy; Mars is pear; Jupiter is Key lime; Saturn is guava; Uranus is blackberry; Neptune is mango; Pluto is strawberry-kiwi; and the Sun is marshmallow.
Buy it: UncommonGoods
2. saint candles of historical, literary, and cultural icons; $14
The Unemployed Philosophers Guild adds a touch of personal flair to the traditional saint candle by slapping icons from pop culture, literature, and politics right onto them. Decorated with the likes of James Baldwin, Jane Austen, and Harriet Tubman, just to name a few, you can give your loved one a unique gift adorned with their personal hero.
Buy it: Amazon
3. Fuji Instant mini Film Camera; $116
While your phone is great for capturing photos, there's something special about being able to hold actual prints in your hand. But unlike traditional film cameras, you won't need to wait on getting pictures developed as the Fuji prints out credit card-sized photographs instantly. With a built-in flash and manual brightness adjustment, this gift is perfect for the photographer in your life.
Buy it: Amazon
4. 100 Dates Scratch-Off Poster; $15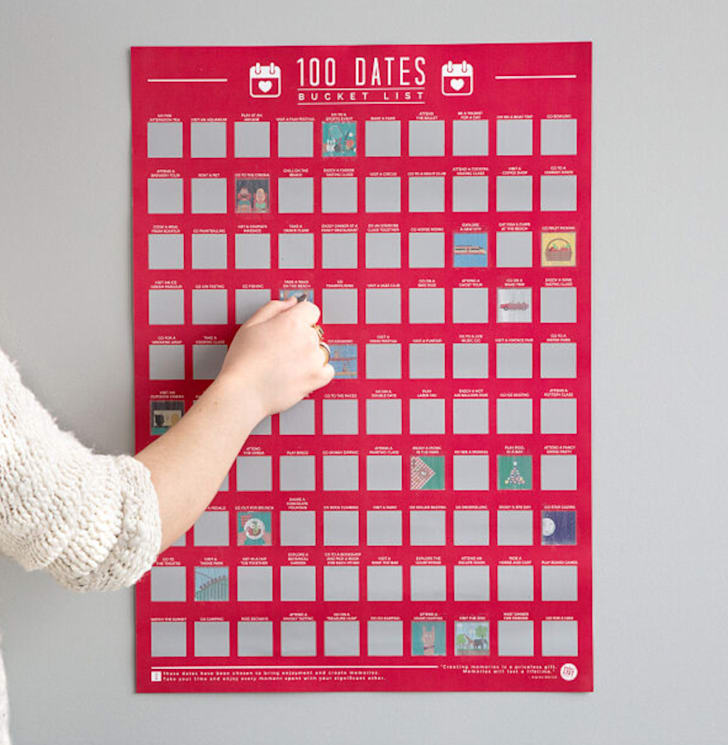 If you can't come up with the perfect Valentine's Day date idea on your own, this scratch-off poster is designed to do the thinking for you. With 100 different dates to try, all you have to do is pick one out and scratch off the square when you're done so you can keep track of your new adventures.
Buy it: Uncommon Goods
5. Bob ross mug; $16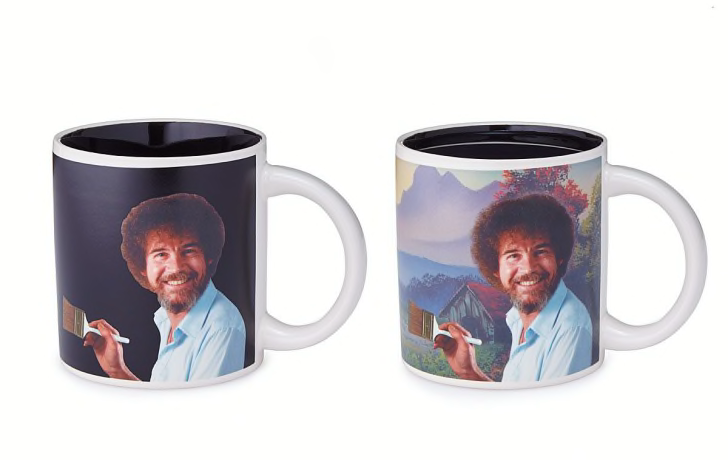 Everyone needs to be reminded that "We don't make mistakes, we have happy accidents" every now and again. And what better way to remind your significant other of those wise words than with Bob Ross and a morning cup of coffee? Like Bob Ross's canvases, this mug looks blank at first, but simply add a hot beverage to make a beautiful nature scene and his signature quote appear.
Buy it: UncommonGoods
6. Valentine hot Chocolate on a Stick; $15
Hot chocolate just got even sweeter with these added hearts inscribed with cute messages. Depending on your recipient's preference, you can order a three-pack of Belgian milk chocolate or French dark truffle.
Buy it: UncommonGoods
7. Literary Scarves; $48
Each of these scarves is silkscreened by hand and contains passages from either Jane Eyre, Alice in Wonderland, Pride and Prejudice, or Sense and Sensibility. They're also made of medium-weight cotton, meaning they're perfect for early spring weather, which is just a few weeks away. If you aren't interested in those particular titles, check out the artist's other literary and music scarves.
Buy it: UncommonGoods
8. Bourbon-Infused Coffee Beans; $20
If you have someone that loves their bourbon and a morning cup of coffee, give them the gift of both. These are 100 percent Arabica beans that are infused with bourbon for a kick of flavor without any actual alcohol. And if your loved one is more into wine, check out this merlot-infused coffee.
Buy it: UncommonGoods
9. Celebrate Love Teas; $17 each
These black teas stored in romantic red or pink tins are sure to make a lasting impression and bring some elements of surprise back to a holiday that can get pretty clichéd at times. The "Firecracker" blend features popping candies and spicy cinnamon, while the "I Love You" blend showcases a robust vanilla flavor mixed with cute candy-shaped hearts and sunflower leaves.
Buy it: Uncommon Goods
Sign Up Today: Get exclusive deals, product news, reviews, and more with the Mental Floss Smart Shopping newsletter!