This Puzzle Teaches Kids—and Adults—About Amazing Women Scientists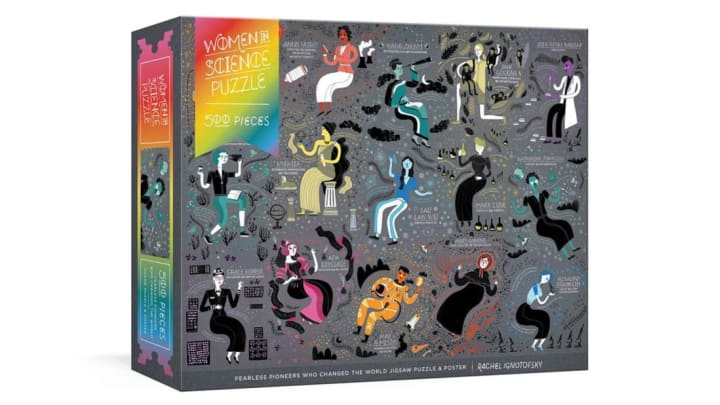 This 500-piece puzzle sold on Amazon celebrates the achievements of women in STEM fields. / Clarkson Potter/Amazon
This article contains affiliate links to products selected by our editors. Mental Floss may receive a commission for purchases made through these links.
It's no secret female scientists have been overlooked for decades, but this puzzle, which sells for $17 on Amazon, aims to rectify that by spotlighting 15 notable women who made incredible strides in STEM fields.
The puzzle is the work of illustrator Rachel Ignotofsky, author of the best-selling picture book Women in Science: 50 Fearless Pioneers Who Changed the World. "The most important way to fight gender bias is to share stories of amazing women with boys and girls," Ignotofsky told Mental Floss in 2016. "Many of these women have changed the way that we understand our world forever, but we don't know about them. Steve Jobs and Bill Gates are more household names than Grace Hopper, who invented coding. When we don't tell these stories, we allow these inequalities and stereotypes to continue."
The 500-piece puzzle features Grace Hopper along with several other notable scientists, including astronaut Mae Jemison, particle physicist Sau Lan Wu, and Nobel Prize-winning cytogeneticist Barbara McClintock.
Ignotofsky hopes the puzzle, as well as the book it's based on, will inspire children and adults alike. "My hope is that seeing these women who have led in the past will help girls feel more confident, like 'Not only do I deserve this, but I'm going to take it,'" she said.
At Mental Floss, we only write about the products we love and want to share with our readers, so all products are chosen independently by our editors. Mental Floss has affiliate relationships with certain retailers and may receive a percentage of any sale made from the links on this page. Prices and availability are accurate as of the time of publication.