Rutherford B. Hayes and the Caribbean Vacation That Never Was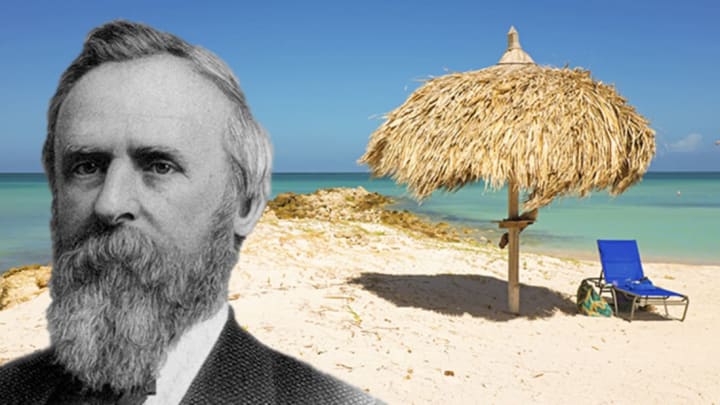 Getty (Hayes)/iStock (Beach) // Erin McCarthy / Getty (Hayes)/iStock (Beach) // Erin McCarthy
This Presidents' Day, it's important to remember that, in many ways, presidents are just like us: They pay bills. They get random credit card offers. They receive too-good-to-be-true vacation packages in their junk mail—even after they're dead, in fact.
In 1998, a staff member at the Rutherford B. Hayes Presidential Center in Fremont, Ohio, was opening mail when a piece addressed directly to the former president caught her eye.
"Dear Rutherford," the postcard began, "We're excited for you!" The card went on to offer the president, deceased for more than a century, the opportunity to purchase a vacation in the Caribbean for an extremely affordable price.
After the gaffe hit the press, the company that sent the offer apologized, explaining that someone from the Center must have made a purchase from a catalog, and that catalog later sold the address to their direct-mail marketing list. The folks at the Rutherford B. Hayes Presidential Center took the oversight in stride, telling the St. Petersburg Times that the 19th president would sadly be unable to accept the offer, saying, "Rutherford's a little lethargic these days."