9 Presidents Day Gifts Perfect for Any History Buff
Presidents Day has one of the stranger histories of any U.S. holiday. It started simply as a celebration of George Washington's birthday every February 22, before officially becoming a paid federal holiday back in 1885. It wasn't until 1971 that we started celebrating it on the third Monday of every February. That developed thanks to the Uniform Monday Holidays Act, which stated that current federal holidays would be moved to Mondays so everyone could have a three-day weekend (thanks, Congress!). And contrary to popular belief, no, the move had nothing to do with combining Washington's birthday with Lincoln's, which is on February 12.
It gets even more interesting when you learn that Presidents Day isn't even the official name for the holiday; according to the U.S. federal government, the holiday is still technically just called Washington's Birthday. It's the individual states that have deemed the holiday "Presidents Day." And since states can pick whether or not to even recognize it, what's actually being celebrated varies depending on where you are. In Alabama, for instance, they recognize George Washington and Thomas Jefferson on Presidents Day; meanwhile, in Illinois, Honest Abe's home state, Lincoln gets his own day on February 12. And in states like North Carolina, no official holiday is on the books.
But whether you call it Presidents Day, President's Day, Presidents' Day, Washington's Birthday, or something else entirely, there's still every reason to celebrate the men—and women—who have shaped our nation over the centuries. If you'd rather avoid buying discount Valentine's Day chocolates and teddy bears this year, here are some presidential gift ideas for history buffs that we guarantee will never get vetoed.
1. Presidential Slogan Coffee Mug; $16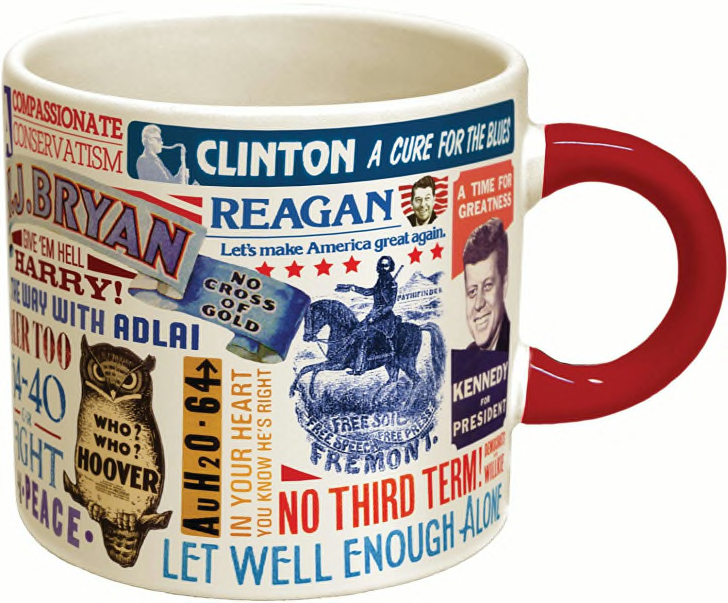 Before any of the presidents made it into the White House, they had to campaign. From TV ads to posters, fundraisers to volunteering, they had to get the support—and votes—in order to be elected to office. Relive their pre-presidential days with this campaign slogan mug. Featuring 29 classic campaign slogans from winners like Calvin Coolidge ("Keep Cool-idge") and Harry Truman ("Give 'em hell, Harry!") to runner-ups like William Jennings Bryan ("No cross of gold") and Adlai Stevenson ("All the way with Adlai"), this mug may not get you the presidency…but after drinking from it, you'll feel like you could.
Buy it: Amazon
2. Teddy Roosevelt Pins; $16
Theodore Roosevelt, known for his conservation efforts, work on the Panama Canal, and teddy bear namesake, was one of our country's most influential presidents. These pins will add a little Presidents Day swag to your step no matter what day of the year it is.
Buy it: Amazon
3. Abraham Lincoln Prayer Candle; $14
Abraham Lincoln, 16th President of the United States, is the patron saint of reunions and rail splitters (as well as the man who guided the U.S. through the Civil War and abolished slavery). Should you ever need a little extra Honest Abe energy, light this candle and say the special secular prayer on the back. It may not make you a wrestling champion, but it will help you mend fences and settle scores.
Buy it: Amazon
4. Presidential socks; $10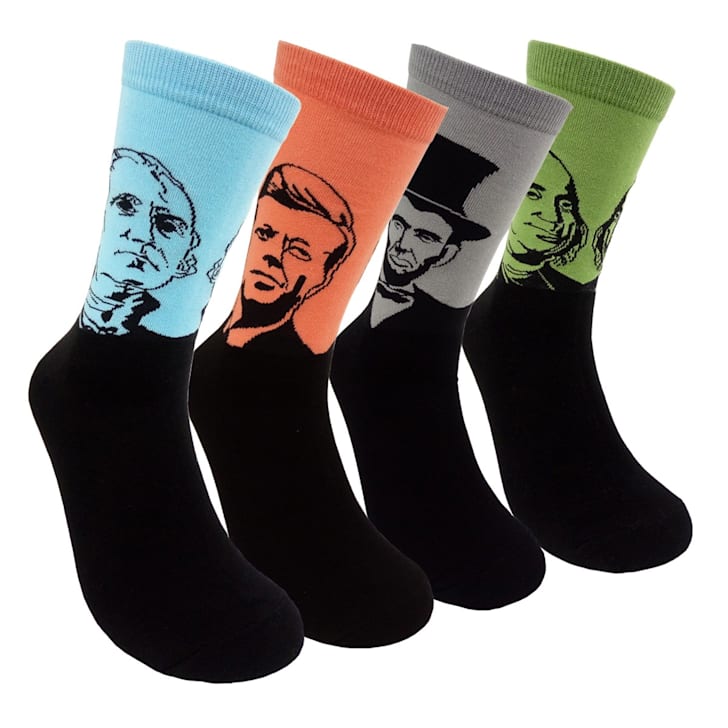 Keep your feet cozy with these festive socks, featuring George Washington, Abe Lincoln, and JFK. Although you might notice that one of these figures was not a president (looking at you, Franklin), he was so accomplished that he gets honorary recognition anyway. After all, not everyone can have their face on the $100 bill.
Buy it: Amazon
5. Mrs. Kennedy and Me by Clint Hill; $8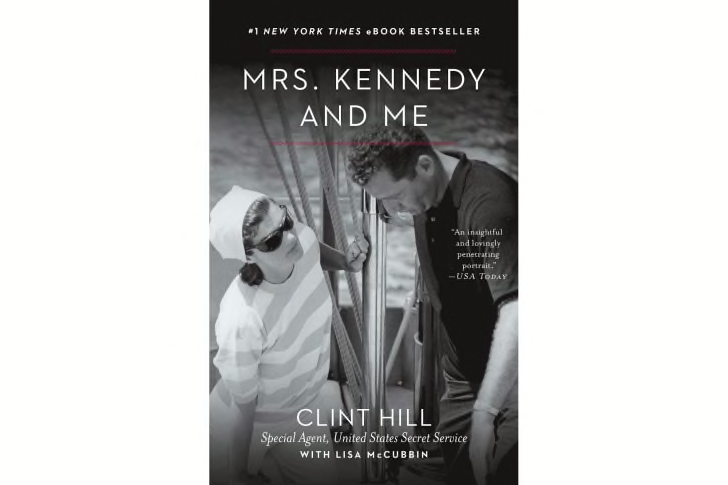 Even though it's Presidents Day, we can't forget the First Ladies who shaped the nation. If you're into all things Jackie O, Clint Hill's memoir about working as a Secret Service agent during JFK's presidency is a must-read. He and Jackie became extremely close friends during his four years of service, and this memoir sheds light on what life in the White House was like for Jackie—and the legacy she upheld years afterward. This is a heartwarming, moving, and insightful read into one of the nation's most iconic first families.
Buy it: Amazon (Audio), Barnes & Noble (Paperback)
6. What Are We For?: The Words and Ideals of Eleanor Roosevelt; $13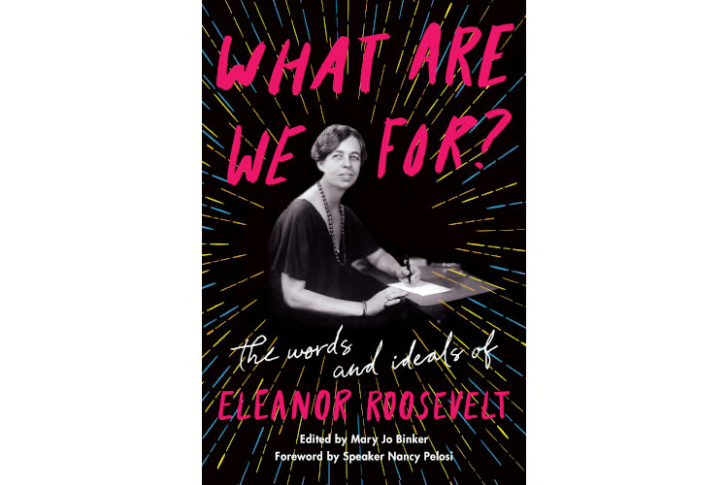 If you're more of an Eleanor Roosevelt fan, get inspired with this book of her most famous and beloved sayings. Covering a wide range of topics—from feminism to war and peace to freedom and democracy—this collection is the perfect resource to turn to whenever you have to ask, "What would Eleanor do?"
Buy it: Amazon
7. Washington Crossing the Delaware Throw Pillow; $29
This festive throw pillow, adorned with Emanuel Leutze's famous Washington Crossing the Delaware painting, is just the decorative touch your living room needs to ring in Washington's Birthday. Made from soft and durable polyester, this pillow is available in multiple sizes and manages to retain the original painting's trademark colors and subtle details.
Buy it: Redbubble
8. Presidential Portrait Necktie; $30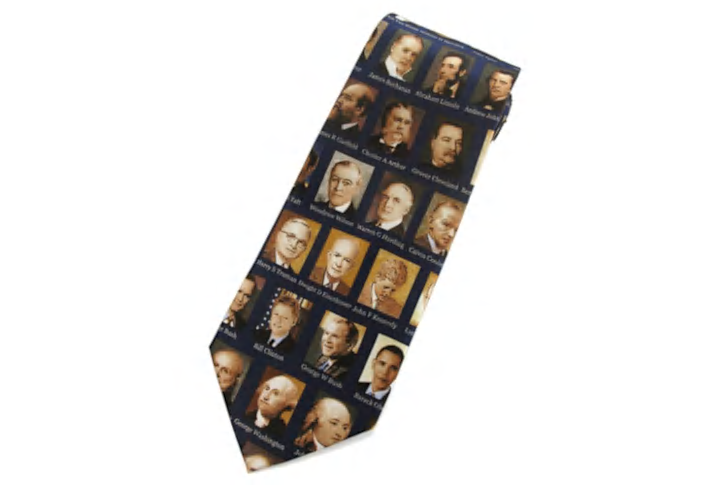 Take your Presidents Day fashion to the next level with this presidential portrait tie. Made of 100 percent silk and featuring portraits of all the presidents, this tie is the perfect statement piece for your next presidential party, or whenever you feel like it's "a time for greatness."
Buy it: Amazon
9. The Smithsonian Book of Presidential Trivia; $13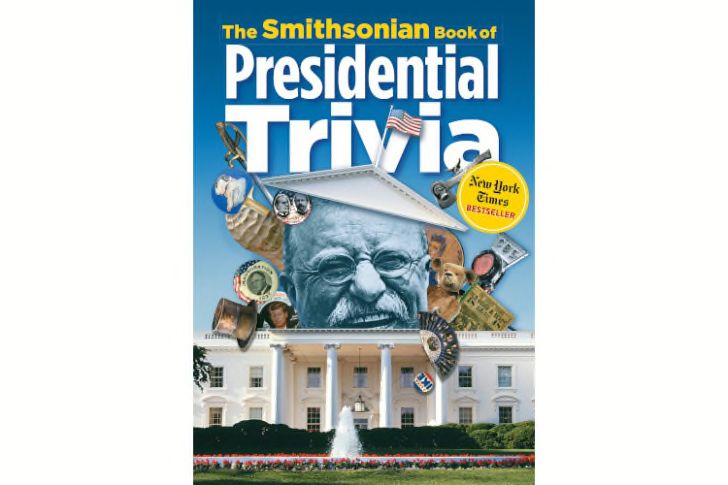 So you think you know your presidents...but do you really? Test your knowledge with this official Smithsonian trivia book. Split into 11 chapters, this book will teach you everything you ever wanted to know (and perhaps didn't want to know) about the presidents, their families, and their terms in office. Filled with photographs from the Smithsonian's official collection, it's a beautiful book that's guaranteed to make you feel like an Oval Office expert.
Buy it: Amazon
Mental Floss has affiliate relationships with certain retailers and may receive a small percentage of any sale. But we choose all products independently and only get commission on items you buy and don't return, so we're only happy if you're happy. Thanks for helping us pay the bills!