Are You a Friends Superfan? Then You Need This Friends-Themed Cards Against Humanity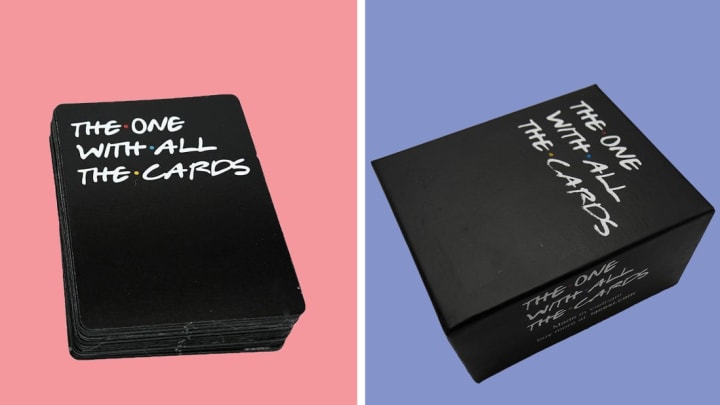 The One With All the Cards/Amazon / The One With All the Cards/Amazon
This article contains affiliate links to products selected by our editors. Mental Floss may receive a commission for purchases made through these links.
For a seemingly simple show, Friends has continued to entertain fans around the world for more than 25 years. The '90s sitcom allowed viewers to follow the lives of six tight-knit friends and—most importantly—quote many hilarious lines and references. Now, you can mix and match some of the show's best moments with The One With All the Cards game, which looks and plays a lot like Cards Against Humanity. You can find it on Amazon for $30.
While the game isn't a Cards Against Humanity expansion pack, it's quite similar. There's a set of black question cards containing classic lines like "WHAT ARE YOU DOING TO MY SISTER?" to which players respond with white cards that feature answers like, "Feeling my bicep, and maybe more."
When you've established who is the best at Friends quotes, you can see who the real superfan is with The One With All the Questions. This trivia game features more than 300 quiz questions and you can find it on Amazon for $33.
Mental Floss has affiliate relationships with certain retailers and may receive a small percentage of any sale. But we choose all products independently and only get commission on items you buy and don't return, so we're only happy if you're happy. Thanks for helping us pay the bills!