This Card Game Lets You Bring The New Yorker Cartoon Caption Contest to Your Living Room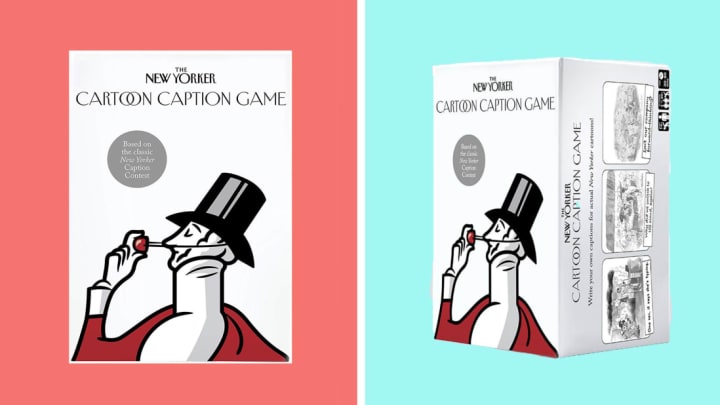 What Do You Meme/Amazon / What Do You Meme/Amazon
This article contains affiliate links to products selected by our editors. Mental Floss may receive a commission for purchases made through these links.
Each week, The New Yorker releases a cartoon without a caption and calls on readers to submit their ideas. If you're looking to hone your skills for your next entry, or you've ever wondered what it would be like to judge a competition, you can do both in The New Yorker Cartoon Caption Game. It's available now on Amazon for $20.
The game is suitable for three to 20-plus players. To start, the oldest player draws three cartoon cards from the deck of 200 and picks their favorite one. They then place the card on the included easel, covering the actual caption. The players write and hand in their best ideas, and the judge reads them out loud to decide the winner. A new judge will take over at the beginning of the next round, so it won't just be one sense of humor dominating the game.
What Do You Meme?/Amazon
Made by the same company that created What Do You Meme ($30), the game can take anywhere from 30 to 90 minutes. Along with the easel and 200 cartoon cards, a complete set comes with 300 pieces of paper to write on, instructions, and six pencils.