Friends Fan Theory Explains How the Characters Always Snagged That Prime Orange Couch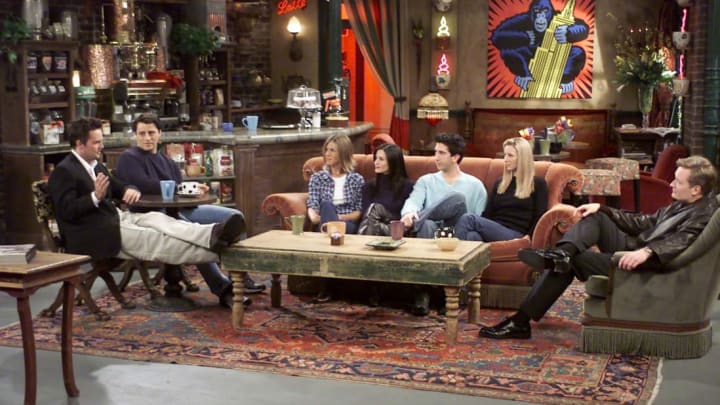 Warner Bros. Television/Getty Images / Warner Bros. Television/Getty Images
There are plenty of fan theories surrounding the hit sitcom Friends, including one that claims Rachel actually dreamed the entire show and another which suggests Phoebe was hallucinating the entire time. But even after the sitcom ended in 2004, there is one burning question that remains unanswered: How did the gang always manage to sit at the orange couch when they went to Central Perk?
The coffee shop is located in New York City, one of the most densely populated cities on the planet, so it seems pretty unlikely Monica, Ross, Joey, Phoebe, Rachel, and Chandler could get their spot every time they stopped in for their (many) cups of coffee. But according to Insider, Friends actor James Michael Tyler, who played Gunther, told RadioTimes there's one fan theory about it that "makes a lot of sense."
The theory suggests that Gunther was the reason the crew was always able to grab the couch. In some scenes, there's even a "reserved" sign on the coffee table in front of the orange sofa. Why would he purposely reserve the table? According to the theory, it's because of his enormous crush on Rachel.
While Tyler says he never personally placed the sign on the coffee table, he told RadioTimes, "That was probably one of the set designers, I'm guessing, maybe one of the writers … I'm not sure who was responsible for that. But I do remember seeing that." He continued, "It never really occurred to me why it was there, but it makes a lot of sense [that Gunther put it there] in retrospect."
Now that you have that question answered, learn why some fans think the crew's incessant coffee drinking was just a long Starbucks marketing ploy by heading here.
[h/t RadioTimes]