Keep Your Kids Engaged With Smarty Pants Flash Cards From Melissa & Doug and Mental Floss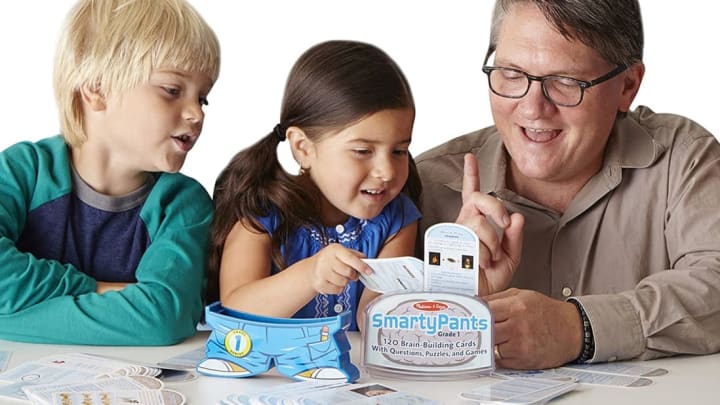 Melissa & Doug/Amazon / Melissa & Doug/Amazon
This article contains affiliate links to products selected by our editors. Mental Floss may receive a commission for purchases made through these links.
It's not enough to just keep a child occupied while they're stuck at home during the quarantine—you want to make sure their minds are actively engaged in something exciting and educational, too. And with the Smarty Pants line of flash cards, which our co-founders Will and Mangesh developed with the Melissa & Doug toy company, your child will always be learning something new and having fun while doing it.
You can find the Smarty Pants cards both at Melissa & Doug and at Amazon, and there are versions suited for kids in preschool ($11), kindergarten ($13), first grade ($12), second grade ($25), and third grade ($13). Each set was created with the input of teachers and educators, and every 120-card pack is full of activities like puzzles, bits of trivia, math problems, and tongue twisters that are tailored for each age group. After the kindergartner set, each pack is also designed so children can play alone or with a friend or parent.
Melissa & Doug/Amazon
The Smarty Pants line debuted back in 2013, and it was Mental Floss's first collaboration with the Melissa & Doug toy company. Melissa and Doug Bernstein are the duo behind their namesake company, and they've been designing toys aimed at fostering creativity and curiosity for more than 30 years.
If you're still looking for more ways to keep your kids entertained, check out these DIY science experiments you can do at home by heading here.
Mental Floss has affiliate relationships with certain retailers and may receive a small percentage of any sale. But we choose all products independently and only get commission on items you buy and don't return, so we're only happy if you're happy. Thanks for helping us pay the bills!