Friends Reunion Special Will Reportedly Be Filmed This Summer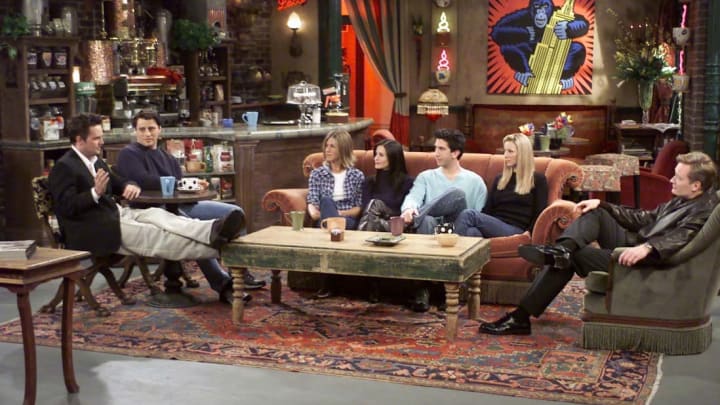 Warner Bros. Television/Hulton Archive/Getty Images / Warner Bros. Television/Hulton Archive/Getty Images
After years of hoping, and months of speculation, Friends fans finally got their long-awaited wish in February when it was announced that the show's original six cast stars—Jennifer Aniston, Courteney Cox, Lisa Kudrow, Matt LeBlanc, Matthew Perry, and David Schwimmer—as well as series co-creators David Crane and Marta Kauffman, would film an unscripted reunion special for HBO Max. The special was set to premiere alongside the launch of the streaming service this month, with the platform set to become the exclusive online venue for all 10 seasons of the series. Then the world changed.
In March, it was announced that filming on the special would be delayed, followed by reports that it would not be available when HBO Max debuts later this month—filming on the episode had to be delayed due to safety concerns around the coronavirus pandemic. But there could be good news on the horizon.
Now, according to Variety, taping of the show could be completed as early as this summer. WarnerMedia Entertainment and Direct-to-Consumer chairman Bob Greenblatt explained:
"At first we thought, shows will be delayed for a month or two at the most, and now it seems like it's going to be far longer than that. We're holding out for being able to get this special done hopefully by the end of the summer, if the stars align and hopefully we can get back into production. We do think there's a value to having a big, raucous live audience to experience these six great friends coming back together and we didn't want to just suddenly do it on a web call with, you know, six squares and people shooting from their kitchens and bedrooms."
Greenblatt added that the special could "go more to a virtual route" if stay-at-home conditions persist. "But at the moment, we're trying to look to the future and get this thing done in a more conventional way, and I think it's worth waiting for," he said.
Friends obsessives would likely agree. The beloved sitcom aired its final episode on May 6, 2004. They've waited more than 16 years for a reunion at this point, so another few months shouldn't make a huge difference.
[h/t Variety]