FSA-Eligible Health Products You Can Buy on Amazon and Walmart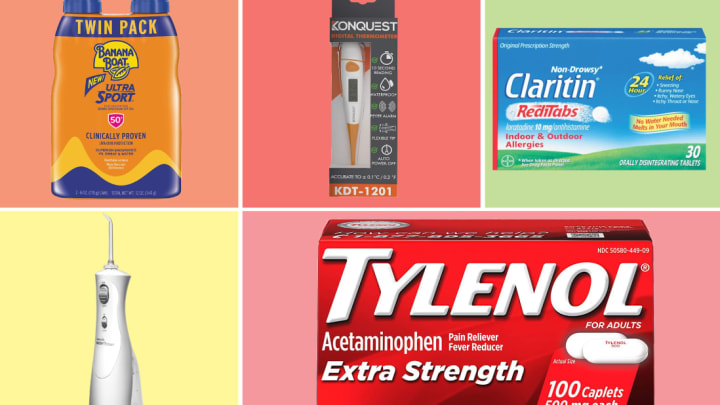 Amazon/Walmart / Amazon/Walmart
This article contains affiliate links to products selected by our editors. Mental Floss may receive a commission for purchases made through these links.
If you're new to the system, a flexible spending account (FSA) is basically an employer-sponsored spending account that employees can use to save pre-tax dollars to spend later on medical supplies and health products. In April 2020, the FSA program expanded its scope to now include basic over-the-counter medications like Tylenol and Advil, making it more convenient than ever to stock up on the necessities.
The other convenience of the program is that you can spend FSA money at all your familiar haunts, including big-name stores like Amazon and Walmart. The two e-commerce giants have dedicated FSA stores on their respective websites, where customers can pick up anything from sunscreen and allergy medication to lip balm and first-aid kits.
To get just a sampling of what your FSA dollars can buy, check out the products below. For even more information, head to the FSA stores on Amazon and Walmart for the full picture.
Over-the-Counter Medications
- Tylenol Extra Strength Caplets, 100 count; $9 (Amazon, Walmart)
- Advil Liqui-Gels Pain Reliever, 160 count; $15-$18 (Amazon, Walmart)
- Tums Ultra Strength, 72 count; $4 (Amazon, Walmart)
- Prilosec OTC; $23 (Amazon, Walmart)
- Aleve Pain Reliever, 270 Count; $12 (Amazon, Walmart)
Cold and Sinus
- Claritin 24-Hour Allergy Medicine, 30 count; $19-20 (Amazon, Walmart)
- Allegra 24-Hour Allergy Relief, 70 count; $25-$34 (Amazon, Walmart)
- Alka Seltzer Plus Cold, 20 Count; $6 (Amazon, Walmart)
- Zyrtec 24-Hour Allergy Relief; $24-$27 (Amazon, Walmart)
Oral Care
- Waterpik Cordless Plus Portable Water Flosser Oral Irrigator; $64 (Walmart)
- Colgate Peroxyl Mouth Rinse; $9 (Amazon, Walmart)
- Crest Complete Whitening Toothpaste + Scope; $34 (Walmart)
Sunscreen
- Banana Boat Ultra Sport Reef Friendly Sunscreen Spray Two-Pack; $13 (Amazon, Walmart)
- Coppertone SPORT Continuous Sunscreen; $12 (Amazon, Walmart)
- Sun Bum Original SPF 30 Sunscreen Lotion; $16-$18 (Amazon, Walmart)
- Neutrogena Ultra Sheer Dry-Touch Water Resistant and Non-Greasy Sunscreen Lotion; $9 (Amazon, Walmart)
Feminine Care
- U by Kotex Barely There Liners, 150 Count; $8-$13 (Amazon, Walmart)
- Playtex Sport Tampons; $6-$8 (Amazon, Walmart)
- Always Ultra Thin Pads, 58 Count; $9 (Amazon, Walmart)
- Tampax Pearl, 47 Count; $9 (Amazon, Walmart)
Everyday Health Essentials
- Icy Hot Cream; $5 (Amazon, Walmart)
- Band-Aid Brand Flexible Fabric Adhesive Bandages, Assorted, 100 Count; $7 (Amazon, Walmart)
- Zacurate Pro Series 500DL Fingertip Pulse Oximeter; $30 (Amazon, Walmart)
- Konquest KDT-1201 Best Digital Medical Thermometer; $17 (Amazon)
Foot Care
- TheraFlow Dual Foot Massager Roller; $17 (Amazon)
- Dr. Scholl's Pain Relief Orthotics; $13 (Amazon, Walmart)