6 Bidets That Are Worth Converting For
With the sudden toilet paper shortages we experienced early on during the COVID-19 pandemic, many Americans began looking at a solution that much of the globe has already embraced: the bidet. Touted as more sustainable and hygienic than traditional toilet paper, bidets rely on concentrated streams of water to get you clean after using the bathroom, and they're the norm in much of Asia, Europe, and South America. If you're interested in making the switch, here are six bidet seats and bidet attachments that you can buy right now.
1. Bliss BB-1700 Bidet Toilet Seat; $579 (10 percent off)
This bidet model features a three-in-one nozzle that adjusts the water flow to your specifications while maintaining a consistent temperature, so you won't have to worry about being shocked by a cold surprise when you least expect it. There are three settings you can choose from, depending on what you need: the signature vortex water stream, posterior wash, and soft bubble infusion wash. The Bliss BB-1700 is also self-cleaning, making it a mostly hands-off bathroom experience
Buy it: Mental Floss Shop
2. Aim to Wash! Bidet Attachment for All Toilets; $50 (28 percent off)
It's been estimated that around 27,000 trees are cut down worldwide every day to create enough toilet paper to meet global demands. If you're concerned about the impact your bathroom habits are having on the environment, this self-cleaning bidet attachment is a budget-friendly way to make a more sustainable switch. It doesn't require any additional power to operate it, and you'll be able to set it up on your own in just 10 minutes.
Buy it: Mental Floss Shop
3. Alpha IX Hybrid Bidet Seat with Remote; $274 (45 percent off)
If you're looking for a bidet with some positive reviews, the Alpha IX Hybrid has you covered. Amazon users awarded it a 4.3-star rating for its advanced hybrid heating system that keeps the water nice and warm, along with its four wash modes and convenient wireless remote.
Buy it: Mental Floss Shop
4. Alpha GX Wave Bidet Seat; $200 (49 percent off)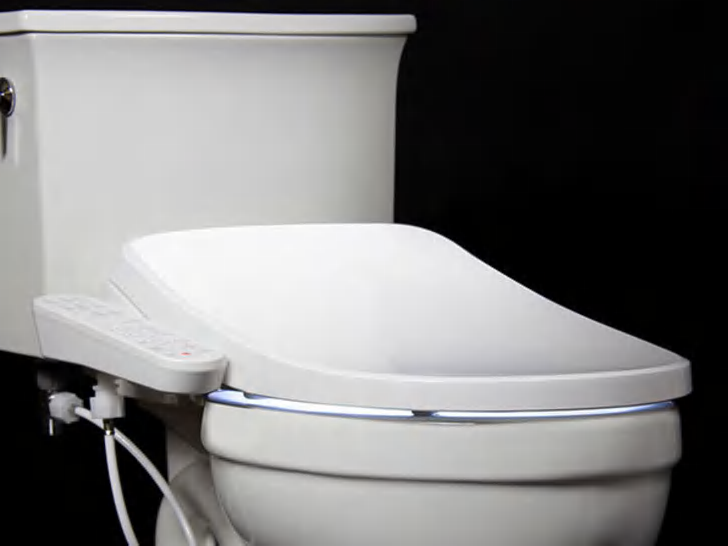 This model is similar to the Alpha IX, except it sports a slightly higher 4.4-star rating on Amazon. It's praised for its warm air dryer, low-profile look, and ease of use. The water and seat warmer range in temperatures from 80°F-104°F, while the air dryer can reach 131°F.
Buy it: Mental Floss Shop
5. SlimGlow: The World's First Bidet Attachment Featuring a Night Light; $50 (36 percent off)
With an ergonomic design and a control knob that modifies water pressure, the SlimGlow is a comfortable option for users of any size. It can easily be installed onto your existing toilet and comes with a nightlight for all those late-night trips to the bathroom.
Buy it: Mental Floss Shop
6. Bliss BB-2000: Bidet Toilet Seat; $699
This bidet offers consistently warm water temperatures that top out at 104℉, meaning you'll be in for a refreshing stream every time you use it. It's also equipped with an air dryer that ranges from 80°F-131°F and will finish up in just a minute or two. A wireless remote and self-cleaning setting help make this model easy to use and impeccably hygienic.
Buy it: Mental Floss Shop
Prices subject to change.
This article contains affiliate links to products selected by our editors. Mental Floss may receive a commission for purchases made through these links. If you haven't received your voucher or have a question about your order, contact the Mental Floss shop here.