12 Essential Products to Bring on Your Next Road Trip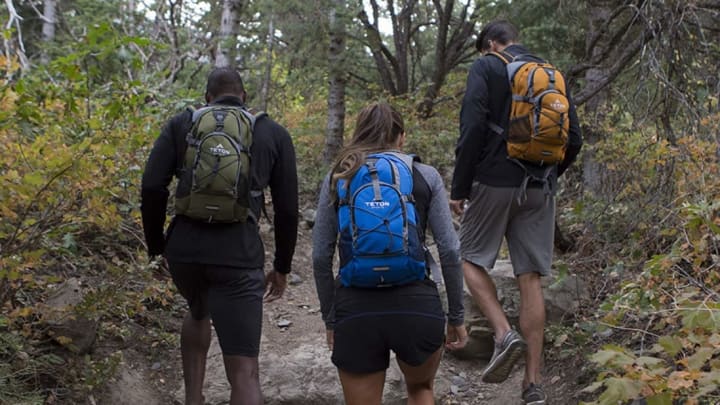 TETON/Amazon / TETON/Amazon
This article contains affiliate links to products selected by our editors. Mental Floss may receive a commission for purchases made through these links.
If you're looking to travel this summer and fall—but don't want to get on a plane or bus—then a road trip may be your best bet. Traveling by car allows you to explore new places at your own pace, and with the roads opened up in front of you, there's no limit to where you can go or how long your trip can last.
Whether you're exploring national parks, trying the country's best takeout, or just driving over a state line, we've put together a list of essential products you need to take along for the ride.
1. MLVOC memory foam travel pillow; $22
MLVOC/Amazon
Cars aren't necessarily the most comfortable place to settle in for a nap, but when you're on the road for hours on end, your choices dry up fast. Next time you know you're going to be in the passenger seat or stuck in the back for a few days, try the 4.4-star-rated memory foam travel pillow from MLVOC. The pillow itself offers 360° support, and its flat back is designed to conform to your neck for a personalized fit. In addition to the pillow itself, you'll also get an eye mask, earplugs, and a travel bag to easily bring the whole kit on the go.
Buy it: Amazon
2. Soundasleep queen-sized air mattress; $150
Soundasleep/Amazon
With a 4.4-star rating on Amazon and placement on numerous best-of lists, the SoundAsleep air mattress is a necessity if you're looking to camp out a few nights during your road trip. Inflation just requires a press of the one-click pump—great for campers who want to avoid nighttime critters in a hurry—and the bottom is covered with a SureGrip suction material to avoid sliding. The mattress comes in queen, twin, and twin XL sizes, giving you options in case you're looking to inflate it in the back of a truck or camper.
Buy it: Amazon
3. National Geographic's Road Atlas 2021: Adventure Edition; $22
National Geographic
You won't always get great service on a road trip, so when you have zero bars—or just want some travel inspiration—National Geographic's Road Atlas 2021: Adventure Edition will take you exactly where you need to go. Featuring updated road maps for all 50 states, Canada, Mexico, and even Puerto Rico, you'll never get lost again. This atlas also includes recommendations for places to visit and profiles on America's top 24 national parks, making it a portable tour guide that's even better than Alexa.
Buy it: Amazon
4. AAA Premium Road Kit; $26
AAA/Amazon
Although no one wants to imagine themselves enduring a calamity of any sort while on a road trip, it's also good to be prepared. This 42-piece road kit comes equipped with heavy-duty jumper cables, duct tape, a screwdriver, cable ties, and more, in case you need to make any quick repairs. Everything comes packed inside a compact carrying case, so it's easy to throw in the car and take with you from one highway to the next.
Buy it: Amazon
5. Otterbox Trooper 20 cooler; $250
Otterbox
No matter what your road trip involves—whether it's visiting Yellowstone or the country's biggest ball of twine—you should always have a cold beverage to enjoy after a long day. This 20-quart soft cooler from Otterbox keeps ice for up to three days and is leak-proof to help avoid spillage. The cooler is equipped with a mounting system, allowing you to customize it with accessories, like an adjustable drink holder or a drybox clip, and it even comes with a carabiner bottle opener attached to it for easy access.
Buy it: Otterbox
6. and 7. Power bank and car charger; $35-$55
Otterbox
Even though you'll be spending most of your time sightseeing, you'll still want to keep your phone charged for taking pictures and keeping in touch with your loved ones back home. The standard Otterbox fast-charge power bank is designed to charge two devices at the same time, allowing you and a buddy to charge up even when you're away from your car. The charger includes a USB-A to USB-C cable and is compatible with most major devices.
For charging in the car, you can't go wrong with Otterbox's Fast Charge Car Kit. You'll get charging speeds that are up to 3.6 times faster than a basic model, according to the manufacturer, and the cable is bend/flex-tested a whopping 3000 times to ensure that it'll last as long as your road trip memories.
Buy it: Otterbox (Power Bank; Car Charger)
8. Otterbox Dash and Windshield Car Mount; $20
Otterbox
You'll probably be using your phone's navigation app while you're exploring new places, but you want to make sure that you're doing so safely. Keep your eyes on the road—and still get to where you want to go—with Otterbox's Dash & Windshield car mount. It's designed to allow you to insert and remove your phone with only one hand, and its adjustable arms can extend to fit even the biggest phones without blocking any of the buttons. If you prefer a car mount that sits a little lower, this Air Vent Mount from Beam Electronics is a great alternative.
Buy it: Otterbox
9. and 10. Instant coffee and cold brew concentrate; $15-$57
Java House/Amazon
Any road trip veteran will tell you that the most important part of getting through a long drive is staying awake and alert. Enjoy hot coffee on the go—and actually have a decent cup—with these instant coffee packets from Starbucks. All of Starbucks's instant coffees are made from 100-percent arabica beans, and you just have to pour your packet into a mug, mix with hot or cold water, and enjoy.
If you want something a little colder and a lot stronger, check out the cold brew concentrate pods from Java House. Just as easy as making instant coffee, all you have to do is peel the cap off the pod, pour over ice, add water, and stir. It's easy enough to make, and it'll help cut down on stopping at expensive cafés while on the road. Make sure you bring some portable mugs with you so your coffee can stay as fresh as it was the minute you made it.
Buy it: Amazon (Starbucks Instant Coffee; Java House Cold Brew Concentrate)
11. First aid kits; $22-$125
First Aid Only/Amazon
Accidents happen, and this 299-piece kit from First Aid Only has almost everything you need for basic emergencies. With bandages for cuts and scrapes, creams and cold packs for burns, basic painkillers, alcohol wipes, and more, this light and easy-to-stow kit is an essential travel companion.
If you want something a little fancier—but no less useful—check out this unique first aid kit. The kit includes first aid essentials like multi-use tape, bandages, and antibiotic cream, all stowed in tiny canisters that fit perfectly inside a flashlight tube. This is a great kit to bring with you on trips outside of the car … and even more handy on nighttime hikes.
Buy it: Amazon (First Aid Only 299-Piece Kit; Flashlight First Aid Kit)
12. TETON Sports Oasis 1100 Hydration Pack; $41
TETON/Amazon
Those inclined to stretch their legs and go on a hike through a national park during their road trip will want a backpack that holds all the essentials. This 4.6-star-rated hydration pack keeps two liters of water at the ready for those parched moments. Even with that, the backpack still has an additional 16 liters of space for all the other things you'll need along the way. Customize the pack to fit anyone in your family with the adjustable straps, foam stabilizer, and mesh covering.
Buy it: Amazon
Sign Up Today: Get exclusive deals, product news, reviews, and more with the Mental Floss Smart Shopping newsletter!