Bring Spa Trips, Movie Outings, Wineries, and More to Your Home With These 13 Products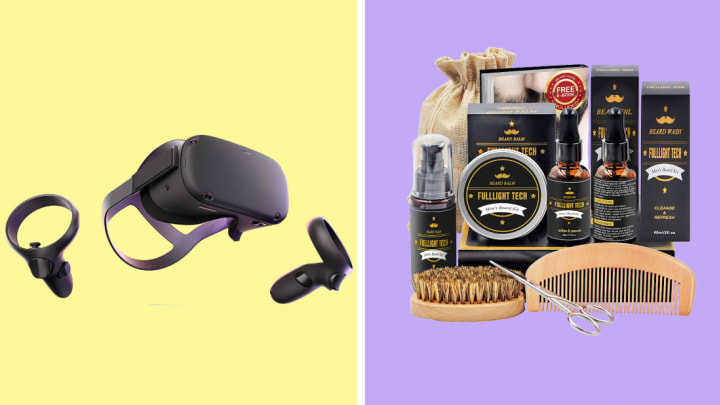 Oculus/Amazon / Oculus/Amazon
This article contains affiliate links to products selected by our editors. Mental Floss may receive a commission for purchases made through these links.
When was the last time you went to the spa? Or watched a film in an actual movie theater? Went on vacation? Chances are, you're closing in on at least six months indoors at this point. While we're not running out of the house to get a pedicure or massage anytime soon, many of us are missing the small luxuries we often took for granted before the coronavirus pandemic. To help maintain some semblance of normalcy, we scoured the internet for the best products to help you recreate these once-overlooked experiences right in the comfort of your own home.
1. Vankyo Mini Portable Movie Projector; $120
Vankyo/Amazon
Recreate the movie theater experience at home—either outdoors or indoors—with this compact portable movie projector. Not only is it super simple to set up and use, it also easily connects to your smartphone (and you don't even need to install an app!), PlayStation, or Xbox. This model from Vankyo tops out at a 170-inch display with a 1080p HD picture. Just don't forget the screen if you're heading outside for movie night.
Buy it: Amazon
2. Zyllion Shiatsu Back and Neck Massager; $50
Zyllion/Amazon
Nix the fancy spa treatments and avoid all outside human contact in favor of this back and neck massager from Zyllion. With just the touch of a button, this (heated!) massage pillow kneads away all of your knots, cramps, aches, and pains. The massager will even change direction every minute, so it will feel closer to the real thing. All you have to do is plug it into the wall and let it work its magic. Voila!
Buy it: Amazon
3. Cratejoy's International Snack Boxes; prices vary
Cratejoy
If you had to put your globetrotting escapades on hold for the time being, rest assured that you can still snack like a world traveler without needing a passport or even a pair of pants. Just head on over to Cratejoy to choose from dozens of international-inspired snack boxes and food subscriptions. From Japanese treats shipped straight from Tokyo to gourmet Italian goodies like pasta and breadsticks (think of all the carbs!), the options are limitless.
Buy it: Cratejoy
4. Grub From Goldbelly; Prices Vary
You've got similar options over on Goldbelly, except here, you can get signature meals from some of America's most popular restaurants delivered right to your door. From the mouthwatering cannoli at Ferrara Bakery (a Big Apple staple since 1892) to fresh lobster rolls straight from Beal's Lobster Pier in Maine to Lou Malnati's famed deep-dish Chicago pizza, there are plenty of options to choose from. Some of these you can eat as is, while others come frozen for you to simply toss in the oven for a bit. If you're looking to make a night of it, you can get certain options—like Shake Shack burgers—delivered raw, so you can cook them however you want.
Buy it: Goldbelly
5. and 6. A Haircutting Set and Beard Grooming Kit; $21-$22
FULLLIGHT TECH/Amazon
After five-plus months of quarantine, chances are, you need a haircut. If you opt to DIY it, you'll want to invest in a quality, professional-grade haircutting set. We love this one from Sirabe, which features a comb, two scissors, a neck-dusting brush, a hairpin, a handy storage bag, plus several other tools. Additionally, if you've been growing out a voluminous self-isolation beard, you should consider purchasing this grooming kit for some serious pampering. The kit includes shampoo, stainless steel scissors, a guide book, beard balm, a hairbrush, and other products to keep your beard clean, lush, and full of life.
Buy it: Amazon (Haircut set, beard kit)
7. A Rent the Runway Subscription; Prices Vary
Remember shopping malls? Us, too. Try on new clothing from the comfort of your home (read: no sweltering dressing rooms or pesky salespeople) with a Rent the Runway subscription. For the basic membership, you can rent four items at a time for four to eight days—sans the hefty department store price tags. There are more than 10,000 styles and 400 designers to choose from, so you won't run out of options anytime soon. You can do a trial month for just $69.
Buy it: Rent the Runway
8. Oculus Quest VR headset; $500
Oculus
While the Oculus Quest is pricey, it definitely lives up to the hype. In fact, the world is (quite literally) at your fingertips with these easy-to-use virtual reality headsets. Vacation Simulator is just one of the hundreds of games you can choose from to escape your current reality, which is probably pretty tempting for most people. You can also travel to a galaxy far, far away in the Star Wars-themed Vader Immortal game, or you could just pull a cooler up to your sofa and kick back with some VR fishing.
Buy it: Amazon
9. Westin Ultra Luxe Fitted Sheet set; $179
Westin/Amazon
Though you're likely staying in your own bed for the foreseeable future, you can transform your bedroom into a fancy hotel suite with these plush, crisp bed sheets from Westin (yes, the luxury hotel chain). The ultra-soft sheets, which are handcrafted in Italy, feature 600-thread-count cotton. Even better? They're machine washable. You can also opt to take your pillowcases to the next level with matching pillowcases, which come in a set of two.
Buy it: Amazon
10. and 11. At-Home Wine and Beer Tastings; starting at $41-$43
Whether you're an oenophile or a beer aficionado, you can still sample the best drinks from around the country (and hold a group tasting via Zoom in the process). Winos will appreciate a California Wine Club membership, which features curated bottles from artisan wineries. There are multiple levels to this club, including memberships devoted to international wines, aged Cabernets, and one that focuses solely on vino from the Pacific Northwest. Though the specifics change with each, you're looking at two to four bottles of handpicked wine per month.
Meanwhile, beer lovers should join The Original Craft Beer Club, where you can get some of the best beer from around the country shipped straight to your door. Shipments range from 12 to 24 bottles or cans (four styles, three of each for the smaller subscription), and you'll receive a selection of IPAs, pilsners, stouts, and other varieties from breweries you otherwise would likely never get to experience on your own.
Buy it: California Wine Club and The Original Craft Beer Club
12. and 13. DIY pedicure and manicure Kits; $14-$59
Flyvii/Amazon
Treat yourself to a much-needed mani or relaxing pedicure right in the comfort of your home. The Deborah Lippman Nail Essentials Kit includes everything you need for an at-home manicure, including hand cream, two nail polishes, a base coat, a top coat, a nail file, a nail buffer, and nail polish remover finger mitts (!). Meanwhile, this 18-piece pedicure set makes at-home pedis a breeze.