8 Products That Any Fan of The Office Will Love
It's been more than seven years since The Office aired its series finale, but thanks to Netflix, the show's popularity has only continued to grow since then. If you're one of those Dunder Mifflin devotees who can't get enough of the Scranton crew—even after binge-watching all nine seasons for the fourth time this year—you can bring some of your favorite The Office references home with you, thanks to these products and collectibles from Hot Topic.
1. Schrute Farms T-shirts; $18-$20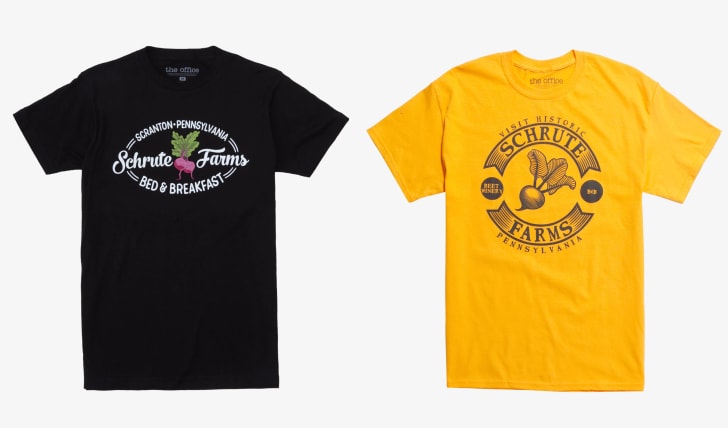 Grab a tee that celebrates Scranton, Pennsylvania's other favorite business: Schrute Farms Bed & Breakfast. If the Dwight-approved plain black design isn't for you, opt for the brighter yellow one. And once you've settled on the color, top it off with this beet-scented Schrute Farms air freshener to really make the experience an authentic one.
Buy it: Hot Topic
2. Kevin's Chili Floating Pen; $10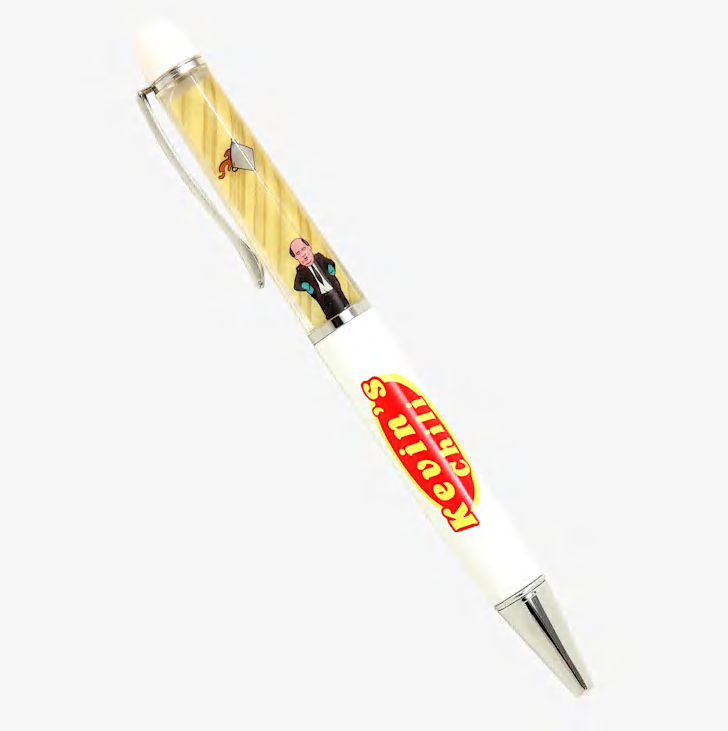 The tragic ballet of Kevin slipping and sliding in a mound of his famous chili after it spills onto the Dunder Mifflin floor is one of the standout moments on The Office. And now, you can watch it over and over again on this floating pen—simply tilt it to watch the pot slip from Kevin's hands.
Buy it: Hot Topic
3. The Office Comforter; $90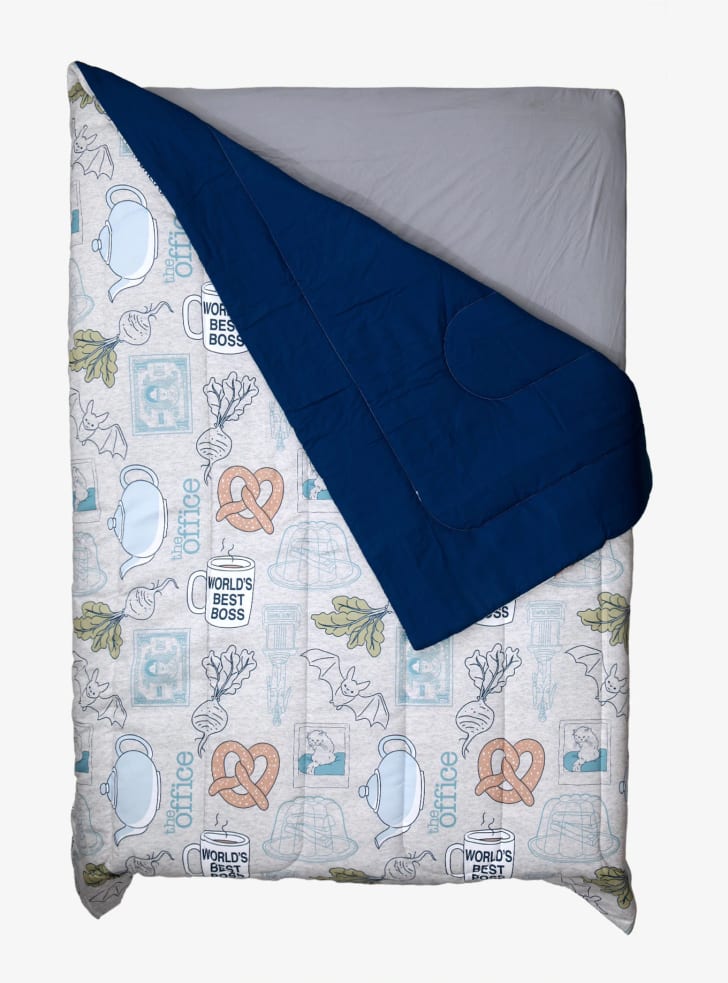 Now you can literally wrap yourself up in references from The Office as you binge the show before bed. At 81 inches by 86 inches, this full/queen comforter sports pictures of Pam's teapot, Michael's coffee mug, a Schrute buck, and the bat that bit Meredith.
Buy it: Hot Topic
4. Dwight Schrute Throw Blanket $20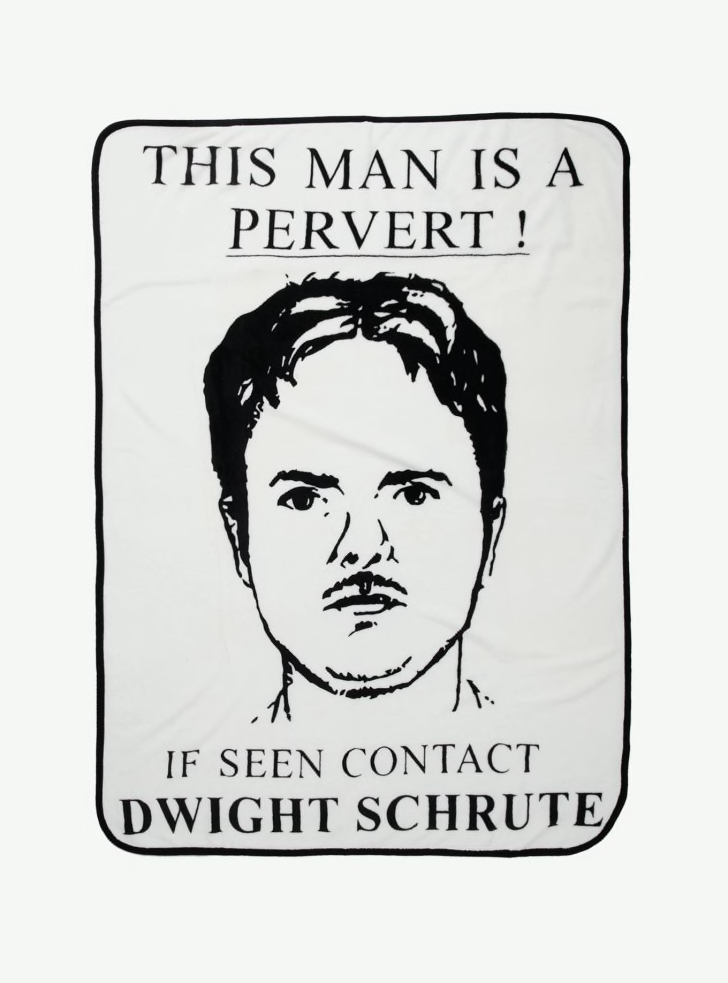 If you're looking for a lighter throw blanket, this one is modeled off of one of Jim's (and Pam's) more memorable pranks against Dwight.
Buy it: Hot Topic
5. Finer Things Club T-shirt; $20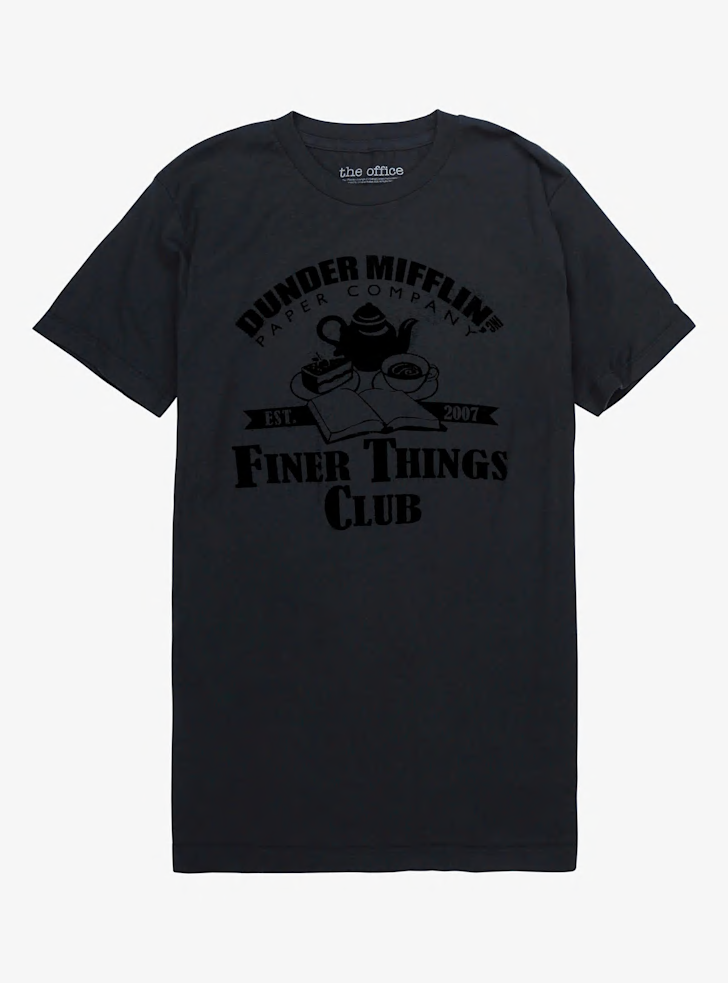 Elevate your taste in literature and cuisine with this T-shirt that pays homage to Dunder Mifflin's very own Finer Things Club. Just remember to actually read Angela's Ashes before giving a speech on it.
Buy it: Hot Topic
6. Clue: The Office Edition; $49
In this The Office-themed edition of Clue, you have to find out who killed Toby Flenderson from a list of suspects including Michael, Angela, Jim, Pam, Andy, Dwight, and Stanley. It plays just like classic Clue, except all the locations are located in the Dunder Mifflin building, with game pieces based on jokes from the show.
Buy it: Hot Topic
7. Michael Scott Paper Company T-shirt; $18-$20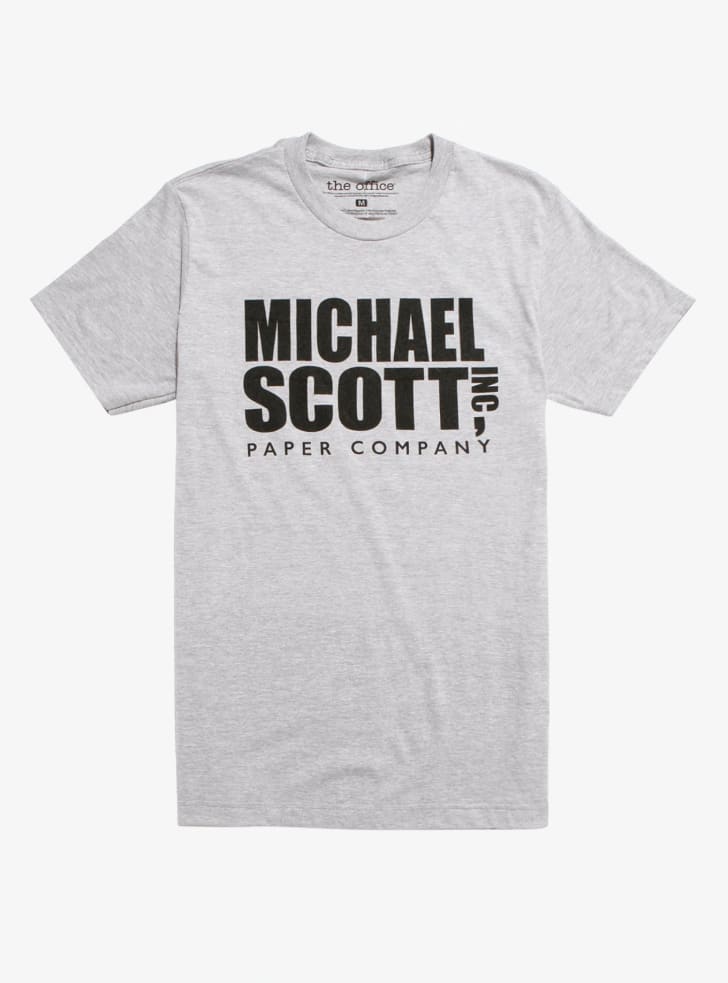 The Michael Scott Paper Company didn't exactly have the best business plan or much of an operating budget in its few days of existence, but it still managed to get the best of Dunder Mifflin in the end. Show your support for Michael's short-lived paper competitor with this shirt.
Buy it: Hot Topic
8. Replica Dundie Award; $19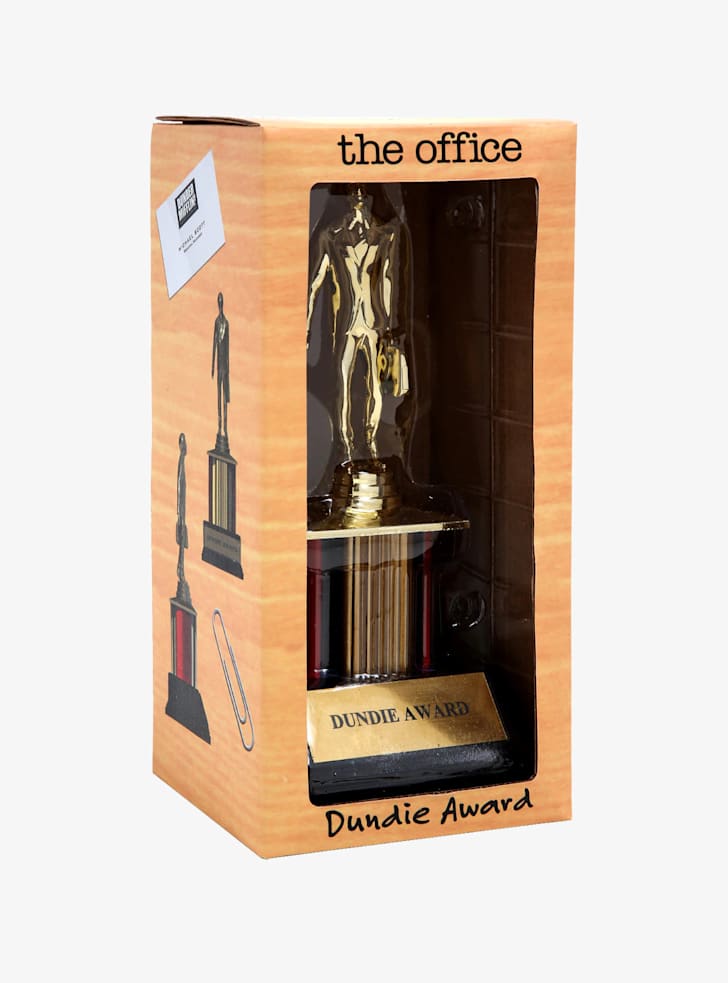 Whether you're giving yourself a Fine Work award or presenting the Don't Go in There After Me award to a friend, do it with some Scranton charm, thanks to this replica Dundie statue. At 8 inches tall, it's worthy of a spot on any mantle.
Buy it: Hot Topic
This article contains affiliate links to products selected by our editors. Mental Floss may receive a commission for purchases made through these links.