This ADA-Approved Electric Toothbrush Can Whiten and Clean Your Teeth for $60
Routine check-ups have taken a backseat during the national closures and social distancing efforts, but regular maintenance of your oral health is still extremely important. Take care of business from home with this Shyn Sonic Rechargeable Electric Toothbrush, complete with eight whitening brush heads, a charger, and a travel case.
The Shyn Sonic was approved by the American Dental Association to be an effective toothbrush for gingivitis prevention and plaque removal, making it the next best thing to your routine visit to the dentist. It will even score you some beauty points by brightening your smile in just one week with Rembrandt's One-Week Whitening Kit. The specialized whitening brush heads feature bristles in a unique diamond shape that effectively clean and buff teeth. The Shyn will maintain those pearly whites through the work of an angled neck that gets to hard-to-reach areas.
Each Shyn fits neatly into its included travel case—which is just one reason why it won People magazine's 2019 Travel Award for the Best Electric Toothbrush—but don't worry about having to pack the waterproof charger if you're only going away for a few days. That's because the Shyn can hold a single charge for up to two weeks of regular use.
You can get a Shyn Sonic Rechargeable Electric Toothbrush and all the accessories—including the eight replacement brush heads, a wireless waterproof charger, and travel case—for $60.
Prices subject to change.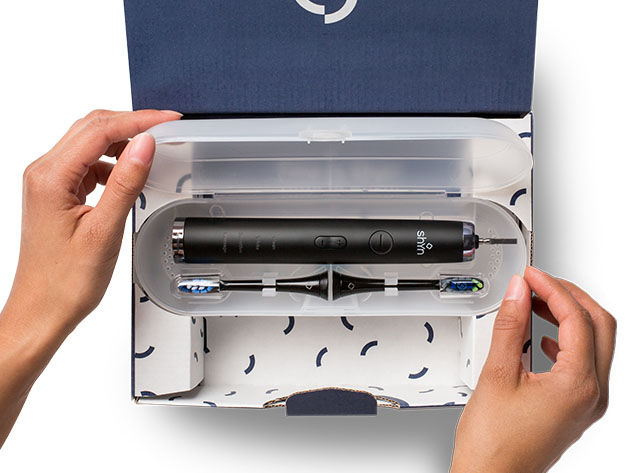 Shyn Sonic Rechargeable Electric Toothbrush with 8 Whitening Brush Heads, Charger, and Travel Case (Midnight Black) - $59.99
See Deal
This article contains affiliate links to products selected by our editors. Mental Floss may receive a commission for purchases made through these links. If you haven't received your voucher or have a question about your order, contact the Mental Floss shop here.