10 of the Best Halloween Costumes for Your Dog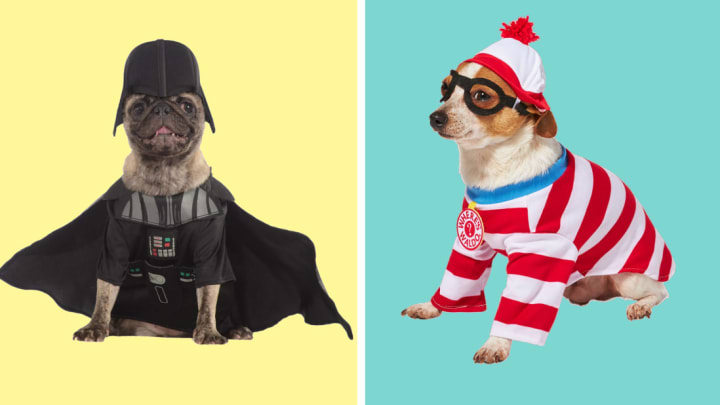 Amazon/Chewy / Amazon/Chewy
This article contains affiliate links to products selected by our editors. Mental Floss may receive a commission for purchases made through these links.
Although trick-or-treating might look a little different this year, there's no reason why you (or your favorite pet) still can't celebrate Halloween in style. To help you get in the spooky spirit with your four-legged housemates, we've rounded up some of 2020's best—and cutest—costumes for your dogs. Whether your little monster wants to pay homage to their favorite horror movie or simply don a festive sweater, one of these costumes is guaranteed to earn them an extra treat or two.
1. Taco Dog; $19-$20
Rubie's/Amazon
Dogs and tacos are two of the internet's favorite things, so why not combine them into one? This delightful costume features a sombrero headpiece and taco bodysuit that includes all the necessary taco fixings, like lettuce, cheese, meat, tomatoes, and guac. The costume sizes range from small to XL, so no matter if your dog is best described as a mini taquito or a beefed-up burrito, they'll be able to find a perfect Halloween fit.
Buy it: Amazon
2. Wonder Woman and Superman; $15-$25
Rubie's/Amazon
All dogs are superheroes, even if their most valiant feat is greeting you at the door when you come home. Your pet can show off their inner helper in one of these officially licensed costumes from DC Comics. The Wonder Woman costume features the superheroine's signature emblem on the back, with a sweet tiara and tutu completing the look. The Superman costume, meanwhile, is fitted with a dramatic cape that's sure to get them an extra bone or two when going for their evening walk.
Buy it: Wonder Woman and Superman on Amazon
3. Hogwarts Outfit; $15-$16
Impoosy/Amazon
"Yer a wizard, Sparky!" Impoosy's Hogwarts-inspired costume takes the magic of Halloween to the next level. The set has an adjustable Velcro cape, striped tie, and a pair of glasses so your pet can embrace their inner boy-who-lived (lightning bolt scar not included). As a fun bonus, the costume comes in four different colors, so your pet can sport their house colors in style … after trying on the Sorting Hat, of course.
Buy it: Amazon
4. U.S. Mail Carrier; $18-$19
California Costume Company/Amazon
If you'd rather dress your dog up as a real-life hero, try a U.S. Postal worker. Postal workers deliver the mail in spite of snow, rain, and sleet, and this clever costume will allow your pet to honor the workers who are as faithful as man's best friend. California Costume's Mail Carrier ensemble has a combined shirt and front legs piece with attached "arms," which hold your dog's special delivery via Velcro. Show your appreciation for your dog's service with a spoonful of peanut butter (your real mailperson might actually like that, too).
Buy it: Amazon
5. Any Star Wars Costume; $6-$28
Rubie's/Amazon
The Force will be with your four-legged friend this Halloween. The Star Wars collection from Rubie's has looks for all of your favorite characters, including R2-D2, Princess Leia, Chewbacca, Darth Vader, Yoda, and more. If your pet doesn't exactly love dressing up for the holidays, the collection also includes smaller items like this Yoda ears headpiece, so they can still get in the spirit even without a full getup.
Buy it: Amazon
6. Where's Waldo?; $25-$29
Rubie's/Chewy
Your pet will stand out in the crowd in this adorable Where's Waldo? costume. Featuring Waldo's iconic red and white striped sweater, beanie, and glasses, this officially licensed set is perfect on its own or for matching with a two-legged human. The hat and felt glasses include an elastic chin strap and adjustable ear loops, so your pup will stay stylish and comfortable all night long. They might not be wandering around a crowd of 500 people like their bookish counterpart, but at least they'll look great while social distancing.
Buy it: Chewy
7. Fair Isle Halloween Sweater; $14-$16
Frisco/Chewy
Whether your pet wants to keep it more casual this year or have an excuse to celebrate for the entire month of October, Frisco's Fair Isle sweater will put the "howl" in their Halloween look. The orange and black sweater is embellished with traditional Halloween images—ghosts, Jack-O'-Lanterns, skulls, cats, bats, and gravestones—that are much more endearing than they are spooky. The sweater also contains a leash hole, so your furry pal can show off his look both inside and outside the house.
Buy it: Chewy
8. Pennywise; $18-$22
Rubie's/Chewy
There's nothing more fun than playing with your pet, but this terrifying Pennywise costume might just make you think twice. With its sickeningly cheerful tassels and buttons, orange wig, and plush "balloon," this costume might even scare you if your pet wears it for too long. If It isn't your thing, check out these Freddy Kreuger and Chucky-inspired costumes to add some extra fright to your night.
Buy it: Chewy
9. Jack Skellington; $20-$22
Rubie's/Chewy
This look is the opposite of a nightmare before Christmas. Disney's officially licensed Jack Skellington costume from Rubie's Costume Company highlights The Pumpkin King's classic outfit, which includes a pinstriped jacket, bat bowtie, and headpiece with a printed image of Jack's smiling face. Despite Jack's Christmas obsession, this look embraces his trademark style. This is Halloween, after all.
Buy it: Chewy
10. Headless Rider; $18
Frisco/Chewy
The Legend of Sleepy Hollow is one of America's most infamous ghost stories. Celebrate Washington Irving's beloved folktale by turning your pet into the headless horseman's ghoulish accomplice. This is a great option for pets who might not like getting dressed up, but who feel comfortable wearing simple thunder jackets or shirts. Simply fasten the cape around them via hook-and-loop fasteners, and presto! They're automatically the companion of a plush, headless terror (terror being relative, in this case).
Buy it: Chewy
Sign Up Today: Get exclusive deals, product news, reviews, and more with the Mental Floss Smart Shopping Newsletter!