This 311-Piece LEGO Star Wars Advent Calendar Features Darth Vader in an Ugly Christmas Sweater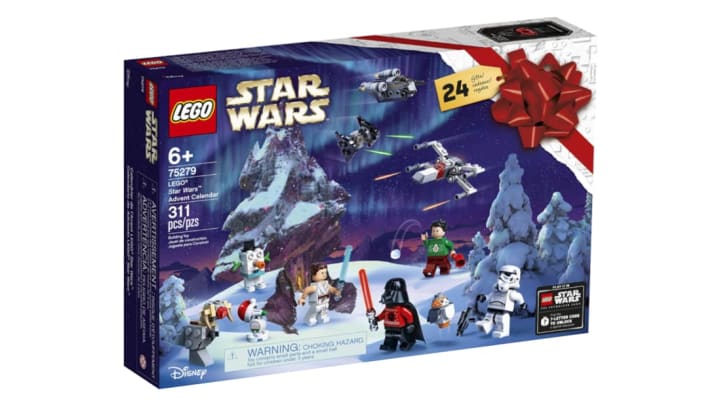 LEGO/Lucasfilms Ltd / LEGO/Lucasfilms Ltd
This article contains affiliate links to products selected by our editors. Mental Floss may receive a commission for purchases made through these links.
The countdown to Christmas can sometimes be just as fun as the big day itself, and there's no better way to build anticipation than with an Advent calendar. Modern Advent calendars can include anything from ornaments to figurines inside the 24 tiny boxes, with some companies even basing them on popular characters like Harry Potter and the cast of Back to the Future. And fans of the Star Wars universe will be happy to hear that LEGO is putting their favorite sci-fi galaxy into a 311-piece Advent calendar ($30) for 2020, complete with 24 characters and vehicles to build.
Sign Up Today: Get exclusive deals, product news, reviews, and more with the Mental Floss Smart Shopping newsletter!
In this calendar, each day is filled with a new item to discover. One day you'll get to build a minifigure of a Tauntaun with a red nose, then you'll construct an X-wing or maybe even the coveted figure of Darth Vader in an ugly Christmas sweater. Besides getting to play with 311 LEGO bricks, you'll also have a Millennium Falcon backdrop to set your new characters and vehicles against (perfect for photo ops).
LEGO/Lucasfilms Ltd
And for anyone excited for the upcoming LEGO Star Wars: The Skywalker Saga video game ($50), there's a code for an unlockable character included in the calendar. The game is coming to PlayStation 4, PlayStation 5, Xbox One, and Nintendo Switch soon.
To learn more about the 2020 LEGO Star Wars Advent calendar, find it here on Amazon.