13 Great Gifts for Gamers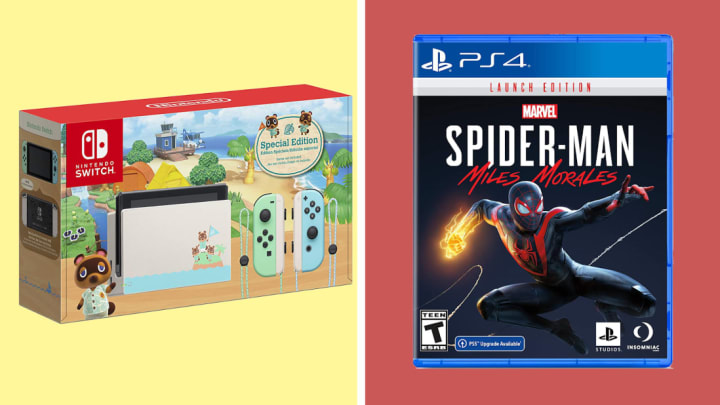 Nintendo/Insomniac/Amazon / Nintendo/Insomniac/Amazon
This article contains affiliate links to products selected by our editors. Mental Floss may receive a commission for purchases made through these links.
Since the earliest days of Atari, video game enthusiasts have looked forward to gaming systems, software, and accessories wrapped up under their tree. If you have a gamer in your life, take a look at 13 gifts from headsets to virtual reality that are guaranteed to feed their pixelized pastime.
1. Nintendo Switch - Animal Crossing: New Horizons Edition; $300
Nintendo/Amazon
You may be out of luck scoring the elusive PlayStation 5 or Xbox Series X consoles in time for the holidays, but you might be able to land a Nintendo Switch for the gamer you're shopping for. This handheld console hybrid can be played on a TV or on the go, and it sports a top-tier line of games. The title included in this bundle, Animal Crossing: New Horizons, is one of the system's finest. (There are also plenty of Mario and Zelda titles for the old-school gamers on your list.)
Buy it: Amazon
2. Super Smash Bros. Ultimate; $60
Amazon
If your list calls for a Switch game, the latest installment in the hit Super Smash Bros. series is an absolute crowd pleaser. Video game legends from Pac-Man to Donkey Kong knuckle up in face-to-face confrontations both online and solo. An online code allows you to download the game.
Buy it: Amazon
3. Oculus Quest 2; $399
Amazon
Immerse yourself in virtual reality with the latest from Oculus. The Quest 2 features 50 percent more pixels than the first-generation model and doesn't require a PC or console to work. There's also an emphasis on easy setup with this iteration, so anyone can take it out of the box and start playing. Games like Star Wars: Tales From the Galaxy's Edge can even be accessed from your smartphone, making things even more simple.
Buy it: Amazon
4. HyperX Cloud Flight Gaming Headset; $126
Amazon
For gamers who like to tackle rivals online, this HyperX headset features a noise-canceling microphone and memory foam cushioning. Over 30 hours of battery life means players can stay unplugged but ready for marathon gaming sessions.
Buy it: Amazon
5. Norton 360 for Gamers; $30
Amazon
Online gamers are sometimes at increased risk for having their personal information compromised. This special edition of Norton 360 offers real-time monitoring to ensure gamer tags are secure and that there are no viruses lurking around the corner. There's also cloud storage for gaming clips.
Buy it: Amazon
6. AmazonBasics Nintendo Switch Playstand; $10
Amazon
This inexpensive and handy stand helps keep Nintendo Switch systems propped upright, allowing gamers to play without going into handheld mode at their desk or coffee table (perfect for when the TV is occupied).
Buy it: Amazon
7. Twitch Gift Card; $25 and Up
Amazon
With a Twitch gift card, gamers can subscribe to their favorite channel or use it on programs like Twitch Turbo, which allows them to watch videos and streamers without ads. If you're having a socially distanced holiday, it can be delivered via email to the recipient.
Buy it: Amazon
8. AmazonBasics PlayStation 4 DualShock 4 Controllers Charging Station; $19
Amazon
Got a PlayStation 4 addict in your life? This docking station offers a place to store their DualShock 4 controllers and doubles as a charging station. A green light indicates when they're ready to go.
Buy it: Amazon
9. HyperX Alloy Origins Core Keyboard; $99
Amazon
Many PC and console gamers rely on keyboards to execute commands. This HyperX peripheral has LED lighting, responsive keypads, and can save three different gamer profiles. You can use it on a PC, PlayStation 4, or Xbox One.
Buy it: Amazon
10. Paladone PlayStation Controller Alarm Clock; $30
Amazon
Make sure gamers get sweet dreams with this officially licensed alarm clock shaped like a classic PlayStation controller. Use the controls to set the time.
Buy it: Amazon
11. and 12. Marvel's Spider-Man and Marvel's Spider-Man: Miles Morales; $26-$50
Amazon/Insomniac
The PlayStation game everyone is raving about is a kinetic trip through Spider-Man's life. Soar through New York City in web-slinging action with Spider-Man: Game of the Year edition, which collects all of the game's post-release extra side missions. You can also opt for Spider-Man: Miles Morales. This sequel shifts the focus to a brand-new Wall Crawler, who you may remember from 2018's Spider-Man: Into the Spider-Verse. That title is expected to ship November 12.
Buy it: Spider-Man: Game of the Year Edition ($26), Spider-Man: Miles Morales ($50)
13. Razer Kishi Controller; $80
Amazon
Is the gamer on your list more into mobile games? This controller provides more options for commands and fits comfortably over most Android smartphones, basically turning a phone into a full-fledged handheld console.
Buy it: Amazon
Sign Up Today: Get exclusive deals, product news, reviews, and more with the Mental Floss Smart Shopping newsletter!