11 Fun Pop Culture Christmas Ornaments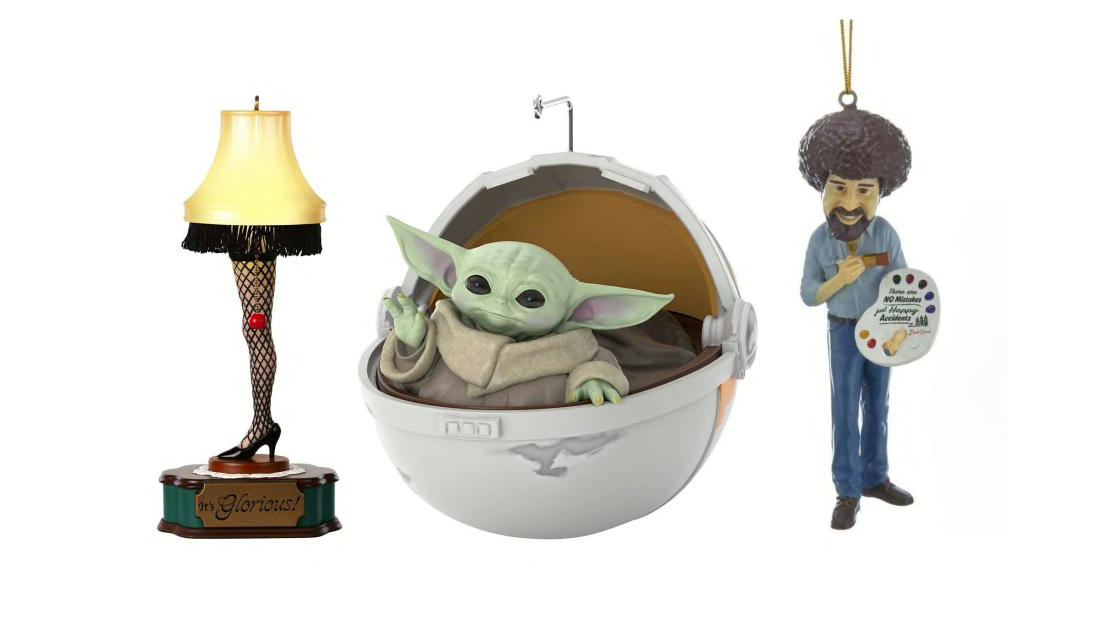 If there's one place you can find Bob Ross, Jack Skellington, and Baby Yoda (besides the nearest Spirit Halloween store in October), it's probably on a Christmas tree. The festive indoor evergreens offer the perfect opportunity for us to show off our varied pop culture passions. Help your friends and family fill every branch this holiday season with these 11 eye-catching ornaments from all their favorite fandoms.
1. Baby Yoda Ornament; $43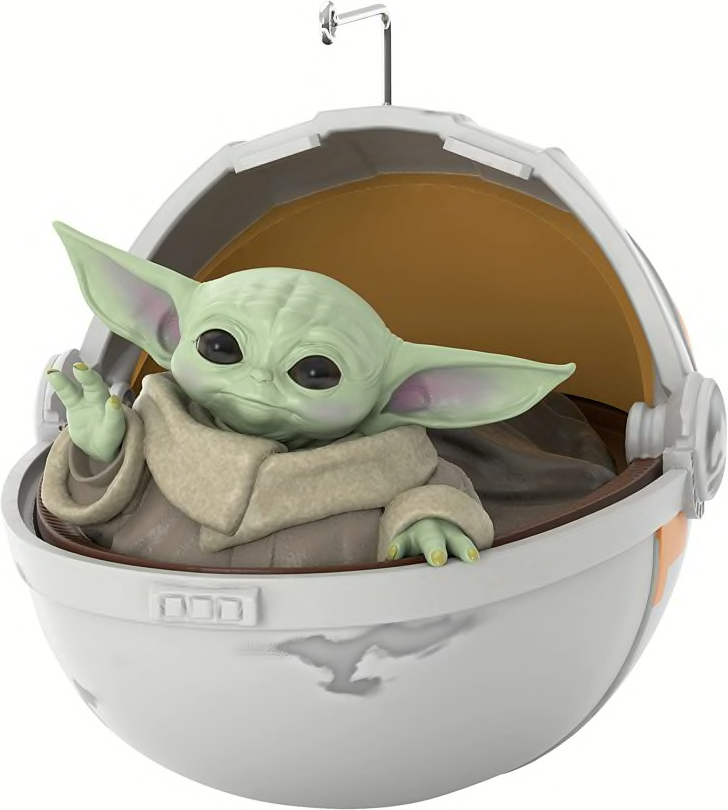 Every fan of The Mandalorian deserves to have Baby Yoda rocking sweetly in a pram on a branch of their Christmas tree. This one measures about 3 inches by 3 inches, and according to one reviewer, there's enough space between the Child and the top of the pram to "perch a gift card for an extra special present."
Buy it: Amazon
2. The Office "World's Best Boss" Mug Ornament; $9
Whether or not Michael Scott lived up to the statement on his mug is debatable, but he's definitely one of the most memorable bosses of all time. The serial The Office binge-watcher on your gift list will surely get the joke, and everyone else will just think that person happens to be a really great manager.
Buy it: Amazon
3. A Christmas Story Leg Lamp Ornament; $19
A full-sized model of the infamous leg lamp from A Christmas Story might not jive with every decorating scheme, but this pint-sized one is perfect for any Christmas tree—especially if that tree belongs to someone who considers watching the film an important holiday tradition. The ornament even lights up when you pull the cord.
Buy it: Amazon
4. Bob Ross "Happy Accidents" Ornament; $13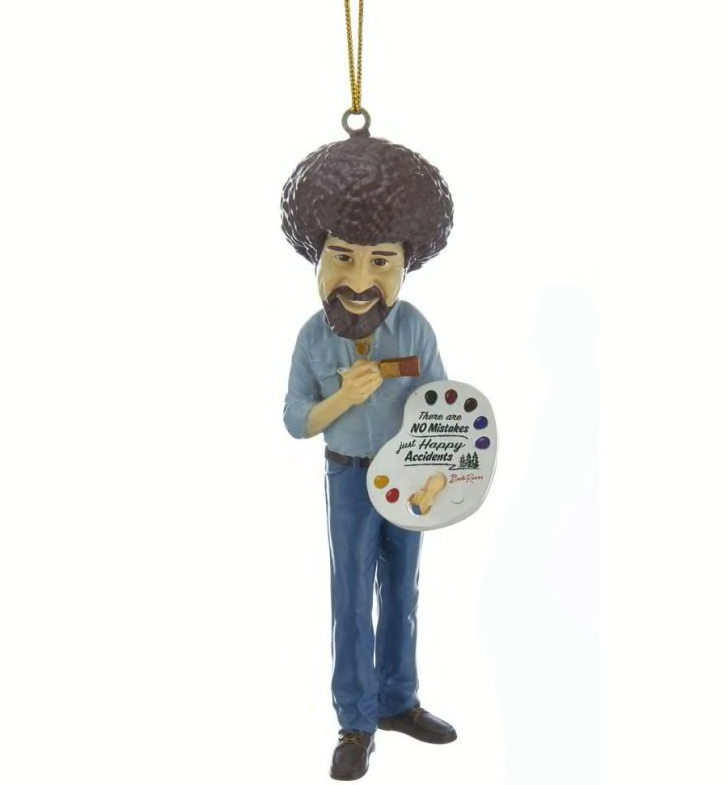 Anyone who learned to paint with Bob Ross might appreciate making him part of their Christmas celebration (even if the evergreens in their paintings don't quite look like the one in their living room). This smiling figurine holds a palette with one of Ross's most important lessons: "There are no mistakes, just happy accidents."
Buy it: Amazon
5. Hermione Granger Ornament; $27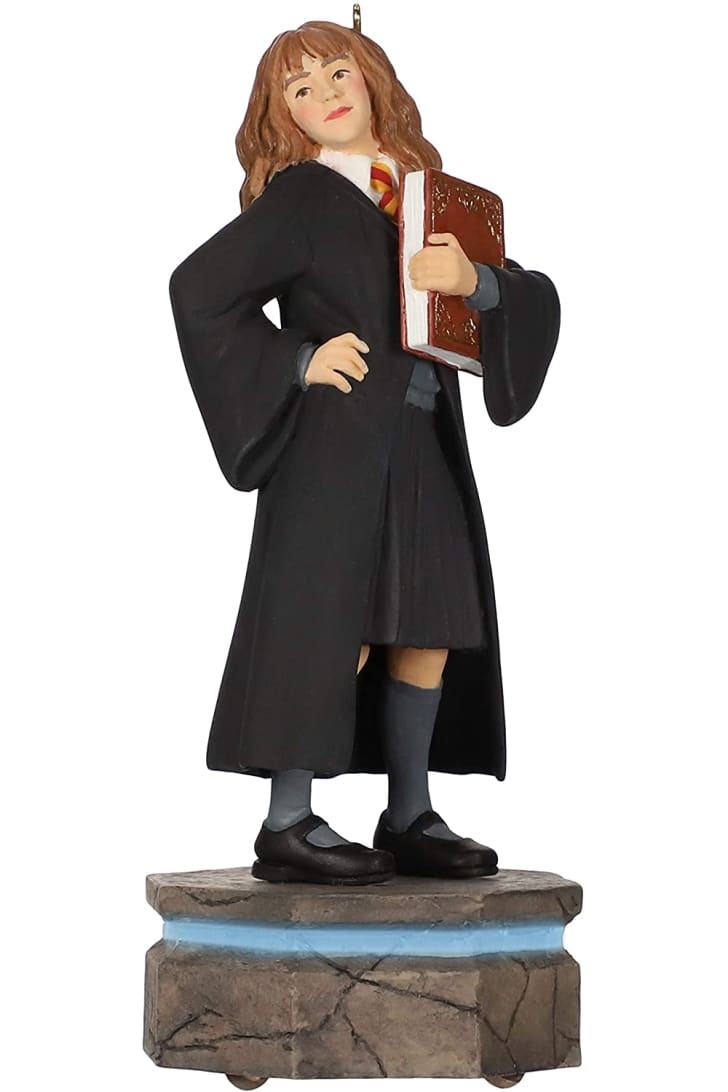 Fictional though she may be, Hermione Granger has truly been a role model for clever kids (and adults) who know books hold the answers to just about everything. You're probably already buying them a book for Christmas—here's the ideal ornament to gift with it. It's part of Hallmark's "Storyteller" series, which plays scenes from Harry Potter and the Sorcerer's Stone when all the ornaments are connected with the special power cord (available from Amazon for $29). Other pieces in the series include Harry Potter, Ron Weasley, Hagrid, Dumbledore, and Hogwarts.
Buy it: Amazon
6. Jack Skellington Ornament; $9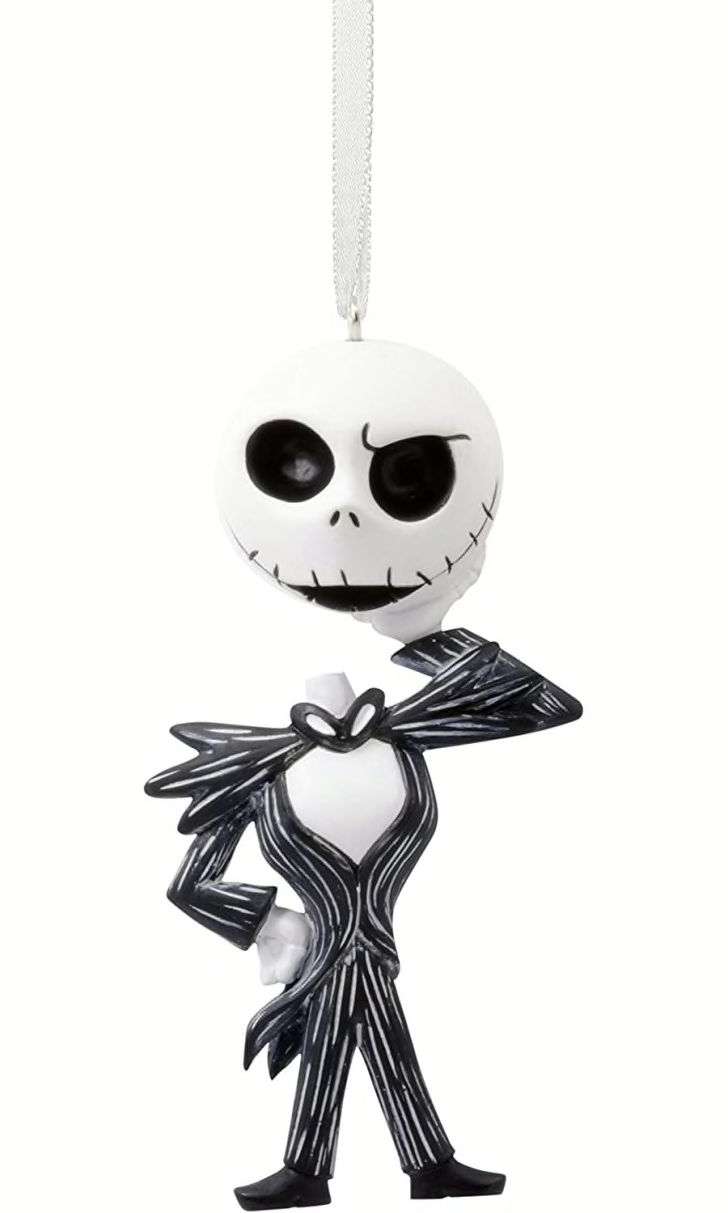 Strong opinions abound when it comes to deciding whether 1993's A Nightmare Before Christmas is a Halloween movie or a Christmas movie. If you know someone who's particularly outspoken about calling it a Christmas flick, you can help them prove their point by adding a Jack Skellington ornament to their Christmas tree.
Buy it: Amazon
7. Stranger Things' Dustin and Demogorgon Ornament; $13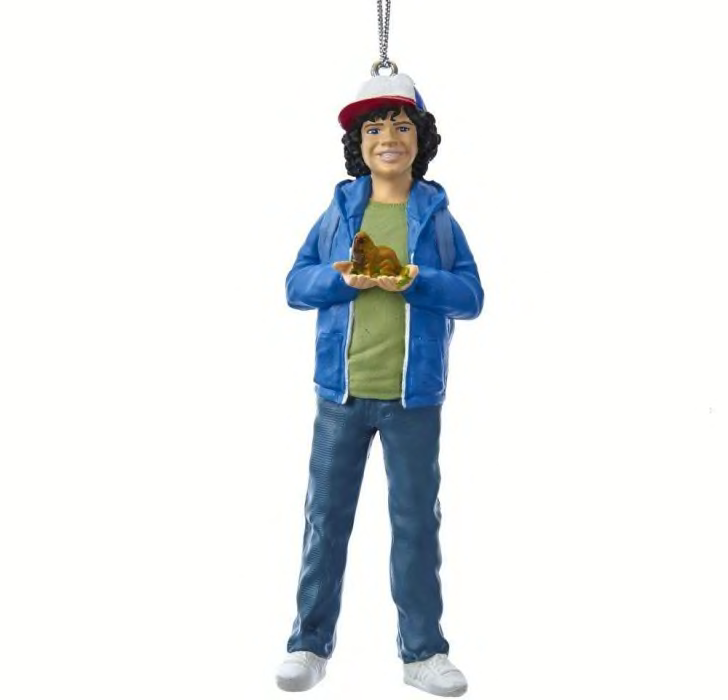 There's a good chance the '80s nostalgist in your life thinks a baby Demogorgon is a necessary Christmas tree fixture. If it happens to be held by a grinning Dustin Henderson? Even better. If your budget is higher, you can spring for the whole Stranger Things crew—Dustin, Lucas, Mike, Will, and an Eggo-wielding Eleven are $100 altogether.
Buy it: Amazon
8. Buddy the Elf and Narwhal Ornament; $20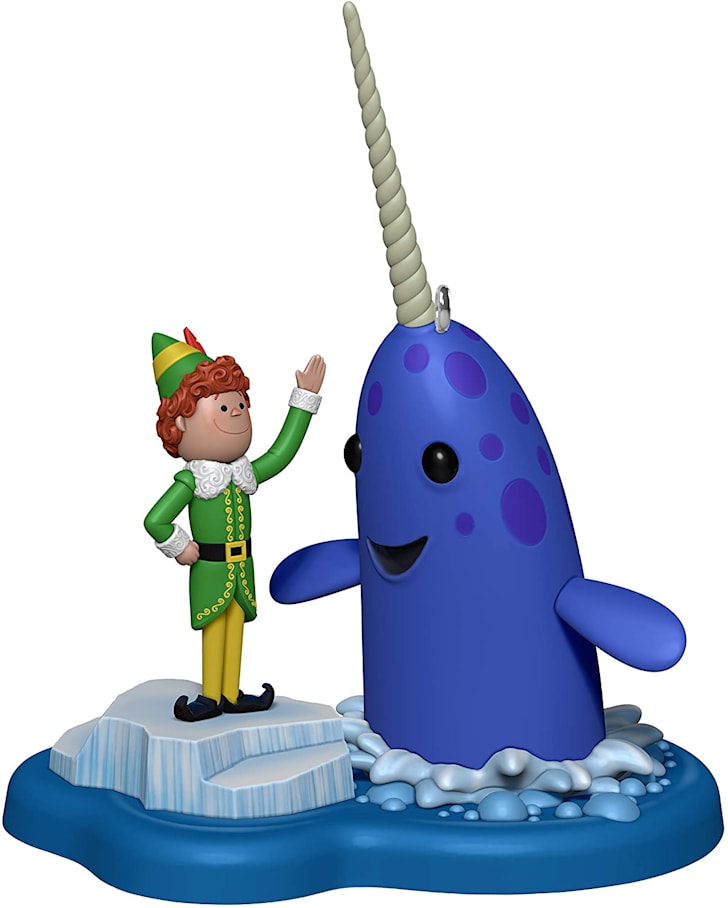 Though the narwhal only made a brief appearance in 2003's Elf, his line "Bye Buddy, hope you find your dad!" was iconic enough to earn him a spot on this charming ornament (which actually plays that scene aloud). Everyone knows at least one Will Ferrell fanatic who has the whole movie memorized; this gift symbolizes your permission to let them recite the entire thing on Christmas morning.
Buy it: Amazon
9. Schitt's Creek Rose Apothecary Ornament; $25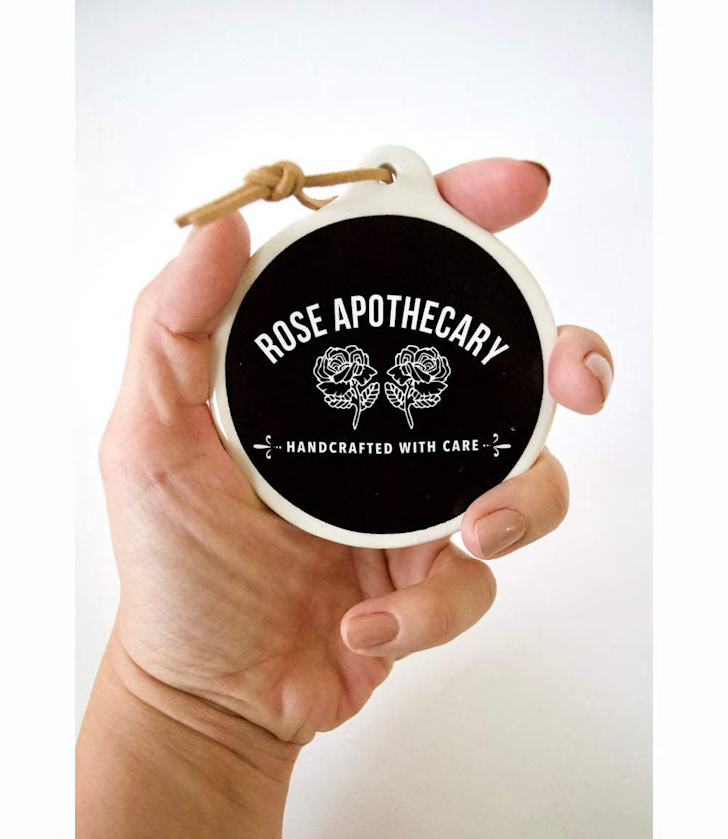 Schitt's Creek's David Rose would probably look upon most kitschy pop culture ornaments with derision, so it's only fitting for his fans to adorn their trees with something classy—like this handmade porcelain and leather ornament from Living the Dream. It's not actually a product from Rose Apothecary, but it sure seems like it could be.
Buy it: Amazon
10. Doctor Who TARDIS Ornament; $10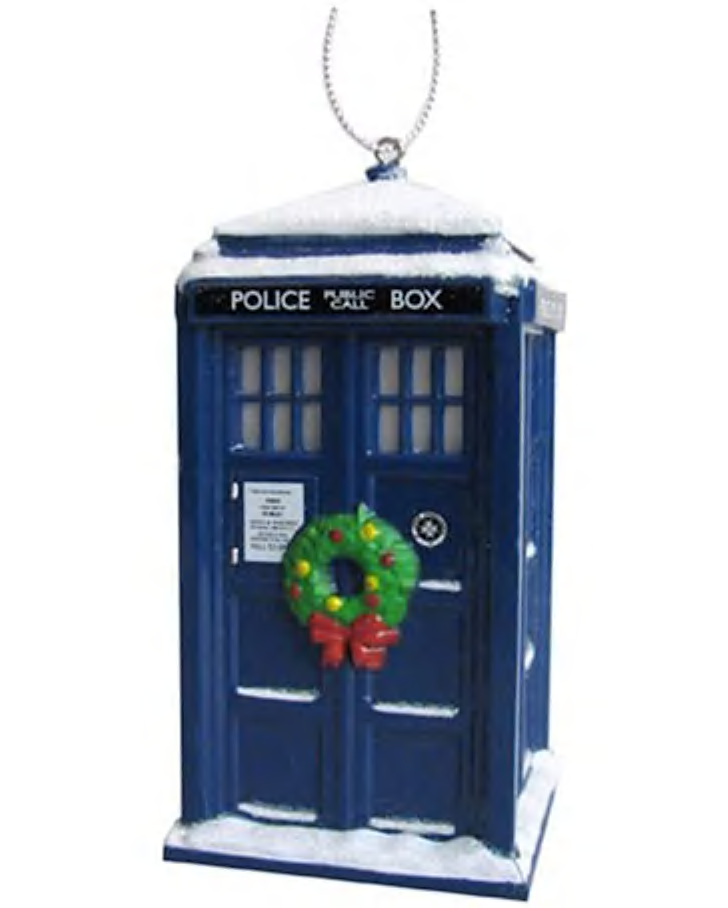 With multiple Christmas specials in the history of Doctor Who, it's no surprise that most avid viewers consider the holiday an integral part of the show as a whole. Help them celebrate with this 4.5-inch replica of the TARDIS, complete with flashing lights that one Amazon reviewer called "freakin' EPIC."
Buy it: Amazon
11. The Year Without a Santa Claus Heat Miser Ornament; $19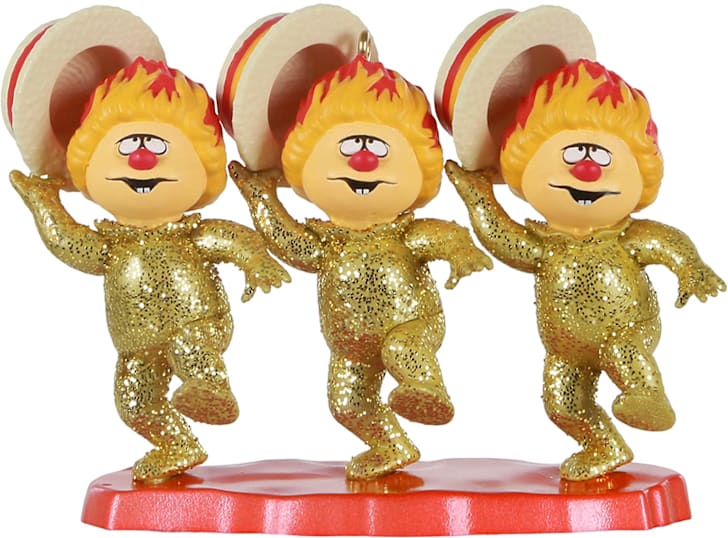 For many, it doesn't start to seem like Christmas until they've watched at least a few Rankin/Bass holiday specials. And while classic characters like Rudolph the Red-Nosed Reindeer and Frosty the Snowman are common Christmas tree occupants, the same can't be said for Heat Miser, one half of the polarizing fraternal duo from 1974's The Year Without a Santa Claus. This hilarious ornament will add some pizzazz to any empty branch.
Buy it: Amazon
Sign Up Today: Get exclusive deals, product news, reviews, and more with the Mental Floss Smart Shopping newsletter!