An Exhaustive History Of Parisian Record Stores Since 1890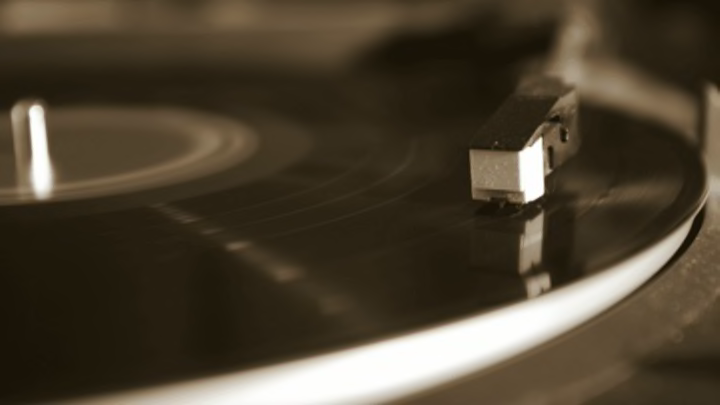 iStock / iStock
These days, being a record collector also means being a bit of a history buff. A new website called Disquaires de Paris showcases the French capital's long listening history, documenting all the places where hip Parisians could once go to shop for vinyl, before the best finds were relegated to dusty flea market bins. Reaching back more than a century, it catalogs all the shops that sold vinyl in Paris, including during the earliest days of records in 1890. 
Thomas Henry, an avid collector of 78rpm records, works in social media and blogs about records at Ceints de bakélite. Disquaires de Paris came about as an offshoot of his collecting hobby. He would often find sleeves specially designed by certain record stores, and became curious about the wealth of vinyl sellers Paris once boasted. His site—a collaboration with the French graphic design studio Douny—is part tribute to a disappearing market, part archive for music historians. (Sorry, Anglophones—the site's only in French. But it's pretty easy to navigate with Google Translate.) 
Image Courtesy Thomas Henry
Each store featured on the site is marked on a map of the city, and illustrated through some historical visual material: record sleeves, stamps, postcards with an illustration of the store, or old advertisements. Henry hits the flea markets every weekend in search of records and other ephemera of France's musical history, and many of the documents showcased on the website come from his personal collection, though some come from collectors who responded to a call for contributions on the site. Henry also scoured the digital archive of the French National Library for old record store ads. To nail down the opening and closing dates of the stores, he searched the City of Paris Archive, old court records, and historic phone directories. 
Image Courtesy Thomas Henry
For now, Disquaires de Paris only catalogues stores that existed before 1960, but Henry hopes to expand the archive, as well as add anecdotes from collectors who actually visited some of these shops.
Henry's favorite find so far? L'Estudiantina, a music store that opened in the 1930s and served as the headquarters of the "Courrier international des sociétés mandolinistiques," or the International courier of mandolinistic societies.
Explore more weird music history at Disquaires de Paris. 
[h/t: CityLab]