10 of the Best Hoodies to Wear on Stranger Things Day
While you're waiting for Stranger Things to come back for its fourth season, you can find something related to the show to celebrate on November 6, which Netflix dubbed "Stranger Things Day" to recognize the day Will Byers disappeared into the Upside Down. If you're looking for a new way to show your love for the '80s-themed sci-fi series, we've compiled a list of the 10 best hoodies based on the show that will look great every day of the year.
1. Classic Stranger Things Logo Hoodie; $45-$47
The Stranger Things logo is pretty iconic on its own, and sometimes that's all you need on a hoodie. You can practically hear the show's title music play just looking at it.
Buy it: Hot Topic
2. Classic Stranger Things Logo Tie-Dye Hoodie; $45-$47
The black and white tie-dye gives this hoodie a unique look that will catch eyes as you walk down the street.
Buy it: Hot Topic
3. Stranger Things Comic Book Cover Hoodie; $45-$47
From Dungeons and Dragons to Ghostbusters, Stranger Things is known for referencing all the pop culture milestones of the '80s. And this comic book-inspired hoodie fits right in with the show's love of geek culture.
Buy it: Hot Topic
4. Scoops Troop Hoodie; $45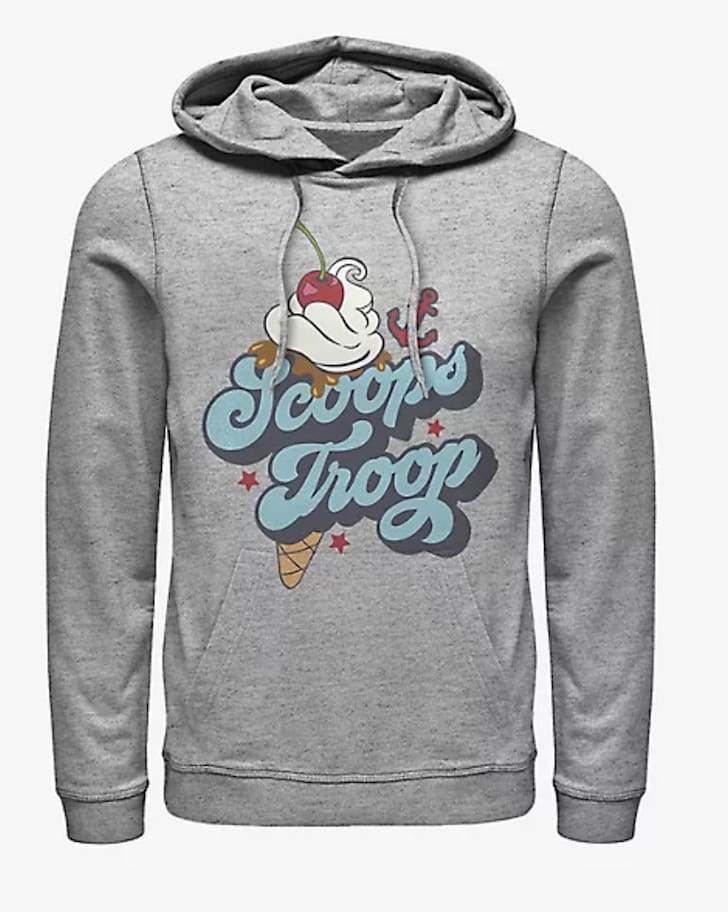 In the third season of Stranger Things, Steve gets a job at Scoops Ahoy at the mall, leading to the formation of the Scoops Troop, along with Dustin, Robin, and Lucas's little sister, Erica. If you wish you were a part of the gang, this hoodie is for you.
Buy it: Hot Topic
5. The Upside Down Hoodie; $45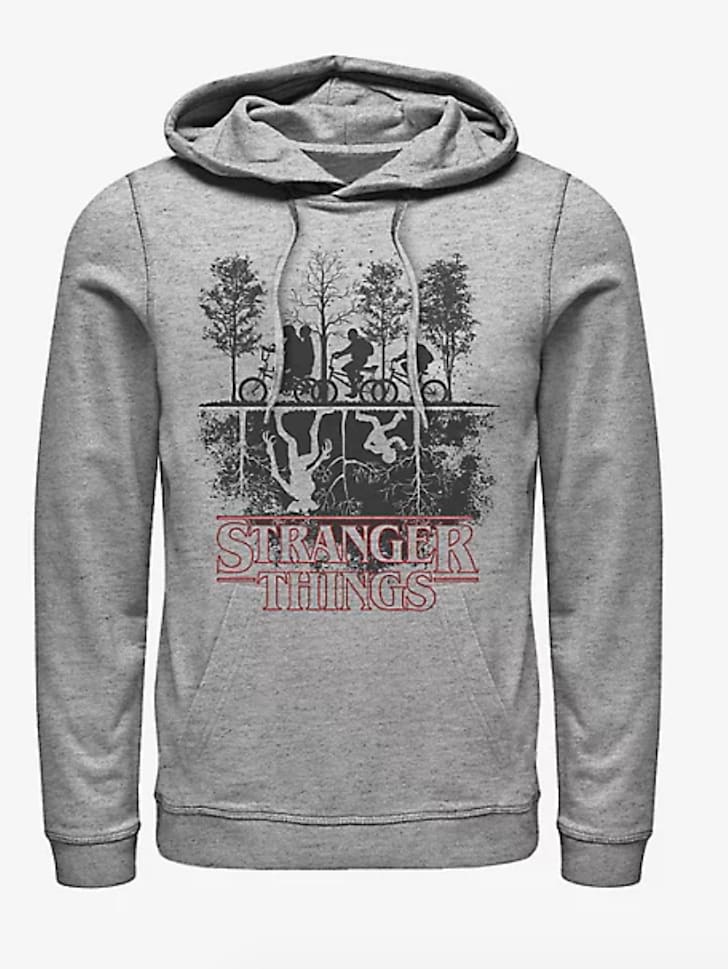 The Upside Down has been plaguing the town of Hawkins for quite some time now. And this hoodie shows the main group up top looking for Will, who is stuck squaring off against the evil Demogorgon right below them.
Buy it: Hot Topic
6. Camp Know Where Hoodie; $45-$47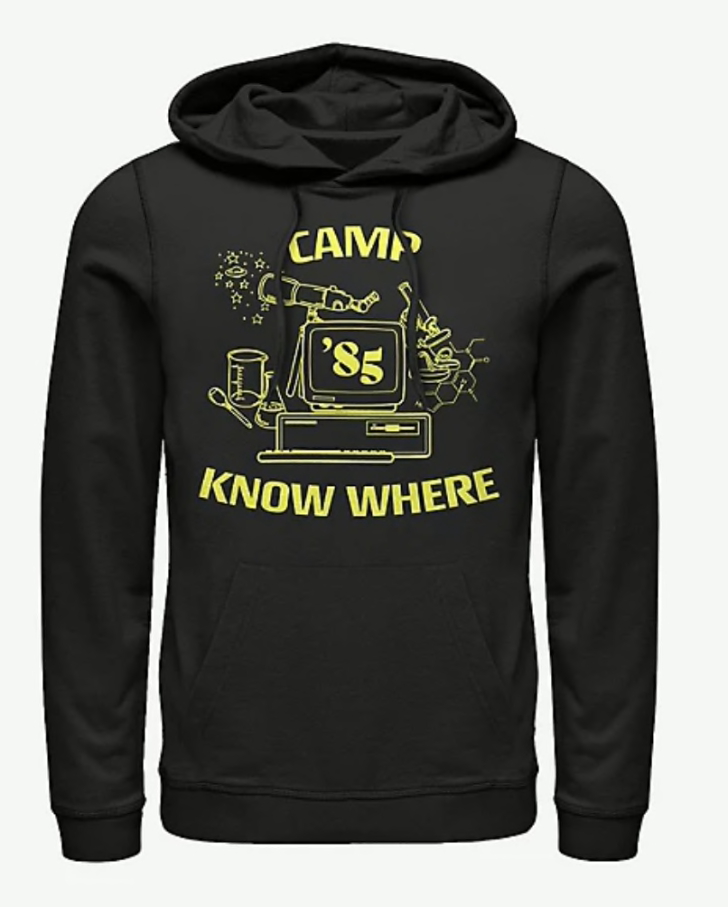 This hoodie is perfect for anyone who actually went to science summer camp as a kid or just has a soft spot for Dustin.
Buy it: Hot Topic
7. Coffee and Contemplations Hoodie; $45-$47
Any Jim Hopper fans will know that mornings are for coffee and contemplation. This hoodie will help make sure others understand that before approaching you before you've had your first cup of the day.
Buy it: Hot Topic
8. Steve The Babysitter Hoodie; $45-$47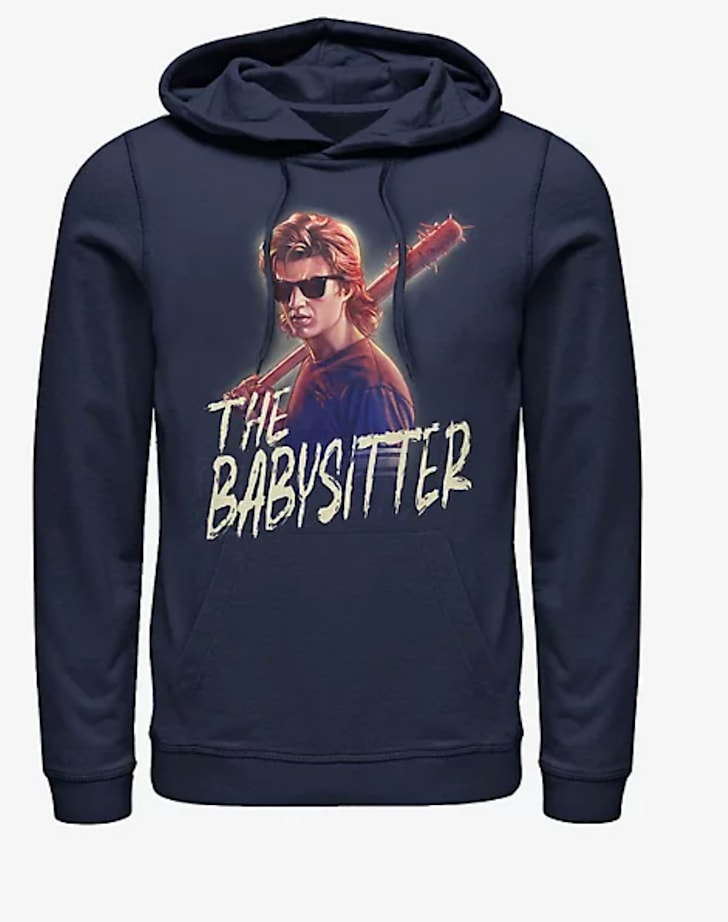 Cool guy Steve Harrington has gone from the bad boy in season one to ultimate babysitter by season three. And on this hoodie, he's immortalized with an '80s action movie vibe.
Buy it: Hot Topic
9. Waffle Hoodie; $45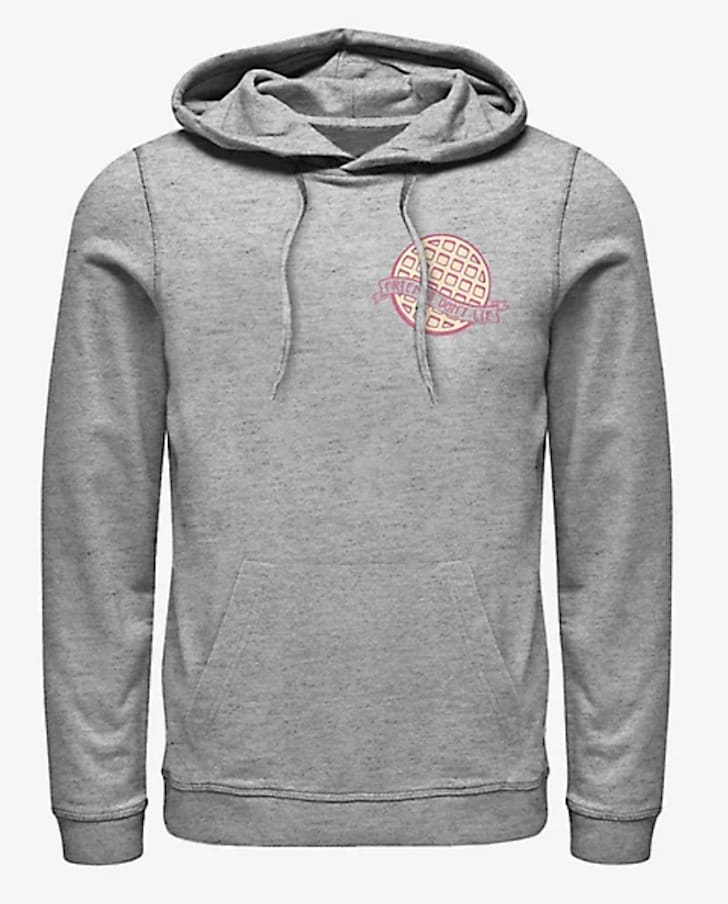 In season one, Eleven becomes a ravenous fan of Eggo waffles, and on this hoodie, her food of choice is coupled with one of her most memorable lines from the show: "Friends don't lie."
Buy it: Hot Topic
10. Hawkins Middle School AV Club Hoodie; $45
The four main boys, Dustin, Lucas, Mike, and Will, are all in AV Club at Hawkins Middle School and have made it their safe space. If you have always wanted to join their club, you can pretend to be an honorary member with this hoodie.
Buy it: Hot Topic
Sign Up Today: Get exclusive deals, product news, reviews, and more with the Mental Floss Smart Shopping newsletter!