Hasbro Unveils "Lord of the Lawn," "Overpriced Latte," and Four Other Play-Doh Scents for Grown-Ups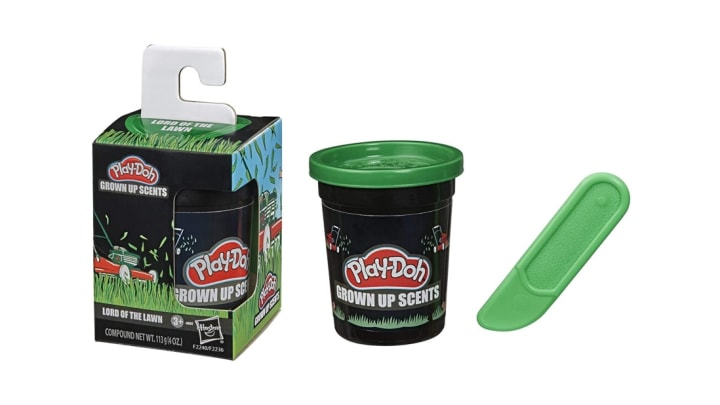 Mowed grass smells almost as good as regular Play-Doh. / Play-Doh/Amazon
This article contains affiliate links to products selected by our editors. Mental Floss may receive a commission for purchases made through these links.
Even if you haven't touched a hunk of Play-Doh in years, there's a good chance you still harbor at least a faint memory of its near-unforgettable aroma. Hasbro, which actually trademarked the scent in 2018, describes it as "the combination of a sweet, slightly musky, vanilla-like fragrance, with slight overtones of cherry, and the natural smell of a salted, wheat-based dough."
But just because the original is so beloved doesn't mean we can't enjoy other funky fragrances, and Hasbro has definitely experimented in the past—take, for example, this set of peach-, raspberry-, and apple-scented Dohs.
Now, Hasbro's toymakers are pushing the envelope even further with a new Play-Doh collection geared toward a slightly older demographic. According to Internewscast, the "Play-Doh for Grown-Ups" line comprises six cans that cover some key parts of adult culture, including: "Overpriced Latte," "Mom Jeans," "Dad Sneakers," "Spa Day," "Lord of the Lawn," and "Grill King."
Which of these smells like your favorite part of adulthood? / Play-Doh/Amazon
The titles are intentional stereotypes, cheerfully poking fun at our collective obsession with certain ubiquitous parts of adulthood. And as much as we might like to think we're all highly unique, it's hard to deny the enjoyable effects of inhaling a whiff of hot coffee or freshly mowed grass. As Play-Doh brand general manager Leena Vadaketh told HuffPost, the set is really for "anyone who loves a good laugh."
The six-pack of 4-ounce cans is available on Amazon and Entertainment Earth, though it's not expected to ship until December. In the meantime, you can always roll, mold, and build with the classic version.
[h/t Internewscast]